RIP Tour Universal Orlando - Halloween Horror Nights
The RIP Tour at Universal Orlando Halloween Horror Nights is a no fuss, no wait, red-carpet VIP instant access to your every nightmare.
A dozen brave souls are led by an appointed guide on a select VIP walking tour. Through all Haunted Houses. With no standing patiently in line.
Just enough time after each Haunted House to get your breath back.
Then fight your way through Scare Zones to the next terrifying Haunted House.
Does the RIP Tour Justify The Expense?
Having braved the lines at Halloween Horror Nights many times in previous years, we decided to take the plunge and find out for ourselves.
With our RIP Tour tickets clutched in shaking hands, we breezed through the dedicated VIP Entrance at the front of the park. Not a line in sight for us, unlike the turnstiles which were packed.
It was a good start.
Once through the entrance, we were instructed to make our way to Cafe La Bamba to check in for our 7pm tour. The streets of Universal were beginning to burst into gory life.
There were a couple of people in front of us when we arrived, so technically there was a line. But it was very quick and efficient and we were inside the air-conditioned cafe within a minute or two.
We were greeted inside and hooked up with our RIP Tour Guide. He explained how the evening would work and gave us our precious RIP Tour lanyard. Each Tour group is given a team name and we were initiated into the Slashers. 
The maximum in any group is 12, which makes it easy for everyone to get acquainted and really adds to the enjoyment.
The time spent at Cafe La Bamba prior to the RIP Tour gives you the opportunity to meet the others in your group. We headed over to mingle with the other 10 Slashers who would be sharing our evening.
It's much more fun watching someone squeal in terror when you know them. Especially when it's a 6 foot muscular hunk.
We were invited to tuck into a complimentary hot and cold buffet and soft drinks.
There was a selection of hot and cold dishes on offer and also vegetarian options.
All non alcoholic beverages are included and there was also a cash bar for those needing a bit of "Dutch courage" to tackle the ghouls.
A Halloween themed dessert station gave us sweet courage with cupcakes, chocolate covered strawberries and a range of far too tempting treats.
As we got to know our fellow Slashers and chatted to our young and enthusiastic tour guide, a ghostly ghoul floated silently between us posing for photos.
A bit on the pale side, she could probably have done with a dose of Florida sunshine.
Also in attendance was an escapee, screeching like the maniac she undoubtedly was.
Her shrill laughter was nerve jangling. I made a point not to make eye contact. 
But she got us anyway.
This was a glimpse of what we could expect in our not so distant looming future.
Oh happy days, bring on the clowns and pretty rainbows!
As our tour time began, we followed our informative guided us through the streets to our first designated maze. The RIP Tours are staggered in start times and different groups head off to varying houses, so it works very smoothly.
The long line already at our first House were waiting patiently as they shuffled forward towards the front. 
And it was still only 7.15pm. On a Thursday. In September. Before HHN gets busy.
As the evening progressed, the lines would no doubt grow as each new arrival added to the organised mayhem.
When we reached the front, the regular line was halted. We cut straight to the front and ambled into our first Haunted House.
I'm not even sure if we actually broke stride. It really was as 'Front of Line' as it could possibly get. 
We tagged on seamlessly to the guests in front just about to enter the creepy condo. Hey Presto, we were inside, looking nervously about us.
As soon as we had all exited, we congratulated ourselves on not screaming too loudly. Confidently we headed off to tackle the next House.
It was as easy as that.
Part of the RIP Tour included reserved seating at Bill and Ted's Excellent Halloween Adventure which gave us a 30 minute break on the bleachers.
We were given early access ahead of all waiting lines, with seats 3 rows from the front, center stage, giving a superb unobstructed view.
The rest of the Haunted Houses were as equally smooth. We made our way through all of them effortlessly, unrushed and at our own pace.
In between Houses, we stopped for restroom breaks and were offered a 30 minute stop for a refreshment top-up if anyone wished. A unanimous decision to carry on without stopping meant our tour finished that much earlier, meaning we could use our RIP passes as Express Passes. This allowed us accelerated access to run through any of the houses again or jump on rides that were open for the night, joining the Express lines.
As the tour ended early (due to us all voting not to take the 30 minute break), our Tour Guide offered to take us on a few select rides with continued 'Front of Line' access, bypassing even the Express Pass Lines. A few took him up on his offer, others headed off to do their own thing.
All things taken into account, we felt that the ticket price was fully justified as we effortlessly accessed every Haunted House.
For us, the RIP Tour was a fun, stress free and exciting night that didn't leave us exhausted. Physically, that is.
What's Included in the R.I.P. Tour?
Immediate VIP entry to all haunted houses (one entry per house) and select regular park attractions.
Exclusive VIP entrance (valid Halloween Horror Nights event admission required)
Commemorative R.I.P. Tour credential with lanyard
Access to the exclusive Pre-Tour Reception including buffet and beverages. A cash bar is also available.
Reserved seating at Bill & Ted's Excellent Halloween Adventure
Universal Express ride access to participating regular theme park attractions, with the RIP Tour credential, following the tour (park hours permitting).
Complimentary standard valet parking (1 vehicle, subject to availability)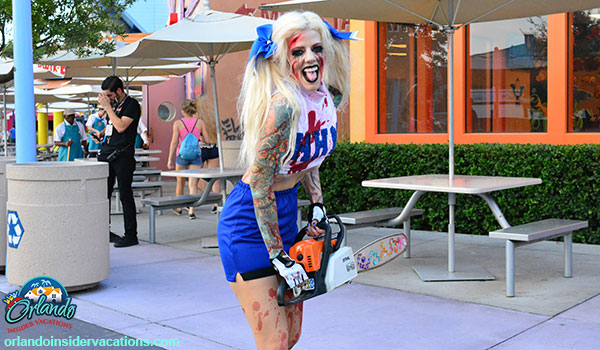 Is the RIP Tour for Everyone?
It's really all down to personal budget and how you much value you want to put on time management. The dates you visit will also play a big part in decisions. Some Haunted Houses during our tour had posted wait times of just 20 minutes. On peak nights, you can expect lines to easily reach 2 hours.
With prices starting at $199.99 (which only includes the tour, you need a HHN ticket on top), it's certainly not a cheap night out. You can easily make it work with an Express Pass, especially on quieter nights. 
But if you have the budget, we think it's definitely worth considering. There were a few hundred others taking the tours on night we went (on a Thursday in September), so it seemed many others agreed with us.
We had purchased the Rush of Fear Pass at the advance Annual Passholders price. Taking that into consideration, it was well worth the cost to us. If you are considering more than one visit to HHN, do check the many options for the Frequent Fear Passes. Take a look at the awesome breakdown on Orlando Informers Guide to HHN
Privileged immediate access to every haunted house, reserved front center seating to the show and a great guide who shared knowledge and tidbits gave us our best night EVER at HHN. It was worth every single cent to us.
Would we do the R.I.P. Tour again? You bet, put us down for HHN29!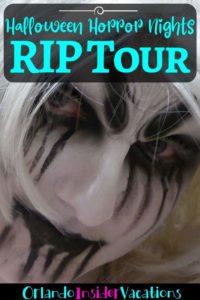 Halloween Events in Orlando & Kissimmee | Mickey's Not So Scary Halloween Party | Halloween Horror Nights | Universal RIP Tour | SeaWorld Spooktacular | Howl-O-Scream | Gatorland Gators Ghosts & Goblins |