Orlando in July - Events in Kissimmee, Orlando & Central Florida
There are plenty of events in Kissimmee and Orlando in July to help you enjoy endless sizzling summer days. Check here if you're looking for July 4th Events
With nothing but cloud, storms and rain, if you looked at the weather forecast for Orlando in July, you might be tempted to give it a miss.
Don't be fooled!
What Are the average temperatures in Orlando in July?
Pretty hot! With highs hitting over 90 degrees and humidity at almost full pelt, Orlando in July isn't for the faint hearted. Average high is 91°F/33°C and an average low is 75°F/24°C. Although it is hot and humid and subject to daily afternoon thunderstorms, normally the showers come and go in less than an hour or so. The theme parks quickly dry out as the sun once again replaces dark scudding clouds.
And there's always plenty of things to do in the rain.
What to pack for July in Orlando
A poncho and patience will be your best friends during July in Orlando and Kissimmee. There's no getting away from the fact that the parks will be busy, especially for July 4th. Dress very light, in light colors. And make sure you lash on the sun block, the rays will be fierce. Check out our packing tips.
Theme Park Ticket Deals in July
Disney's Summer One World Ticket:
Gives one time access to all 4 theme parks, plus 2 water parks for $444 plus tax. Must be purchased between before August 23rd 2019. The Summer One World ticket gives six one admission to each of the four Walt Disney World theme parks and each of the two water parks. 6 admissions in total. Tickets must be used by August 28th 2019. Ticket Details.
Florida Resident Disney Ticket Deals: 
Florida Residents can purchase a 4 day Get Your Ears On Ticket for $55 per day, plus tax (total of $219 plus tax). Or a 3-day ticket for $67 per day, plus tax (total of $199 plus tax). Full details.
Annual Passholder Deals
From June 18 through August 8 2019 Gold, Platinum, Platinum Plus and Premier Passholders can 'Bring-a-Friend' - a 1 Day Park Hopper ticket is just $89, plus tax.
These tickets are only available at theme park ticket windows. Passholder must be present with a valid Walt Disney World Annual Pass card and photo ID. See full details.
Universal Ticket Deals:
Get 3 Days Free When You Buy 2 Days. Purchase by July 31st and use by December 20t 2019 and you'll get five days for the price of two.
Florida residents can get 2 days free with a 2 day ticket. Ticket details.

Events for Kissimmee & Orlando in July 2019
Disney After Hours - July Dates
Disney After Hours is a ticketed event that gives access to 3 of Disney's theme parks with hugely reduced crowds. Walk on rides, meet characters without a long line and enjoy endless popcorn, ice cream and select Beverages.
July Disney After Hours Events:
Magic Kingdom - Villains After Hours
Monday, July 1, 2019
Thursday, July 11, 2019
Thursday, July 18, 2019
Thursday, July 25, 2019
Hollywood Studios
Friday, July 5, 2019
Friday, July 12, 2019
Friday, July 19, 2019
Friday, July 26, 2019
Animal Kingdom
Tuesday, July 2, 2019
Monday, July 8, 2019
Monday, July 15, 2019
Monday, July 22, 2019
Monday, July 29, 2019
Full details: Villains After Hours at Magic Kingdom | Disney After Hours
---
Electric Ocean at SeaWorld Orlando
Orlando in June sees SeaWorld pulling out all the stops to encourage guests to discover thrills and entertainment this summer. Electric Ocean is an after dark addition which includes music, glowing sea creatures, live shows and spectacular fireworks.
Clyde and Seamore, surely the world's favorite sea lions, perform in their hilarious show, Sea Lions Tonite.
Not to be outdone, Shamu's Celebration: Light Up The Night, combines music and killer whales to amaze and thrill kids and adults alike.
Touch the Sky is a recent event featuring macaws, dolphins and a host of other animal entertainers. All choreographed to fabulous, energetic music.
Club Sea Glow is a dance your socks off to DJ inspired music along the shore. This party is good for the young and not-so-young. We've all got a bit of dance inside us just bursting to get out and show the world what we can do. Even my two left feet twitch in time to popular music.
To top it all off, Ignite is a dazzling firework display to electrify everyone.
When: Daily until August 11th 2019, then weekends only.
Where: SeaWorld, 7007 Sea World Drive, Orlando FL, 32821
Web: SeaWorld Electric Ocean
---
Busch Gardens Summer Nights
The thrill rides at Busch Gardens in Tampa are some of the best in Florida.
The "Screamathon" goes off the rails as you get strapped in to SheiKra, Montu, Kumba, Falcon's Fury or Cheetah Hunt. In the Dark. Brand new ride, Tigris is also open for night riders.
Summer Nights has themed party zones with exclusive summer food and drinks menu. Join in the dance parties or watch the Turn It Up! Ice Show.
All Summer Nights events are included in regular admission.
When: Daily through August 11th
Where: Busch Gardens, 10165 N McKinley Dr., Tampa, FL 33612
Web: Summer Nights Busch Gardens 

---
July 4th Events
There's plenty of events going on in the parks and all around Central Florida for July 4th. Check out our full July 4th Guide below.
---
Outdoor Family Movie Night in Kissimmee Old Town
Head to Kissimmee Old Town for a free family fun night. Every Sunday night at dusk, the huge screen comes to life with a favorite movie. All you need is a chair, some popcorn and a drink which can be obtained at any one of the local suppliers. Sit back, relax and take in the movie under the stars. Weather permitting, of course. Check the website if the weather is dodgy.
July 7 – Top Gun
July 14 – The Secret Lives of Pets
July 21 – The Grinch (2018)
July 28 – Space Jam
When: July 7, 14, 21, and 28, 2019 at 7pm.
Where: Kissimmee Old Town
Web: Family Movie Night
---
Summer Music Series at Lakeridge Winery
One of our favorite locations is Lakeridge Winery in Clermont. The beautiful surroundings are enhanced with complimentary wine tours and tasting. What's not to like?And every Saturday afternoon in July, it bursts into life with live music by top local bands performing on the outdoor stage. Solo acts also perform in the Wine and Cheese Bar in the Winery.
Cornhole games have been set up in the grounds to keep the kids and bigger kids entertained.
The food pavilion provides options from America, Greece, Mexico and include Seafood and BBQ. Wraps and salads are also available.
Outdoor Music Schedule:
July 6th, noon - 4pm. -  TBD
July 13th, noon - 4pm. -  David Julia
July 20th, noon - 4pm. -  Ronnie Duncan Band
July 27th, noon - 4pm. -  TBD
Wine and Cheese Bar Schedule
July 6th, noon - 4pm. - Jeff Whitfield
July 13th, noon - 4pm. - Beautiful Bobby Blackmon
July 20th, noon - 4pm. - Joe Hand
July 27th, noon - 4pm. - Ronnie Duncan
Where: Lakeridge Winery, 19239 US-27, Clermont, FL 34715
When: July 6, 13, 21 and 28, 2019.
Details: Lakeridge Winery Summer Music Series
---
Rafiki's Planet Watch
Rafiki's Planet Watch over at Disney's Animal Kingdom has been closed for several months for refurbishment.
Rafiki's Planet Watch, the Affection Section and the Wildlife Express all reopen on July 11th 2019.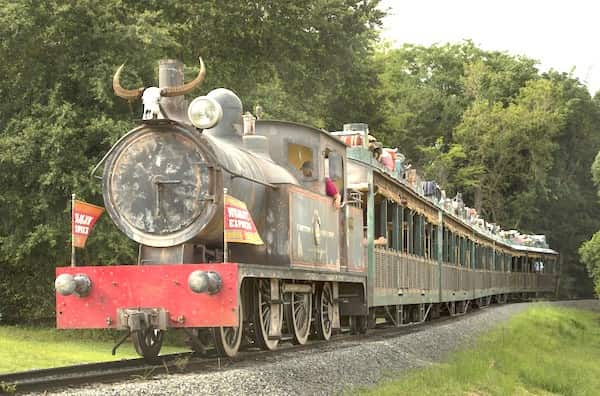 A brand new experience is being launched along with the opening too. The Animation Experience at Conservation Station will showcase how live animals have inspired some of the most iconic characters. Characters from "The Lion King" will be the stars.
You'll be able to learn more about some of the animals who call Animal Kingdom home and have a chance to create a personalized piece of Disney art through an instructor-led animation class. You'll be taught how to draw Simba, Zazu, Pumbaa, Timon and more.
When: July 11th 2019 onwards
Where: Disney's Animal Kingdom
Web: Disney's website
---
Dunedin Orange Festival
One of our favorite locations is the fabulous town of Dunedin on the Gulf Coast. It has everything. There's miles of cycle paths, a delightful marina and once a year, the Dunedin Orange Festival.
Entertainment comes with live music, a craft beer contest and food supplied by vendors to soak it all up. A ton of fun for all ages includes a new waterslide and a Pinup Girl Contest.
The events start at 10am with the Fun Zone and progress throughout the day till 10pm. A full schedule can be found on their website. Give it a try and discover why we like it so much.
2019 Live Music Schedule: TBD. Below are the 2018 performers.
12:00-2:00pm - Jack & Josie Band
2:30-4:30pm - Cadillac Cowboys
5:00-7:00pm - TBone Hamilton Band
7:30-9:30pm - Hot Rod Hornets
If you don't have youngsters who need to get home, the Orange Fest After Dark has live music, beers and wine to wet the palate, local food vendors and the spectacular sunset over the Marina.
When: July 13th, 2019 10am - 10pm
Where: Edgewater Park, Dunedin
Details:  Dunedin Orange Festival 
---
The Lego Movie Days
Put your hand up if  Emmet, Wyldstyle, Unikitty and Benny are some of your favorite characters. If so, head over to LEGOLAND to experience activities, special character meet-and-greets, a scavenger hunt and tasty themed food. There is also a  LEGO MOVIE mosaic build to keep the budding construction workers occupied.
When: July 13th, 14th, 20th, 21st, 27th and 28th, 2019. (Also Aug 3rd and 4th)
Where: LEGOLAND, One Legoland Way, Winter Haven, FL 33884
Web: legoland.com
---
Put on your dancing shoes, oil you throat and get ready to enjoy yourself! If you're visiting soon, we hope you enjoy some of these events in Orlando in July. We'd love to hear about it if you loved any of the events!
And don't forget to check July 4th Events.