Kissimmee & Orlando in April - Events Around Central Florida
Orlando in April brings endless sunshine, unique events, Easter bunnies and an abundance of things to do throughout Central Florida.
What's the Weather like in Orlando in April?
Orlando in April is perfect weather. There's no extreme conditions to contend with, just lots of sunshine, blue skies and spring is definitely in the air. With an average high of 83°F it's time to pack shorts, T's and flip-flops, but you might need a light jacket or sweater for the odd cooler evening. There might be an occasional rain shower, so keep a poncho handy just in case.
What about Orlando in April for Crowds?
Orlando in April brings Easter crowds and the tail end of Spring Break, which make it a hectic few weeks. Crowd levels will be at peak level for Easter weekend, make sure you plan ahead. Crowds should be moderate for the rest of April. Check crowd calendars at OrlandoInformer for Universal and Undercover
Title here
Tourist for all parks. Kenny The Pirate also has great info.
And pack a ton of patience when you head to the parks!
There are extended hours during peak weeks, so you'll get to enjoy the parks longer. If you're visiting in the last week of April, when most of the high crowds are gone, you're in for a much quieter time.
Check out Events in Central Florida and Orlando in April:
Epcot International Flower & Garden Festival
Orlando in April sees the continuation of the Epcot International Flower & Garden Festival. The event started March 6th and runs through June 3rd, 2019. With over 30 million blooms to gaze at, delicious food to sample, drinks to quench thirst and foot tapping music to stomp to, it's an overload for the senses.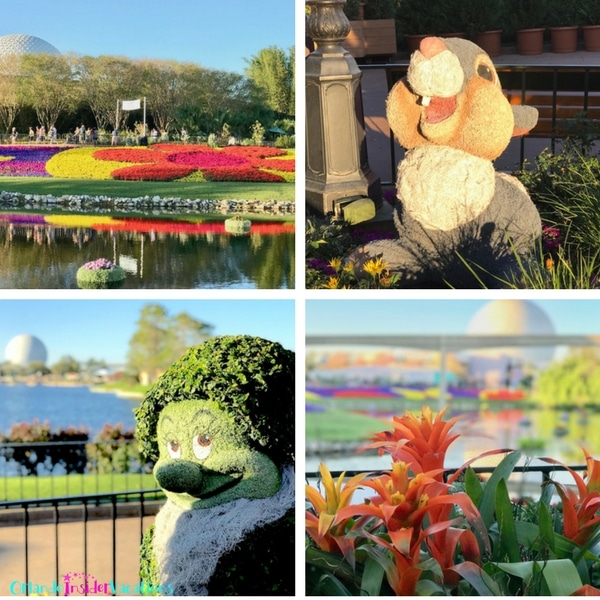 The Garden Rocks Concert Line up for April is:
Rick Springfield April 1 through 2
Christopher Cross – NEW to Garden Rocks! April 3 through 4
The Spinners April 5 through 7
Dennis DeYoung, original member of the group Styx April 8 through 9
John Michael Montgomery – NEW! April 10 through 11
Sister Sledge – NEW to Garden Rocks! April 12 through 13
Night Ranger April 14 through 16
Sister Hazel – NEW to Garden Rocks! April 17 through 19
Steven Curtis Chapman – NEW! April 20 through 21
TobyMac – NEW! April 22 through 23
Lonestar April 24 through 26
The Orchestra, starring former members of ELO April 27 through 30
When: Daily throughout April 2019
Where: Epcot, Walt Disney World
Web: Epcot International Flower & Garden Festival
---
SeaWorld Seven Seas Festival
The Seven Seas Festival at SeaWorld continues in Orlando in April and is perfect for a food and music fix. All concerts and main events are held each Saturday and Sunday, with Featured Flavors available daily through April 28th.
Make your way around 19 global markets sampling over 60 Asian, Latin, European, Polynesian and North Atlantic dishes. Wash it all down with over 70 local and international craft brews, more than 50 wines and spirits. Non-alcoholic specialty drinks are also available.
You can purchase a 10 item Food & Brew Package for $50 or 15 items for $65. Passholders can get 20 items for $65.
SeaWorld Seven Seas Food Festival Concerts 2019
April 6th - Olga Tanon
April 7th - Roots and Boots feat. Aaron Tippin, Collin Raye and Sammy Kershaw
April 13th - Jay Leno
April 14th - Andy Grammer
April 20th - Collective Soul
April 21st - Tenth Avenue North
April 27th - Post Modern Jukebox
April 28th - Willie Colon
All concerts begin at 6pm in the Bayside Stadium
When: Seven Seas Festival: Every Saturday and Sunday through April, 2019
Where: SeaWorld, 7007 Sea World Dr, Orlando, FL 32821
Web: SeaWorld SevenSeas Festival
---
Busch Gardens Food & Wine Festival
Each Saturday and Sunday in April food, wine and music feature heavily on the Busch Gardens agenda.
There are 11 food cabins offering a vast array of flavors. Take your pick from the following delicious offerings: Duck Fat Truffle Fries, Bison Slider with Bacon Onion Marmalade, Chicken Gumbo, Fried Green Tomato Stack, Maryland-Style Crab Cake with Mustard Sauce, Blueberry Rhubarb Crisp, St. Louis Ribs, Baja Fish Tacos and (drooling) Key Lime Pie.
Oh my goodness! Sign me up! Where do I start?
Wash it all down with over 100 fine wines, craft brews and cocktails. You can purchase by the item, or pick a range of sampler packages or VIP upgrades that include samplers and concert seating. Tasting sessions feature Tequila, Bourbon and Sweet Wine.
Headline acts take to the stage each Saturday and Sunday from April 6th through April 28th.
Saturday, April 6 at 7:00 p.m. – Stone Temple Pilots
Sunday, April 7 at 6:00 p.m. – Josh Turner
Saturday, April 13 at 7:00 p.m. – Mighty Mighty Bosstones
Sunda, April 14 at 6:00 p.m. – Boys ll Men
Friday, April 19 starting at 5:30 p.m. – Edwin McCain & Vertical Horizon
Saturday, April 20 starting at 5:30 p.m. – Hunter Hayes & Levi Hummon
Sunday, April 21 at 6:00 p.m. – Mat Kearney
Saturday, April 27 at 7:00 p.m. – Walk Off The Earth
Sunday, April 28 at 6:00 p.m. – Foreigner
All events are included in regular admission.
When: Saturday & Sunday through April 28th, 2019
Where: Busch Gardens,10165 McKinley Dr, Tampa, FL 33612
Web: Food & Wine Festival at Busch Gardens
---
Sun 'N Fun International Fly-In Expo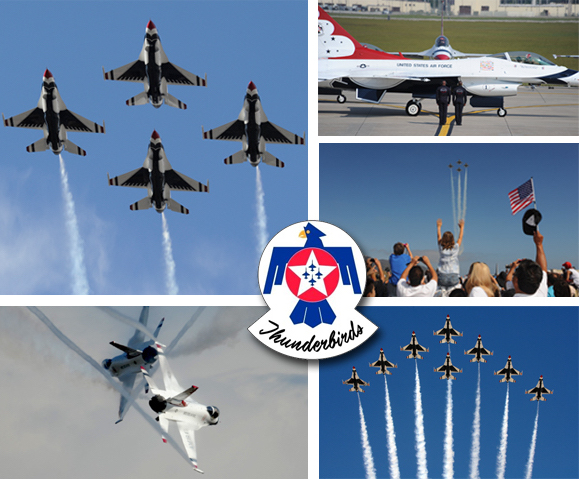 If a combination of aircraft and extreme excitement is your thing, then head over to Lakeland for 6 days and a night of displays to take your breath away. Both old and new aircraft will perform to the edge of their limits to keep you on your toes as you whoop and holler in amazement.
The Florida Air Museum and a car show are also on show. Ticket prices vary but there's so much on offer, you really need to check it out for yourselves. Over 200,000 people are expected to attend.
Entrance charges:
Adult daily $39, weekly $150.
Youth (7 - 17 yrs) daily $18, weekly $60.
6 and under is free.
When: April 2nd - 7th, 2019
Where: Lakeland Linder Regional Airport, Lakeland
Web: FlySNF
---
Celebration Exotic Car Festival



The Celebration Exotic Car Festival is part of a four-day event starts over in Daytona then finishing in Celebration. The cars take to the tracks at Daytona for two days before moving to the waterfront at Celebration on April 6th. This beautiful location plays host to what is described as "One of the 5 Best Exotic Car Shows in the World."
Take your camera and feast your eyes on stunning beauty on four wheels. On Sunday April 7th, the cars go out onto the streets for a rally to end all rallies. The event is 100% volunteer and 100% non-profit with proceeds going to children's charities, including Make-a-Wish Foundation, Special Olympics and Arnold Palmer Children's Hospital. Admission is free.
When: Daytona: April 4th - 5th, 2019
Celebration: April 6th with Car Rally on April, 7th, 2019
Where: Celebration, Florida and Daytona International Speedway
Web: Celebration Exotic Car Festival
---
Star Wars Half Marathon - The Dark Side
From April 4th through April 7th, Epcot hosts a galactic extravaganza of fun races for the whole family - from babies under 12 months to as old as you want to be.
Star Wars Dark Side 5K - April 5th.
runDisney Kids Races: Diaper Dash for those under 12 months - April 6th
1 - 4 year olds: 100m
5 - 8 year olds: 200m
13 years and under: 1 mile
Star Wars Dark Side 10K (6.2 miles) - April 6th
Star Wars Dark Side Half Marathon (13.1 miles) - April 7th
The Star Wars Rival Run Challenge is to complete both courses (19.3 miles) over both days.
You must register for the Star Wars Rival Run Challenge, which includes both Half Marathon and 10K, in order to receive the Star Wars Rival Run Challenge Medal for $335.
When: April 4th - 7th, 2019
Where: Epcot
Web: Star Wars Half Marathon
---
Fiesta in The Park
Now in its 47th year, the Fiesta In The Park is one of Orlando's biggest arts and crafts events. It features over 600 artists and crafters displaying their original works which are also on sale. And if that is not enough to occupy you and the family, live entertainment, a children's play area and food vendors are also in attendance.
The lovely Lake Eola Park is the venue for this free event.
When: April 6th and 7th, 10am - 5pm, 2019
Where: Lake Eola Park, Orlando, FL 32801
Web: Fiesta in the Park
---
Sugar Sand Festival
Make your way to Clearwater Beach on the Gulf Coast for a wonderful beach day with the most amazing sand castles you've ever seen. Live music, fireworks, kid's play zones, and sand sculpting classes bring heaps of fun to the whole family.
One thousand tons of sugar sand in a 21,000-square foot structure are transformed into breathtaking sculptures.
When: April 12th - 28th, 2019
Where: Pier 60, Clearwater Beach
Web: Sugar Sand Festival
---
Tampa Bay Blues Festival



15 of the best blues singers keep you entertained during this three-day festival. Along with world-class music, arts and crafts aplenty are available.
Delicious BBQ, seafood samples, Cuban cuisine and other tasty offerings can be washed down by premium craft beers or quality wines.
When: April 12th - 14th, 2019
Where: Vinoy Waterfront Park, 701 Bay Shore Drive NE, St. Petersburg, FL 33701
Web: Tampa Bay Blues Fest
---
Tarpon Springs Sponge Docks and Art Craft Festival
On the Gulf coast, about 2 hours drive from Orlando, is Tarpon Springs, a Greek harbor town specializing in sponges collected from local waters. The 2-day arts and crafts festival brings you over 90 vendors featuring Greek jewelry, gifts, clothing and culture. Enjoy the hospitality the Greeks are famous for or check out just how good Greek food tastes.
When: April 13th, 10am - 6pm and 14th, 10am - 5pm, 2019
Where: Tarpon Springs, Florida
Web: Sponge Docks Arts and Crafts Festival
---
Blues at the Winery



A weekend event featuring some of the best local blues musicians performing on an outdoor stage. Enjoy Lakeridge wine, beer or soft drinks as you listen to the likes of the Buddy Blues Band.
Outdoor Stage Schedule:
Saturday - Apr 13th - 10.30am - 1:30pm - Marc Clermont & Blues Train
Saturday - Apr 13th - 2pm - 5pm - Lauren Mitchell
Sunday - Apr 14th - 11am - 1:30pm - Mick Quick Band
Sunday - Apr 14th - 2pm - 5pm - Buddy Blues Band
Wine & Cheese Bar Schedule
Saturday - Apr 13th - Noon - 4pm - Ronnie Duncan
Sunday - Apr 14th - Noon - 4pm - Joe Hand
Wine tasting and complimentary Winery tours are a perfect way of passing a sunny Florida day and food.
Adult admission is $10.00 and children under 12 are free.
When: April 13th, 10am - 5pm and April 14th, 11am - 5 pm, 2019
Where: Lakeridge Winery and Vineyards, U.S.27, Clermont, FL 34715
Web: Blues at The Winery
---
Space Coast Warbird Air Show
If you have any interest in military aviation and the planes that fought in deadly combat around the world, this incredibly interesting show is right up your street. The show's stars include transport, bomber and fighter aircraft. Formerly known as the TICO Warbird Air Show.
When: April 15th - 17th, 2019.
Where: Valiant Air Command Warbird Museum, 6600, Tico Road, Titusville
Web: Facebook Warbird Airshow | Warbird Museum
---
Annual Taste of Winter Park
This is the 34th year of guests sampling food from popular Winter Park dining establishments, such as 4 Rivers, Cask & Larder, The Ravenous Pig, Prato to name but a few. others. The event will be held at the Winter Park Farmers' Market.
Cost is $45 - $450.
When: April, 17th, 2019 5pm - 8pm
Where: Winter Park Farmers' Market
---
Central Florida Earth Day
Held at Lake Eola Park (east side), the Central Florida Earth Day celebration educates on how to save the planet in a fun environment. This dog-friendly, alcohol-free, smoke-free vegan event features guest speakers, live music and family activities.
Free admission.
When: April 20th, 2019 from 10am - 6pm
Where: Lake Eola Park, 512 E Washington St., Orlando FL 32801
Web: Central Florida Earth Day
---
Earth Day at Animal Kingdom



April 22nd is both Earth Day and Animal Kingdom's anniversary. What better way to celebrate that with Party for the Planet? There will be special events on April 22nd at Animal Kingdom.
Earth Day Highlights include:
Interactive activities for all ages
Immersive entertainment
Enhanced animal encounters
Commemorative photo options and merchandise
When: April 22nd 2019
Where: Disney's Animal Kingdom
Web: Earth Day at Animal Kingdom
---
Easter Sunrise Service at Bok Tower
Since 1926, this event has been an annual tradition where worshippers can experience the beautiful sunrise from behind the Iron Mountain at Bok Tower Gardens. The Lake Wales Choral will be in attendance along with a carillon performance. Donations are appreciated. The gates open at 6am and breakfast will be available to buy.
When: April 24th, 2019 from 7am - 8am
Where: Bok Tower Gardens, Lake Wales, FL 33853
Web: Bok Tower Easter Sunrise
---
Mount Dora Blueberry Festival



The beautiful little town of Mount Dora plays host to the 4th Festival. And pays homage to the small but significant blueberry. These tasty little blue fruits are everywhere, in the pancake breakfast, hot pies and even alcoholic drinks.
Live music, blues of course, keeps the atmosphere lively and more than 100 vendors are more than happy to serve you and your family. The kids' events will keep the little ones happy. Dare I say, they won't be feeling blue?
A full and fun family day out. And all taking place under the lovely blue skies of Mount Dora.
When: April 27th - 28th, 2019
Where: Elizabeth Evans Park, 100 N Donnelly St., Mount Dora, FL 32757
Web: Mount Dora Blueberry Festival
---
Caribbean Fusion
Showcasing the very best of Caribbean food, culture, music and art. The event is free to everyone and proceeds go to charity.
When: 11am - 7pm, April 28th 2019
Where: Lakefront Park, 201 Lakeview Drive Kissimmee, FL 34741
Web: Caribbean & Floridian Association
---
We hope Central Florida and Orlando in April is awesome for you!
Get an Instant Quote to stay in one of our Disney area vacation homes:
Get an Instant Quote to stay in one of our Disney area vacation homes:
---
More Things To Do In Kissimmee
We spent 2 weeks creating the best online guide to Kissimmee on the web.
It includes everything from free things to do, what to do with kids and a bucket list of attractions along with some of the best places to eat and drink.
It's packed with our personal recommendations, maps and videos.