Kissimmee & Orlando Halloween Events You Won't Want to Miss - 2019
Orlando Halloween event starts early and offer a jaw-dropping array of tricks, treats and terrors. With over 78 nights of funtastic frights for all ages, Orlando and Kissimmee truly are the Halloween Vacation Capital of the nation.
From kid-friendly treats to terrifying tricks, there's nowhere quite like Kissimmee and Orlando for Halloween, so come and enjoy the extended scare-fest with us.
Halloween in Orlando and Kissimmee starts August 16th 2019 with Mickey's Not So Scary Halloween Party and stretches until the last night of Halloween Horror Nights at Universal on November 2nd 2019.
---
Kissimmee & Orlando Halloween Events for Teens and Adults
---
Halloween Horror Nights - Universal Orlando
HHN29 is the premier Orlando Halloween event. It runs select frightening nights from September 6th through November 2nd 2019 at Universal Studios.
With terrifying Haunted Houses,  Scare Zones, roaming hoards branding chainsaws and Live Shows, you're in for a night of terror and treats at Halloween Horror Nights.
Halloween Horror Nights Dates 2019:
September 6, 7, 8, 12, 13, 14, 15, 18, 19, 20, 21, 22, 25, 26, 27, 28, 29
October 2, 3, 4, 5, 6, 9, 10, 11, 12, 13, 17, 18, 19, 20, 23, 24, 25, 26, 27, 29, 30, 31
November 1, 2
There are upgrades you can take to enhance your experience including Express Pass, RIP Tour and Unmasking the Horror Tour.
Where: Universal Studios, Orlando
Web: Halloween Horror Nights

---
Howl-O-Scream Busch Gardens Tampa
One of our favorite Orlando Halloween events is Howl-0-Scream at Busch Gardens - haunted houses, roaming hordes and rollercoasters in the dark. It may not be in Orlando, but it's still top of our list!
The haunted houses are super and the staff members halt the line every few minutes. This "pulse" entrance is, in our opinion, better than the conga line at Universal's Halloween Horror Nights. It means you don't always see where the person in front of you gets a fright.
Is Howl-O-Scream suitable for children? No, it's aimed at adults. Busch Gardens say: "Howl-O-Scream contains intense adult content such as violence, gore and blood and is not intended for children".
Busch Gardens Event Details
When: September 20, 21, 27, 28
October 4, 5, 6, 10, 11, 12, 13, 17, 18, 19, 20, 24, 25, 26, 27, 31
November 1, 2
Where: Busch Gardens, Tampa, Fl
Web: Howl-O-Scream
---
Spooky Empire
The Nations largest horror convention with celebrity guests and a host of events and experiences. It's moving from Orlando to Tampa for the 2019 event.
Visitors will enjoy celebrity autographs, a tattoo festival, film festival, exhibitor room, photo ops, kid zone, costume contest, seminars, live entertainment and more.
When: October 31st, November 1, 2, 3,
Where: Tampa Convention Center
Web: Spooky Empire
---
Petrified Forest - Total Eclipse Nights
Orlando Halloween events include A Petrified Forest, bringing you scare trails full of screams.
The Haunted is an interactive trail taking you through the aftermath of a contamination outbreak.
The Swamp is home to the family from hell who have grown more scary with each generation.
Petrified Forest is rated a PG13. Children under 18 must have a parents signature. The event is not recommended for children under 13, but those that do attend must be accompanied by an adult.
When: November 1st and 2nd 2019
Where: 1360 E Altamonte Dr, Altamonte Springs, Fl
Web: A Petrified Forect
---
2019 Kissimmee & Orlando Halloween Events for All the Family
---
These family orientated Kissimmee and Orlando Halloween events are perfect for younger kids and family fun:
Mickey's Not So Scary Halloween Party
Mickey's Not So Scary Halloween Party is one of the most popular Orlando Halloween events. MNSSHP brings lots of fun for all ages, special parades, awesome fireworks and plenty of trick or treats on select dates throughout October.
Great for adults too - you'll never be too old for this party!
When: 2019 #NotSoScary Party Dates

August 16, 20, 23, 27, 30
September 2, 6, 8, 10, 13, 15, 17, 20, 22, 24, 27, 29
October 1, 3, 4, 6, 8, 10, 11, 14, 15, 17, 18, 20, 21, 24, 25, 27, 29, 31
November 1
Where: Magic Kingdom
Web: Mickey's Not So Scary Halloween Party
---
Spooky Days in the Parks
Spooky Days in the Parks is an annual meet up event where villainous fans celebrate all things Halloween. It's like Dapper Days with a Halloween theme. Disney bounding is the main aim for the event. As costuming is not allowed, check the Spooky Days website below for advice and guidelines.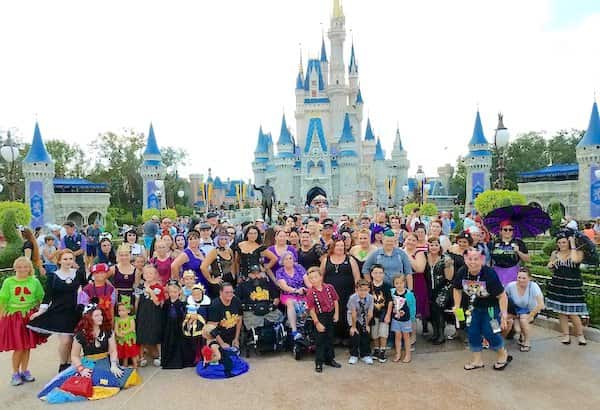 The event this year will take place at Magic Kingdom, kicking off with a Town Square Spooky Day Group Photo at 11am. At 1pm there will be small group and individual photo's at Haunted Mansion. At 3.30pm there will a second group photo at Partners Statue in front of Cinderella Castle. The final event of the day is the Haunted Mansion ride takeover at 6pm.
When: Saturday 7th September 2019
Where: Disney's Magic Kingdom
Web: Spooky Days
---
SeaWorld Halloween Spooktacular
SeaWorld Orlando provides a trick-or-treat "fantasea" with oceans of fun during the SeaWorld Halloween Spooktacular. 
SeaWorld Halloween Spooktacular takes place every weekend, September 21st - October 27th 2018. No separate ticket is needed, Halloween Spooktacular is included with park admission.

When: Every weekend September 21st - October 27th 2019
Where: SeaWorld Orlando
Web: SeaWorld Spooktacular

---
Sesame Street Halloween Kids' Weekends
Busch Gardens in Tampa will be holding Halloween themed weekends throughout October. The weekends events feature animal encounters, hay bale maze, trick or treating and candy stations. There will also be parades and dance parties featuring Sesame Street favorites like Elmo, Cookie Monster and Big Bird all dressed in their Halloween finery. Throw on your cape and head to Busch Gardens for some fun.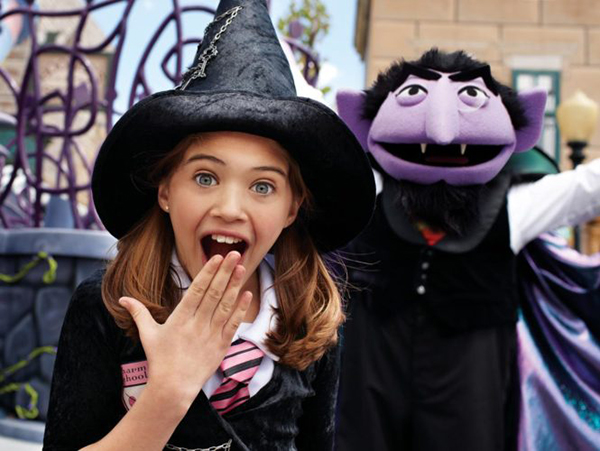 When: Saturdays & Sundays October 5 – 27 2019, 11:00 a.m. – 3:30 p.m.
Where: Busch Gardens, Tampa
Web: Sesame Street Kids Weekends
---
Brick or Treat LegoLand Florida
Brick or Treat at LegoLand is a perfect Orlando Halloween event for the younger kids.
Lots of activities including LEGO ghost building, Scavenger Hunt, Costume Contest, Meet & Greet with LEGO characters, a 13 foot Vampyer Hearse and a fireworks finale. All included with the entry ticket.
When: October 5-6, 13-14, 18, 20, 25, 27 2019 
Where: LEGOLand Florida, Legoland Way, Winter Haven, FL
Web: Legoland Florida
---
Gators Ghosts and Goblins
The alligator capital of the world is joining in the Halloween festivities this season with Gators, Ghosts and Goblins. Take a stroll through the Graveyard of the Darned. Join in the fun at Frank & Stein's Ooky Kooky Octoberfest - there's live music, German beer and German food. The Monster Movie Madness Show stars Bubba, Cooter and, maybe you?!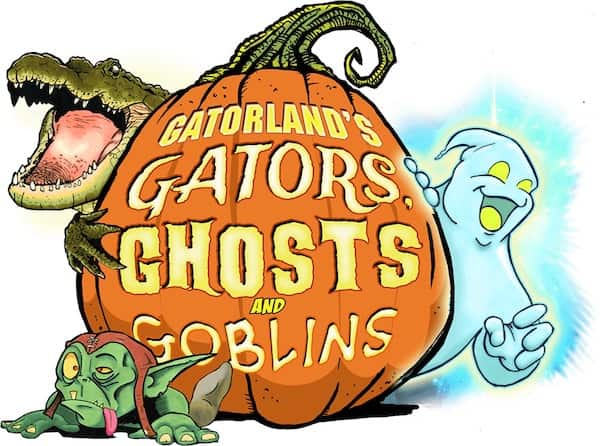 When: October 19, 20, 26, 27, and 31, 2019 | 10 AM to 5 PM
Where: Gatorland Orlando
Web: Gatorland Orlando
---
Boo on Broadway
Take your little ghosts and goblins to Main Street in Downtown Kissimmee for the annual BOO! on Broadway. Terrific family fun for all ages, lots of events and spooks.
Costumed kids receive a free bag to tote all their treats in as they hop from shop to shop, collecting candy from Downtown Merchants.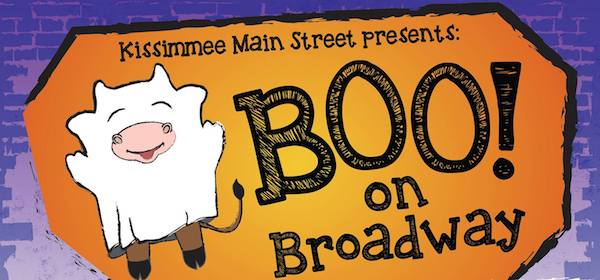 Boo on Broadway Events Include:
Aventures in BooVille
Twilight Ghost Tours of Kissimmee
Spooktacular Scavenger Hunt
Magic Show at 7.30pm
Pumpkin Decorating at First Methodist Church at 8.30pm
Family Movie on the Lawn at Church Street
When: October 25th 2019 from 7pm
Where:  Kissimmee Main Street
Web: Boo! on Broadway
---
Heart Stopping Zombie Pub Crawl
Dress in your tattered zombie duds and crawl your way to Downtown Kissimmee for the Heart Stopping Zombie Pub Crawl on October 26th.
Come for the pub crawl, stay for a night of Halloween events throughout Historic Downtown Kissimmee.

When: October 26th 2019 - 7pm - 9pm
Where: Kissimmee Main Street
Web: EventBrite
---
Twilight Ghost Tour of Downtown Kissimmee
The Osceola County Historical Society are presenting this twilight Ghost Tour of Downtown Kissimmee. 45 haunting minutes for only $10 adults, $5 children (12 and under).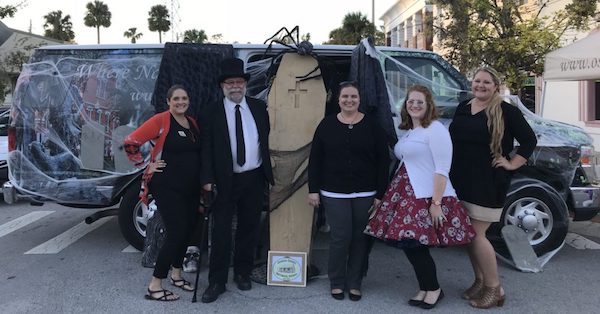 Scheduled Tour Times:
Tour 1 (5:45PM - 6:30PM)
Tour 2 (6:00PM - 6:45PM)
Tour 3 (6:15PM - 7:00PM)
Tour 4 (6:30PM - 7:15PM)
Tour 5 (6:45PM - 7:30PM)  
When: 2019 not yet announced
Where: Downtown Kissimmee
Web: Ghost Tours

---
Halloween Lights at Jeater Bend
This road in the Town of Celebration is a favorite with locals and visitors alike for the awesome Christmas lights display, but they also create a lights spectacular for Halloween. 11 homes join in the display to create a street wide show synchronized to music, projection water and fire.
Drive through or park up and take a good look, this is one of the most visual Orlando Halloween events and great fun for all ages. Drive through and just park up and walk through to take it all in.
Calvin Slater, a Celebration resident, orchestrates the stunning display and uses the light show as a way to help local families in need. He collects canned food for the Kissimmee-based charity – Celebration 34747 Cares.
When: Lights begin October 12th 2019
Where: Jeater Bend Drive, Celebration, Fl
Web: Lights on Jeater Bend
---
Screamin' Green Hauntoween at The Crayola Experience
Screamin' Green Hauntoween at the Crayola Experience includes hands on monster-rific crafts, a themed scavenger hunt, dance parties, character photos, trick or treating and SlimeTime a slime themed show for all the family.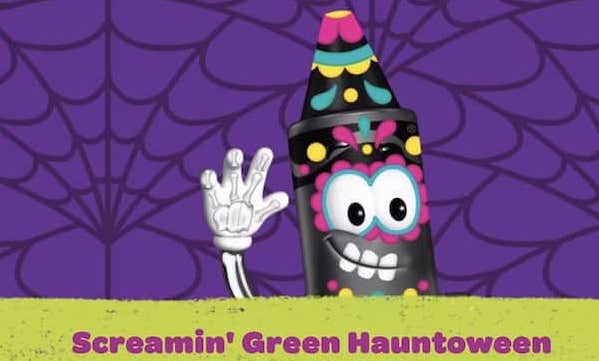 This is one of the Orlando Halloween events that is both fun and creative. Kids will love it!
When: September 21st to October 31st 2019
Where: Crayola Experience, 8001 S Orange Blossom Trail #1300A, Orlando, FL 32809
Web: Screamin' Green Hauntoween
---
Zoo BooBash 
This might just be one of the wildest Orlando Halloween events you'll visit! This not-too-scary event is perfect for the young and old alike. Kids are invited to bring goody bags and wear costumes for trick or treat stations. There's even a face painter for those feeling a little under-dressed.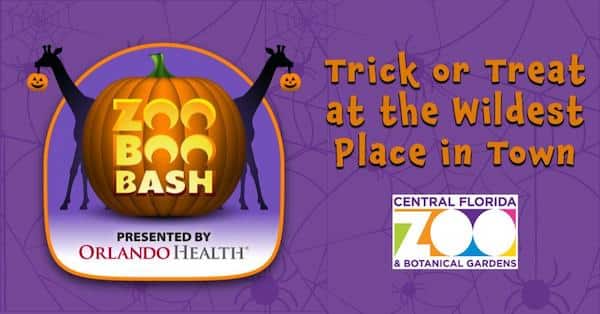 No additional ticket needed, this event is included with the entry fee.
When: October 26th 2019
---
Orlando Haunted Maze
This Orlando halloween event was created by locals George and Sara Dees Goldstein. The Orlando Haunted Maze is now in it's 8th year of fun frights.
The "Gatekeeper" will put you in the picture with stories as you wait in line to enter the maze to see if you make the other side unscathed.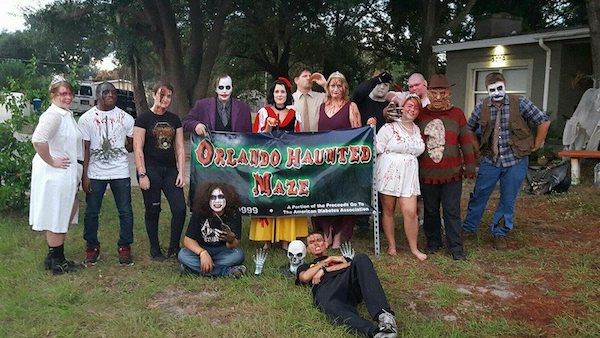 Some of the proceeds go to local charities and the charity chosen for 2017 is Ronald MacDonald House Charities, Central Florida.
When: Every Friday & Saturday from September 27th. October 31st. November 1st & 2nd 2019. 7.30pm to 11pm.
Adults $14, children 3 to 10 $7.
Where: Orlando Haunted Maze, 3209 Calloway DR Orlando, FL 32810
Web: Orlando Haunted Maze
---
That just about wraps up our Orlando Halloween Events Guide, we hope you have a frightfully haunting time! 

Halloween Events in Orlando & Kissimmee | Mickey's Not So Scary Halloween Party | Halloween Horror Nights | Universal RIP Tour | SeaWorld Spooktacular | Howl-O-Scream | Gatorland Gators Ghosts & Goblins |