What's New at Disney World Florida
What's New at Disney World Florida
There are so many new things at Disney World in Orlando. The D23 Expo has been packed with announcements.
With so many awesome new experiences at Epcot, all that info warranted its very own page. Check out new things at Epcot here.
So let's dive right in to What's New at Disney World Orlando
50 Year Anniversary
Anniversaries are serious fun at Disney parks. And the 50th Anniversary of Walt Disney World will be one of the biggest celebrations. Ever!
Celebrations will extend to all four theme parks. There will be highly anticipated attraction openings, new entertainment, food and beverage, and merchandise.
It's going to be the party of the century!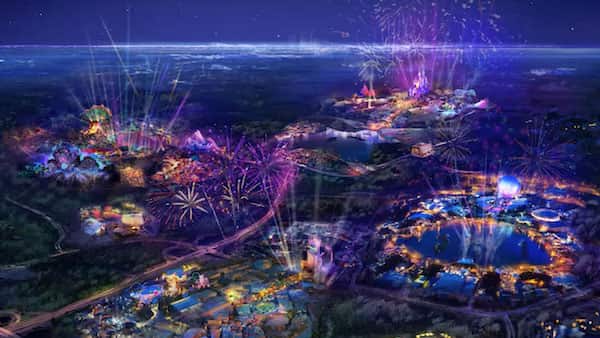 ---
New Star Wars Vacation Experience
A Star Wars vacation experience unlike anything Disney has ever created before is coming our way. The unique experience will fully immerse guests in a galaxy far, far away on the Star Wars: Galactic Starcruiser.
The new experience will offer a two-night itinerary where everyone arrives and departs at the same time. Similar to boarding a Disney Cruise Line.
However, unlike any typical cruise, you will become the hero of your own Star Wars story. It's a new type of immersive experience that only Disney could dream up.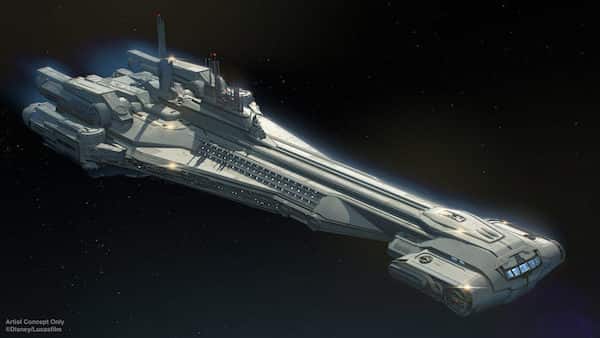 Cruise the galaxy aboard the Halcyon, a starcruiser known throughout the galaxy for its impeccable service and exotic destinations.
Onboard, you will stay in well-appointed cabins, experience onboard dining and make a planet-side excursion to Black Spire Outpost on Batuu.
Throughout your journey, you will be able to delve deeper into personal adventures by participating in onboard activities, interacting with characters, crew and other passengers.
You will become part of the action and the broader Star Wars saga.
Your adventure starts when you arrive at the Galactic Starcruiser Terminal to check in for your two-night experience.
You'll enter a Launch Pod to start your journey into space. Through windows above, you'll see yourself leave the real world behind as you jump to hyperspace and draw closer and closer to the Halcyon.
When the Launch Pod docks with the Halcyon and the airlock opens, you'll step into the ship's main deck Atrium to begin your journey through a galaxy far, far away.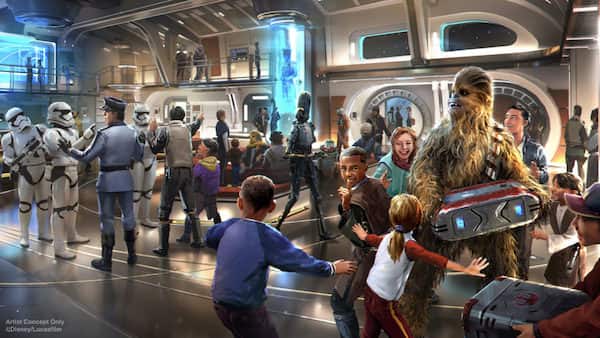 A visit aboard the Halcyon becomes a multi-day story that interweaves with members of the crew, other passengers, familiar Star Wars characters, and an excursion to Star Wars: Galaxy's Edge at Disney's Hollywood Studios. Studios.
The all-immersive experience also features entertaining activities, such as:
Wielding a lightsaber while facing off against a training remote, where guests just may discover their own connection with the Force.
Visiting the starcruiser's Bridge to learn about ship systems and how to operate them, including navigation and defense. These new skills may just come in handy during a journey through this adventure-filled galaxy.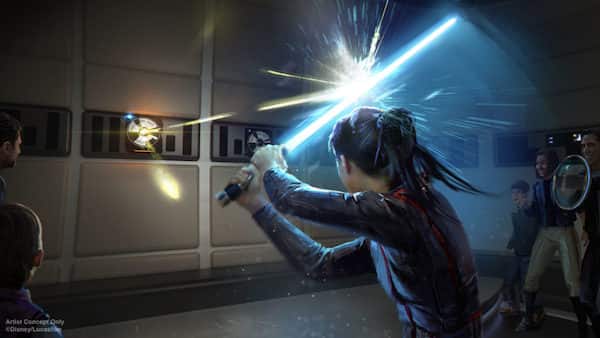 Every window in the Halcyon has a view of the galaxy beyond, with ever-changing vistas as the ship progresses from place to place. There are even windows in cabins!
Explore the Halcyon and discover hidden spaces deep in the mechanics of the ship. Perfect for uncovering secrets. Or holding secret meetings.
Choices you make during your adventure will help determine how their Star Wars stories progress.

---
Mickey & Minnie's Runaway Railway at Hollywood Studios
The first ride-through attraction featuring Mickey Mouse and Minnie Mouse puts you right inside the wacky and unpredictable world of "Mickey Mouse" cartoon shorts.
The Chinese Theatre serves as the magic portal that will transport you from the human world right into the cartoon world. You'll board a train with Goofy as the engineer. Then you'll take a zany, out-of-control adventure filled journey with surprising twists and turns.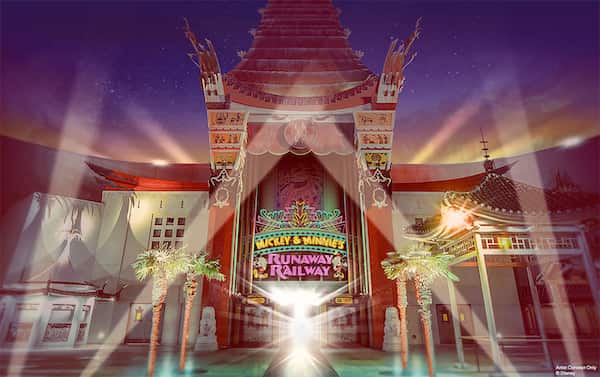 With an original story and lovable theme song, Mickey & Minnie's Runaway Railway uses state-of-the-art technologies and dazzling visual effects to transform the cartoon world into an incredible and immersive multidimensional experience.
---
New Cirque du Soleil Show at Disney Springs
A first-of-its-kind resident show has been announced for Cirque du Soleil at Disney Springs. You'll be able to celebrate the magic of Walt Disney Animation Studios in a touching story brought to life by Cirque du Soleil, Walt Disney Imagineering, and legendary Disney animators.
The yet-to-be-named production will combine Disney storytelling and heart with Cirque du Soleil's signature artistry. It's a tribute to the craftsmanship that makes Disney so extraordinary.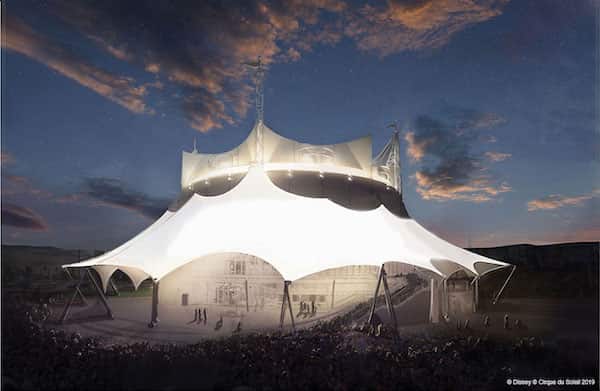 The show will transport the audience into the world of Disney animation with new original acrobatic sequences, dazzling choreography, musical masterpieces and whimsical characters.
Previews will begin March 20, 2020, leading up to the world premiere on April 17. Tickets are now on sale.
Cirque du Soleil Entertainment Group and Disney Parks, Experiences and Products first teamed up to bring La Nouba to the stage at Disney Springs (then Downtown Disney) in 1998.
---
Disney Genie
Planned to debut in late 2020, Disney Genie is a revolutionary new digital offering that will enhance the way guests plan for and experience a trip to Walt Disney World Resort.
Disney Genie will make planning easier and more fun by providing guests customized itineraries geared to princesses, thrill seekers, foodies, families and more. Guests will even be able to tell Disney Genie what they want to experience, and it will quickly evaluate millions of options to present them with an optimal day.
---
Target & Disney Come Together
Target and Disney will come together with a creative retail collaboration that encompasses experiential retail and merchandising.
The launch of 25 Disney stores within select Target stores nationwide will be on October 4 2019. An additional 40 locations will be opening by October 2020.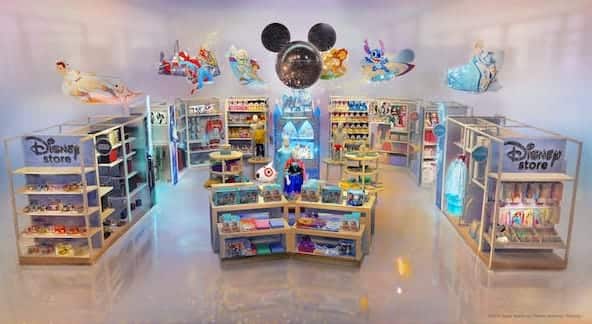 The "shop-in-shop" will feature an enhanced Disney assortment of more than 450 items, including more than 100 products that were previously only available at Disney retail locations.
That's about it for now for new things coming to Disney World. We're exhausted reading it all!