May in Orlando and Central Florida - 2019 Event Guide
Orlando is a fantastic place to be in May. The weather is good (when is it never?), the roads aren't too congested and the parks are quiet enough for most of the month to let you enjoy all the attractions with relatively low crowds.
What's the Orlando Temperature in May?
With a high of 88F/31C and a low of 66F/18C, the Orlando weather in May is perfect. Less than 50% humidity makes it hot but pleasant, and the average temperature in Orlando in May is around 77F/25C which is manageable.
Occasional rain showers are possible, so do keep a rain poncho handy at all times.
What to Pack for May in Orlando?
May in Orlando has to be one of our favorite months. It's pleasantly hot during the day and the evenings are warm too. Your luggage should include pretty much full on summer wear. Pack for hot days and warm nights. See our essential packing tips.
If you feel the cold, you might need a light sweater - not for the outside temperatures, but for inside freezing air-conditioned restaurants!
May in Orlando, Kissimmee and Central Florida - What's On:
Epcot Flower & Garden Festival
Spring is well and truly in full bloom during May in Orlando, more so in Epcot than anywhere else. During the Epcot Flower & Garden Festival, you can feast your eyes on the millions of spectacular blooms. Attend seminars held by Disney horticulturists and get top tips from gardening experts.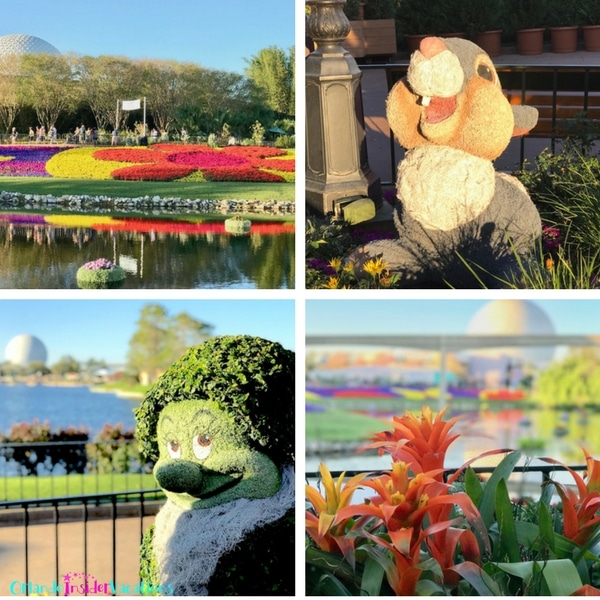 Adults can wine and dine around the world and shop for exclusive garden related items throughout the kiosks around the festival. Take your mouth on a mission to taste your way around 17 outdoor kitchens.
Kids can join in Spike's Pollen Nation Exploration right through until June 3rd.
There's plenty more for kids at Epcot Flower & Garden Festival including interactive play areas and a field excursion. They can even receive an education about the Disney Conservation Fund.
For foot tapping treats, check out Garden Rocks live concerts:
Herman's Hermits, starring Peter Noone May 1 through 4
Don Felder, formerly of The Eagles May 5 through 7
A Flock of Seagulls – NEW! May 8 through 9
Marshall Tucker Band – NEW to Garden Rocks! May 10 through 11
Richard Marx – NEW to Garden Rocks! May 14 through 15
Starship, starring Mickey Thomas May 16 through 19
Colin Hay of Men at Work – NEW! May 20 through 21
War – NEW! May 22 through 23
The Guess Who May 24 through 27
Jon Secada May 28 through 29
Blood, Sweat and Tears May 30 through June 1
Concerts take place at 5.30pm, 6.45pm and 8.00pm at America Gardens Theatre. All shows and times are subject to change, so do check the daily schedule.
All concerts are included in Epcot admittance, no extra fees to pay.
Garden Rocks Dining Packages are available which includes breakfast, lunch or dinner at select restaurants and guaranteed seating at one of the concerts on the same day you dine. Call (407) 939-3378 to book.
Where: Epcot, Walt Disney World
When: Daily from 11am through June 3rd, 2019
Web: Epcot Flower & Garden Festival
---

---
30th Anniversary of Disney's Hollywood Studios
May 1st is the date for this special event where guests can celebrate 30 years of Disney and Pixar. Plenty of meet and greets with your heroes and heroines of the past and present.
30th Anniversary Events Include:
Star Studded Celebration:A cavalcade starring Mickey and friends will head down Hollywood Blvd at 10 a.m.
Anniversary Guide Map & Button: Everyone entering Hollywood Studios on May 1st will be given a commemorative map and button.
Exclusive Merchandise: There will be a 30th Anniversary adult T-shirt, baseball cap, Tervis 24-oz tumbler, MagicBand, ornament and much more. Annual passholders also have their own exclusive merchandise.
Anniversary Eats & Treats: Special commemorative food and beverages includes Kylo Ren Cupcakes, Incredibles Macarons and Tres Leches Verrine.
Brand New Nighttime Spectacular: Wonderful World of Animation is a stirring tribute to animation featuring favorites such "Sleeping Beauty," "The Incredibles," and "Coco". The show debuts at 9.05pm. just before the Star Wars: A Galactic Spectacular show.
Where: Disney's Hollywood Studios
When: May 1st and May 4th, 2019
Web: 30th Anniversary
---
Disney After Hours - May Dates
Disney After Hours offers a limited number of Guests entry to 3 Disney Parks for a unique, 3-hour almost-empty park experience. You'll have little or no wait for popular attractions and Character meet and greets. Just imagine, Disney's most popular rides and events without the crowds. Tickets include early entry to your chosen park, unlimited treats, beverages and popcorn.
Disney After Hours date for May 2019:
Disney After Hours: Magic Kingdom:


Enter from 7pm, After Hours from 10pm to 1am
Thursday, May 2, 2019
Thursday, May 9, 2019
Thursday, May 16, 2019
Thursday, May 23, 2019
Thursday, May 30, 2019

Disney After Hours: Animal Kingdom


Enter from 7pm, After Hours from 9pm to midnight
Tuesday, May 14, 2019
Tuesday, May 21, 2019
Disney After Hours: Hollywood Studios
Enter from 7pm, After Hours from 9.30pm to 12.30am
May 1st – Special event to commemorate Hollywood Studios 30th Anniversary.
May 4th – Celebrate Star Wars – May the 4th Be With You!
A magical night of everything Star Wars. Meet and greet Chewbacca, Kylo Ren and Captain Phasma amongst others at Star Wars Launch Bay. Watch out for the bad guys from the dark side!
Friday, May 10, 2019
Friday, May 17, 2019
Friday, May 24, 2019
Friday, May 31, 2019
Tickets: Advance purchase $125 plus tax
Same day ticket $129 plus tax
Annual Passholders and DVC Members $95 plus tax
Book online or call 407 939 7795.
---
Clearwater Taste Fest
More than 30 restaurants participate in the 10th Annual Clearwater Beach Taste Fest. This culinary treat will satisfy even the most discerning of taste buds. Wine and craft beers available to wash down each and every tasty morsel. Live music by C'Nergy. Raffles, a live auction, vendors and a firework display will also keep you entertained.
Where: Pier 60 Park, 429 Poinsettia Ave., Clearwater Beach FL 33767
When: May 3rd, 2019 6pm - 9pm.
Web: Clearwater Beach Taste Fest
---
64th Bahia Shrine Circus
The Bahia Shrine Circus is a unique annual fundraiser to promote awareness of the Shriners Hospital for Children in Tampa, and to support the financial goals of the Bahia Shrine Center in Orlando.
Bahia Shriners are a fraternal family, with shared goals and values, one of the most important being healthy and happy children.
All proceeds from the Circus benefit the operations of Bahia Shrine Center in Orlando.
Where: Silver Spurs Arena, 1875 Silver Spur Lane, Kissimmee
When: May 4th & 5th, 2019 10.00am, 2.00pm and 6.30pm.
Web: Bahia Shrine Circus
---

---
St John's River Festival of The Arts
Downtown Sanford is the location for this art festival featuring over 150 artists. Along with the art show, which also boasts chalk artists, there is live acoustic music and food vendors. Some of the best artists in the country are present, some giving live demonstrations. Throw in some audience participation and you are guaranteed a great day out. Admission is free.
Where: Downtown Historic Sanford, 32771 FL
When: May 4th and 5th, 2019 (9am - 6pm on Saturday and 10am - 5pm Sunday)
Web: St Johns River Festival of The Arts
---
Cinco de Mayo Fiesta
Island Grove Wine Company at Formosa Gardens are Celebrating Cinco de May with $5 sangrias, both red and white, and Taco Specials.
When: Sunday May 5th - 11am to 6pm
Where: Island Grove Winery, 3011 Formosa Gardens Blvd, Kissimmee, FL
Web: Island Grove Winery
---
It's Blueberry Season
Throughout April and May, you can pick your own blueberries at lots of blueberry farms all around Central Florida. Southern Hill Farms offer blueberry picking with 8 different delicious varieties from 9am to 4pm every day except Mondays.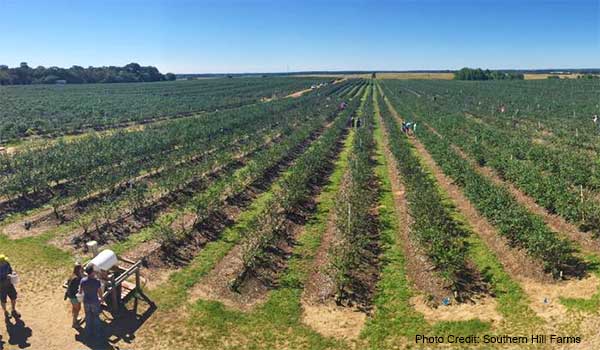 There's a covered playground for kids and an observation deck offering panoramic views over farmland. At weekends they offer food trucks for some local eats.
Hop on the Blueberry Express, a 25 minute ride on a converted cotton picker or head over to Southernhill Market for homemade blueberry muffins, cobbler and blueberry lemonade.
Bouncing Blueberries is a 9am - 12pm event aimed at pre-school children although older kids are welcome. Held on 1st, 9th and 14th May, 2019.
Blueberry U-Pick and Spring Harvest Celebration! is held on 4th, 5th, 11th and 12th which is Mother's Day, 19th, 25th and 26th, May 2019.
Live music performed by Chris Rodriguez, playing from 10:30 am to 2:30 pm. Local craft beer, wine, hard seltzer, light beer, frozen concoctions and blueberry mimosas from our Beer Shed. Blueberry donuts, cobbler, muffins and more seasonal treats from our bakery,
Where: 16651 Schofield Rd, Clermont, Florida
When: May 12th for Mother's Day. Blueberry U-pick on select dates through May 26th, 2019.
From 9-4. Closed Mondays
Web: Southern Hill Farms
---
Monster Jam World Finals XX
The 20th clash of the titan trucks welcomes new competitions and a new format to generate even more excitement. Top quality male and female athletes compete against each other in the same events, pushing their trucks to the limit and beyond.
Courtesy of Gatorland, you can get 20% discount if you book tickets before May 9th. Use code WFTRUCK before you select seats. Go to Ticketmaster to book.
When: 10th and 11th May, 2019
Where: Camping World Stadium, 1 Citrus Bowl Place, Orlando, FL32805
Web: Monster Jam World Finals
---
SeaWorld's Inside Look
A day to remember for the whole family. Meet the SeaWorld veterinarians and animal experts and listen to their experiences when caring for the SeaWorld animals. Sharks, dolphins, sting rays, penguins and orcas are only a few of the animals to receive daily care and attention.
Get exclusive access to areas of SeaWorld not open to other guests in this amazing and up-close event.
When: Weekends May 11th - 19th, 2019
Where: SeaWorld Orlando, 7007 Sea World Drive, Orlando, FL 32821
Web: SeaWorld Inside Look
---
Furry Friends Fun Run
Truly an event for the family. Run, skip, jog or just stroll through 3 miles of SeaWorld's loveliest paths in the Sesame Street neighborhood.

Awards, medals and surprises at the end of the race will bring a smile to everyone's face.
When: May 11th, 2019
Where: SeaWorld, 7007 Sea Harbor Drive Orlando, FL 32819
Web: Furry Friends Fun Run
---

---
Taste of Soul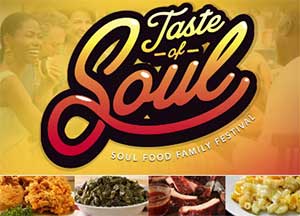 If you haven't already tried delicious soul food, this is an opportunity not to miss. Along with the culinary delights of African/American culture, there's arts and craft vendors and a kids' play area.
Make sure to put on your dancing shoes for the Soul Train Line Dance and cast your mind back to the good old days as the DJ plays some of your favorite golden oldies. And those feet will just keep tapping to the sound of glorious live soul music.
A bit too energetic? No problem. Sit back and play classic games such as Checkers, Connect 4, Twister and more.
Although there is liquor sampling, this is a real family day outing treat.
General admission tickets are free, parking is $5, reserved seating $10, VIP table seating $20 and Brown Liquor Sampling is $35.
Where: Orlando Festival Park, 2911 E Robinson St., Orlando, FL 32803
When: May 11th, 2019 11am - 7pm.
Web: Taste of Soul
---
Jazz on the Vineyard Green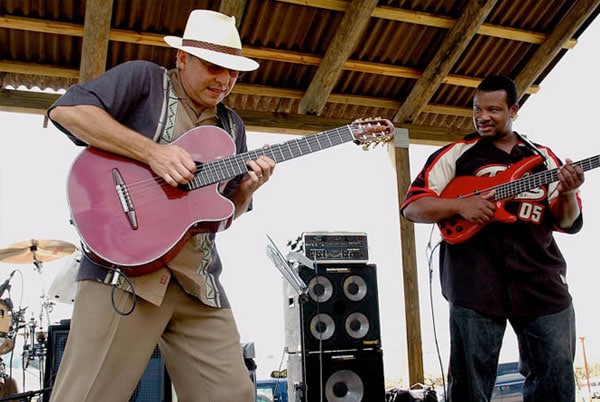 Head down to Lakeridge Winery in Clermont if free tours and wine tasting tickles your fancy. As you relax in the grounds of the Winery, glass in hand, live jazz music will regale your ears and get your feet tapping. Food and non-alcoholic drinks are also available to purchase.
Outdoor Stage Entertainment:
May 11th:
The Dave Capp Project: 10am - 1.30pm
Robert Harris Group: 2pm - 5pm
May 12th:
UCF Jazz Professors: 11am - 1.30pm
Airtight with Marc Clermont: 2pm - 5pm
Wine and Cheese Bar:
May 11th: Jeff Whitfield: noon - 4pm
May 12th: Theo Moon: noon - 4pm
This beautiful location guarantees a great day out.
When: May 11th and 12th, 2019 (10am - 5pm on Saturday and 11am - 5pm Sunday)
Where: Lakeridge Winery and Vineyards, 19239 U.S. 27N, FL 34715
Web: Jazz on The Vineyard Green
---

---
Mayfaire by the Lake Fine Arts Festival
Held on Mother's Day Weekend each year, this event has blossomed into one of Central Florida's largest outdoor arts festivals. Around 165 artists display creations from clay to jewelry and painters of all categories. There a hands-on children's Art Tent where the kids can create a unique gift to give to Mom for Mother's Day.
Food and beverage vendors will offer an endless supply of everyone's favorites and corn dogs and funnel cakes will keep the kids (and some Moms and Dads) happy.
On Saturday May 11th, the fun continues into the night at Lake Mirror, just two blocks north of Lake Morton, with live music, picnics, food trucks, bouncy castle, a 5K run and a fireworks show.
Free parking and shuttle service is available and entrance is free.
Where: Lakeland Public Library, Downtown Lakeland, FL 33801
When: May 11th - 12th, 2019 from 9am - 4pm.
Web: Mayfaire by-the-Lake
---
Mother's Day in Orlando - May 12th 2019
If you're looking for ideas for Mother's Day in Orlando, check out our top picks.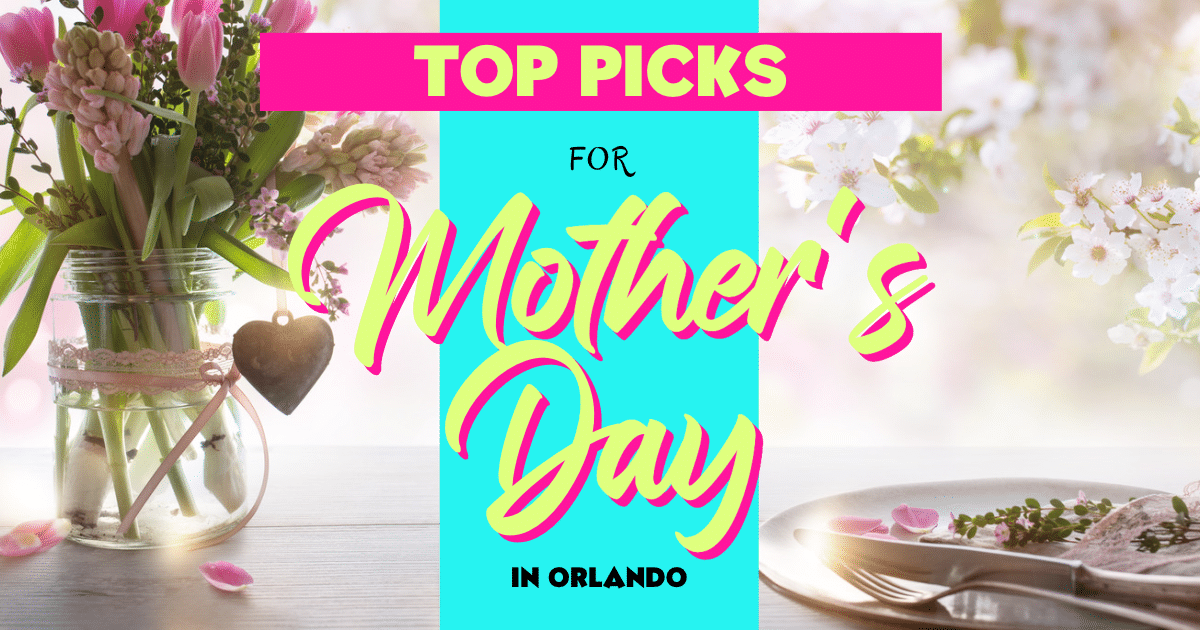 ---
Mother's Day at Bok Tower
Held in the beautiful grounds of Bok Tower Gardens, this is a golden opportunity to treat Mom to a special day out. And it's one everybody will thoroughly enjoy. Moms enjoy free entry but the whole family can benefit from a wander along the garden paths. Enjoy a spot of lunch at Blue Palmetto Cafe.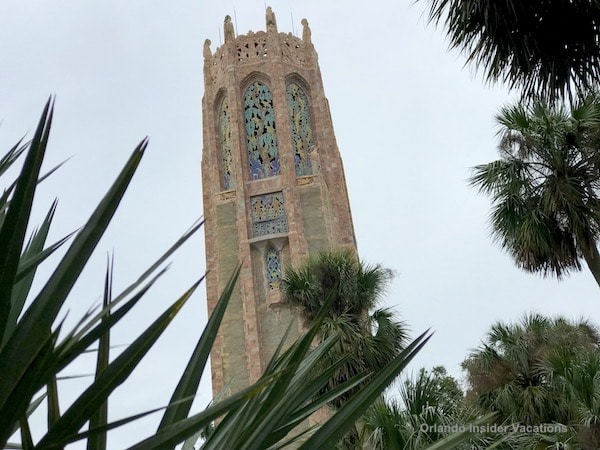 Where: Bok Tower Gardens, 1151 Tower Boulevard, Lake Wales FL 33853.
When: May 12th, 2019 8am - 6pm (last entry at the gate is 5pm)
Web: Mother's Day at Bok Tower
---
Megacon Orlando 2019
The biggest science fiction, horror and anime event in the southeast. 4 days of mixing with comic book stars including Jason Momoa, Michael J. Fox, Lynda Carter, David Tennant, Christopher Lloyd, Kiefer Sutherland and on...and on...and on... and you get the picture.
There's a huge amount of attractions at the event, including Master of Cosply Southeast qualifier, Celebrity Photo Ops, Autograph Sessions, Tattoo Pavilion, Artist Alley, Star Wars Events by the 501st Legion plus many, many more. See Megacon Attractions for the full line up.
Plenty of stars will be happy to sign autographs and pose for photo's (book your slot) or just be cool dudes. Cosplay guests are in abundance including Jessica Nigri, Soni Aralynn and plenty more. Check out the website to find out when your favorite celebrities will be in attendance.
Admission tickets start from as low as $20 and did rise to $429 for the VIP deluxe pass but that has sold out already.
Where: Orange County Convention Center, 9800 International Drive, Orlando FL 32819
When: May 16th - 19th, 2019.
Web: Megacon Orlando
---
Busch Gardens Jack Hanna Weekend
The internationally known expert, "Jungle Jack" Hanna welcomes the whole family to a weekend of meet and greets and incredible animal shows. Listen to his exciting animal tales and facts as well as autograph signings.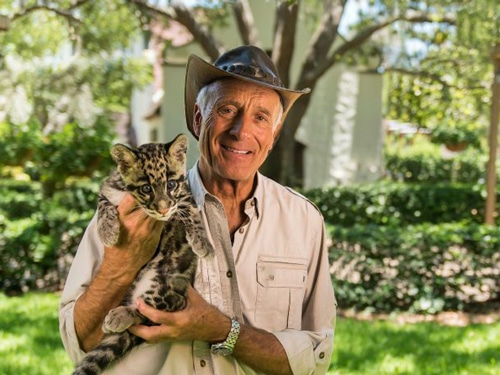 When: May 18th and 19th, 2019
Where: Busch Gardens, Tampa FL 33612.
Web: Jack Hanna Weekends
---
Clermont Waterfront Festival
This family fun day is back for its' fifth year. Along with the usual kids' entertainment zone, over 60 craft vendors along with fast food outlets give guests plenty to browse at or munch on. The highlights of the day are a 5k running race and several awesome dragonboat races. New this year, a canoe race has been added. If you are feeling energetic and register to run the 5k, you will also receive a free breakfast.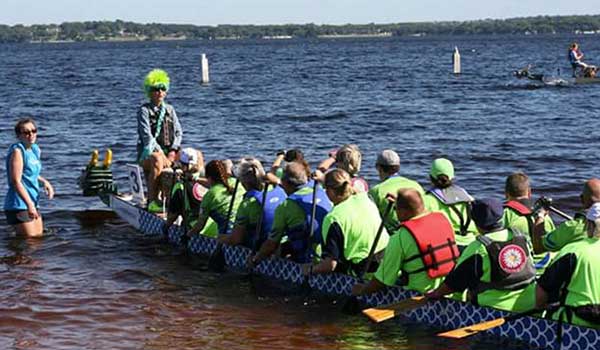 The park is ideal for walking or cycling along the paved "Rails to Trails". Restroom facilities are available, as are picnic areas. There is also a beachfront swimming area or fishing off the piers. Proceeds from the event go to "New Beginnings", a not for profit charity which strives to look after the recently made homeless and others unfortunate enough to lose their jobs.
Where: Waterfront Park on Lake Minneola, 300 3rd St. Clermont, 34711.
When: May 18th, 2019 from 7.30am - 4pm.
Web: Clermont Waterfront Festival
---

---
Wine Tasting Event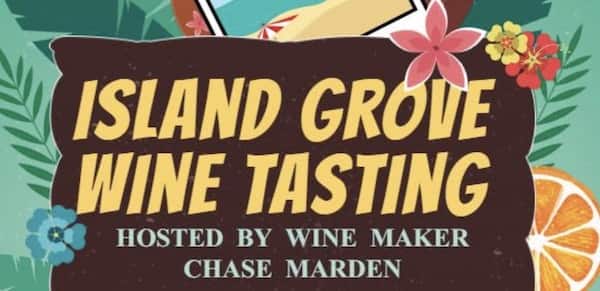 Meet winemaker Chase Marden and learn all about the new filtration process and explore Island Grove wines.
Island Grove specialize in blueberry wine using Florida grown blueberries. They also have a selection of fruit wines and offer a range of traditional wine. There's a store selling a great range of wine related merchandise and an awesome bakery and bistro. If you're staying in one of our vacation homes, Island Grove is on your doorstep. It's within walking distance of Serendipity at Indian Creek.
Reservations are required, call 407 507 9888. $15 per person.
When: May 22nd 2019 - 5pm and 6pm
Where: Island Grove Winery, 3011 Formosa Gardens Blvd, Kissimmee, FL
Web: Formosa Winery
---
SeaWorld Electric Ocean
Sunset at SeaWorld is spectacular when their Electric Ocean gets under way. Music and lights mix to create an amazing atmosphere and a fabulous firework display is merely the icing on the cake.
When: May 24th - September 1st, 2019
Where: Seaworld
Web: Electric Ocean
---
Orlando Carnival Downtown
This is the 32nd annual event to celebrate everything Caribbean. Music, dancing, beautiful colored costumes, Caribbean cooking at its' best with spicy dishes washed down with tantalizing and tasty cocktails. 12 hours of fun in the sun should keep 20,000 guests entertained.
When: May 26th, 2019.
Where: Camping World Stadium, 1, Citrus Bowl Place, Orlando FL 32805
Web: Orlando Carnival Downtown
---
So there you have it. We hope May in Orlando is awesome for you and your family!

SaveSave
Wait... There's More...
We spent 2 weeks creating the best online guide to Orlando on the web. It includes everything from theme park guides and videos, free things to do, what to do with kids and a bucket list of attractions along with some of the best places to eat and drink.
It's packed with our personal recommendations, maps and videos.