Orlando Magical Dining - The Tastiest Time of The Year
Magical Dining - Eat For A Cause
Orlando might be famous for the mighty mouse and wand waving wizard, but a food revolution has taken place in recent years. Central Florida is blessed with a culinary community of awesome eats. From quirky food trucks to the ultimate in fine dining.
Magical Dining is one of Central Florida's premier culinary events. The 2019 event runs August 23rd through September 30th.
During Magical Dining, foodies can dine on haute cuisine from over 120 fine dining restaurants offering a $35 three-course, prix fixe dinner menu. Plus there's special options for vegan, vegetarian and gluten-free diets.
A record-breaking 120+ restaurants are ready to serve up culinary delights at a fraction of the cost. Eleven new restaurants, including two celebrity chef restaurants, have joined the program for the first time.
Fresh, local and creative is the name of the game. Magical Dining Month, organized by Visit Orlando, gives a unique opportunity to experience the Orlando food scene at a fraction of the cost.
And $1 of every magical meal is donated to two great local causes, so it's a win-win. Over $1 million dollars have been donated since the Magical Dining Month launched in 2009.
Magical Dining New Restaurants:
Bella Tuscany Italian Restaurant
Bites & Bubbles
Enzo's Hideaway
Euphoria
JALEO
Menagerie Eatery & Bar
Mia's Italian Kitchen
The Backroom Steakhouse
The Edison at Disney Springs
The H Cuisine
Wolfgang Puck Bar & Grill
Magical Dining Disney Restaurants: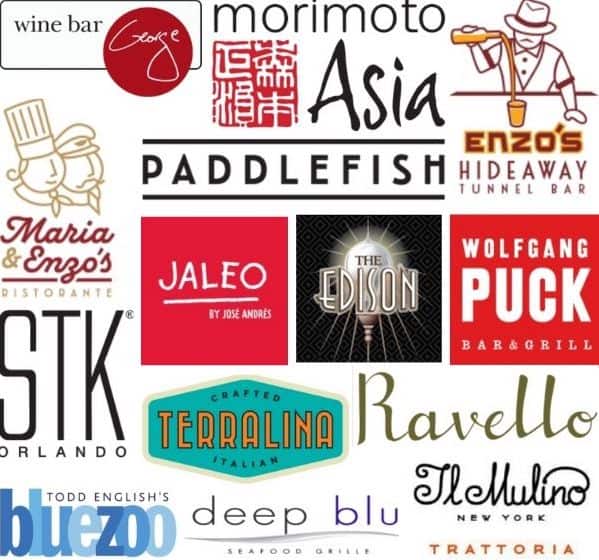 For a full line up of all restaurants participating in Magical Dining, and menus for each, check Visit Orlando website.

What's Included in the Magical Dining Price?
The $35 menu offers a three-course dinner. There's a choice of appetizer, entrée and dessert from the special Magical Dining Month menu. Tax and gratuity are not included.
Do I need to Book for Magical Dining Restaurants?
Yes, it's advisable, especially at weekends. Go to your chosen restaurant on the Visit Orlando website. Select to make a reservation online if available or call.
You can also make reservations on Open Table. Walk ins are welcome too, subject to availability.
Do I Need to Request Magical Dining Menu?
Some restaurants will offer it automatically, others you need to request it. To get the $35 Magical Dining Month deal, you must select from the Magical Dining Month Menu.
Enjoy biting your way through some of the best food in Orlando during Magical Dining Month.
Magical Dining will benefit two nonprofits that help local children and families: the National Alliance on Mental Illness (NAMI) Greater Orlando and Lighthouse Central Florida.
"Visit Orlando's Magical Dining is one of the most powerful ways our industry makes a difference in the community. Last year's donation topped $250,000, so you can imagine the significant impact these funds can make," said George Aguel, president and CEO of Visit Orlando. "Along with our valuable restaurant members, we are excited to raise awareness and support for these two meaningful causes."
National Alliance on Mental Illness (NAMI) Greater Orlando
NAMI Greater Orlando is a grassroots support network for individuals and families affected by mental health conditions. Visit Orlando's Magical Dining will benefit the organization's "Ending the Silence" program, which helps raise awareness and change perceptions among teenagers about mental health and suicide prevention.
Lighthouse Central Florida
Lighthouse Central Florida helps individuals with vision loss adjust to their reality with confidence. Proceeds from Visit Orlando's Magical Dining will enable Lighthouse to expand its early intervention programs for children so they can adapt, integrate and enjoy active, productive lives.