Halloween Horror Nights 2019 - Trick, Treat or Terror?
Halloween Horror Nights 2019 at Universal Studios is one of the Hottest Events in the Halloween Calendar. The event runs for a record breaking 41 select nights from September 6th to November 2nd 2019.
With almost 3 decades of terror under their belts, nobody hits the scare scale like Universal. Halloween Horror Nights 2019 are set to be the scariest ever.
Scream your way through the terrifying Haunted Houses, or run the gauntlet through Scare Zones. The streets swarm with menacing demons, monsters and maniacs doing their baddest best to make your night a nightmare to remember.
If you're looking for cutsie costumes, trick or treating and light-hearted spooky fun, then head over to Mickey's Not So Scary Halloween Party or SeaWorld Spooktacular.
Pretty pumpkins and singing skeletons are not on the agenda at HHN29.
Halloween Horror Nights 2019 Dates:
September 6, 7, 8, 12, 13, 14, 15, 18, 19, 20, 21, 22, 25, 26, 27, 28, 29
October 2, 3, 4, 5, 6, 9, 10, 11, 12, 13, 17, 18, 19, 20, 23, 24, 25, 26, 27, 29, 30, 31
November 1, 2
2019 Halloween Horror Nights Haunted Houses
Universal always drip feed the Haunted House reveal, here's what's been announced so far:
Universal Monsters
Universal Monsters will come to life in an all-new terrifying maze. The new haunted house is inspired by Universal's original cinematic monsters and the movie studio that invented the horror films. Terrifying experiences will waken some of the most frightening and legendary monsters in horror history.
Visitors to #HHN29 will be hunted by every single grisly monster from the anthology, including Dracula, The Wolf Man and Frankenstein. Each sinister environment will bleed from one to the next:
😱 Face bloody terrors in Dracula's castle and flee from what is behind the cryptic howls of the grim forest.
😱 Run from the horrifying manmade monster within Dr. Frankenstein's laboratory.
😱 Fall prey to an ancient Egyptian curse as you are pursued by the evil Mummy.
😱 Escape the mysterious Creature lurking in the Black Lagoon.

---
Nightingales: Blood Pit
Nightingales: Blood Pit is set in Ancient Rome. You'll be thrust into a gladiator arena as bloodthirsty nightingales begin to feed on the dead and dying.
Just a walk in the park then 😱😱😱😱
Nightingales are a grisly race of creatures that have been here since the dawn of time. As ravenous nightingales notice fresh blood amongst them, you'll have to try and survive alongside gladiators.
---
Stranger Things
Hold on to your britches as your world turns Upside Down when you visit Hawkins. Look up and behind you, that pesky Demogorgon is sure stalking somewhere be close by. Fans of the Netflix hit series, Stranger Things, will recognize features from series 2 and 3.
---
Depths of Fear
In an all-new original story created by the twisted minds of Universal's Entertainment team, you'll be transported to a deep-sea mining company that has been infested by the parasitic "Mouthbrooders," who spew their acidic flesh-eating eggs upon unsuspecting humans, turning them into crazed hosts.
As the infected are driven to madness, guests will try to escape, but as pressure begins to build, implosion awaits – will they make it out alive or fall deep into their watery graves?
---
Yeti: Terror of the Yukon
You'll be heading to an isolated logging camp in a remote part of Canada that's all but uninhabitable.
As you venture through the camp, you'll quickly discover you are not alone. You must flee from a tribe of Yeti, beasts as brutal as the winter.
If the cold doesn't get you, the Yeti will…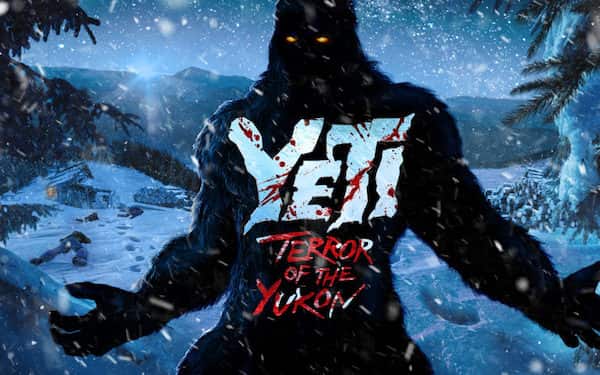 ---
Ghostbusters
Ghostbusters is joining the Halloween Horror Nights line-up for the first time ever. Memorable scenes, characters and supernatural spirits from the iconic films come to life in this immersive maze.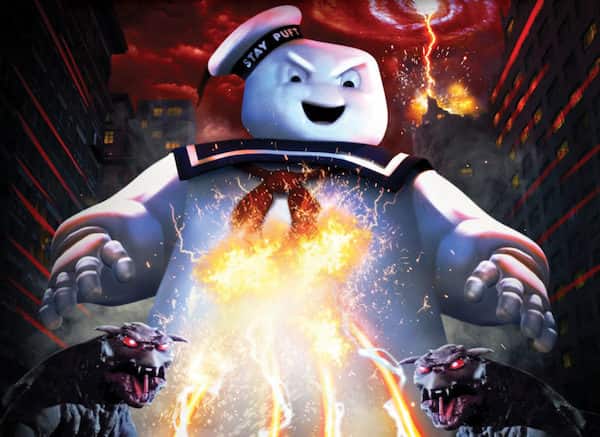 Follow in the footsteps of the Ghostbusters as you venture through artfully recreated scenes from the film. See the firehouse, New York Public Library and Temple of Gozer. All the while an army of ghoulish spirits, hideous specters and ectoplasm-dripping phantasms attack from every corner.
You'll come face-to-face with an array of paranormal creatures, from the voracious Slimer to the all-powerful Gozer the Gozerian and in its ultimate destructor form – the Stay Puft Marshmallow Man.
---
Killer Klowns From Outer Space
1980s cult film favorite, the "Killer Klowns from Outer Space" is coming to Universal Orlando Horror Nights.
The sweet smell of cotton candy and ice-cream will lure you to the sleepy small town of Crescent Cove. But you'll find yourself in an otherworldly circus tent where you'll come face-to-face with the crazed klowns. Witness diabolical klowns making cotton candy cocoons from unsuspecting victims. Are you the next gooey snack?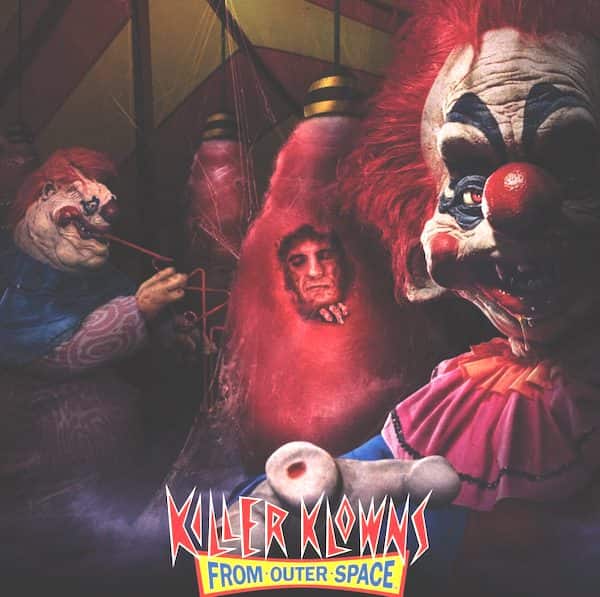 From one shrieking klown to the next, the mazes leads you through the doomed community of Crescent Cove to an eerie amusement park closed for the season. Trapped in a terrifying funhouse full of killer klowns, there's no stopping this twisted three-ring circus.
---
Scare Zones for Halloween Horror Nights
Scare Zones for HHN 2019 have not yet been released, below are the events from 2018 to give you an idea.
Think the houses are scary? Strolling the streets are no walk in the park either. The street scenes might just stretch your nerve to the point of no return.
Revenge of Chucky
That cute and adorable Chucky is back with a vengeance. He'll be creating chaos in the streets of Universal Studios. Chucky and his band of demented toys will be dishing out torturous horrors to get his revenge.
Killer Klowns From Outer Space
Don't let that sweet smell of cotton candy fool you. In this Scare Zone based on the cult classic, killer clowns cocoon human victims inside giant pods of cotton candy. Make sure those cotton candy rayguns don't turn you into their next snack.
Vamp 85: New Year's Eve

 
This isn't going to be your typical New Years bash. Fanged punks, material girls and metal head vamps will start a feeding frenzy as soon as the ball drops.
Twisted Tradition
Come face-to-face with beings of rotted pumpkins and fetid vines who are seeking out human sacrifices for their twisted traditions.
The Harvest
This might look like an old abandoned barn, but foul and decrepit creatures are lurking to harvest flesh. See if you can survive this years' Harvest.

---
Live Shows for Halloween Horror Nights 
Shows for 2019 have not been released, below is the information from 2018.
Academy of Villains - Cyberpunk
With a wicked mix of dance, acrobatics and theatrics, Academy of Villains is back with an all-new performance. Prepare for maximum overload in this test of humanity versus technology. Set in a dark and distant city of the future, Academy of Villains hack into a world of pounding synths and neon lights.
---
What You Need to Know About Halloween Horror Nights 2019:
1) IT'S NOT FOR KIDS
Nothing about the Halloween Horror Nights are geared up for kids. We've seen kids at past events, so it's really down to parents to make the decision, but it's definitely an older teen and adult event. Not only is the scare factor pretty high, but alcohol is sold throughout the park too.
Universal warn:
We strongly urge parents with children under the age of 13 to reconsider visiting this event with their children. They will be exposed to extremely adult material.
Take the kids to Mickey's Not So Scary Halloween Party or SeaWorlds Spooktacular.
2) THINK HARD ABOUT EXPRESS PASSES
We can't express (no pun intended!) how popular these events are. The Express Passes are essential on peak nights. Yes, it makes it a high-priced night out, but your experience will be hugely diminished without an Express Pass on many nights.
We made the mistake of not getting an Express Pass a few years ago and the lines were 2 to 3 hours for the popular haunted houses. We missed out on a LOT that visit. Express Passes for peak nights will sell out.
Note: Express Passes that come complimentary with select Universal hotel stays are NOT valid for Halloween Horror Nights.
3) Consider an Upgrade
By far our best experience was the RIP Tour. We loved it! If your budget allows, splurge for this if you want to see EVERYTHING with minimal fuss and zero lines. But this upgrade doesn't come cheap, starting at $199.99 (inc tax) per person PLUS event ticket. It's all down to personal choice and budget.
Premier and Preferred Annual Passholders get 10% off and Power Annual Passholders get 5% off, on select event nights.
We hope you survive to tell the tale of your Halloween Horror Nights at Universal Orlando. Don't scream too loud now!