Vegetarian and Vegan Dining in Orlando & Kissimmee
Whether you've made a commitment to healthy eating or just fancy a change, you don't have to miss out on dinner while on vacation in Orlando. Vegetarian and vegan dining in Orlando and Kissimmee is plentiful.
There are Vegetarian and Vegan Dining options locally, in the parks and a few local haunts a little further afield.
If you're wandering around the Orlando theme parks and feeling peckish, there plenty of options to tickle your vegetarian and vegan taste buds. Menus change quite frequently, but items below will give you a guide.
Disney go above and beyond to cater for dietary requirements. Disney chefs really know their stuff when it comes to vegetarian and vegan dining, or guests with dietary or allergy requirements. Always discuss your options with your server.
Vegetarian and Vegan Dining at Disney Parks
Iconic Vegan Snacks
The first thing we have to note is some hugely popular sweet treats that are ideal for vegans. The Dole Whip is probably Disney's most iconic park snack and the pineapple version is vegan. (The vanilla version is not). The hashtag #DoleWhip has over 160,000 posts, so you can see how popular it is!
And a newcomer in 2018, the Peter Pan Float has already graced the pages of many Instagram accounts. And if you order it without the red chocolate feather, it's perfect for vegans. Available from Storybook Circus in Magic Kingdom.
Another to add to the list is LeFou's Brew. This delicious slush drink from Gaston's Tavern in Magic Kingdom is totally vegan.
Here's what available for Vegetarian and Vegan dining in the parks:
Magic Kingdom:
The Plaza Ice Cream Parlor on Main Street USA offers Toffuti or Rice Dream. (Cones contain honey, so vegans need to ask for a cup or float).
Columbia Harbor House at Liberty Square has a vegetarian chilli which is vegan friendly if you cut out the crackers. There's also a Lighthouse Sandwich without the slaw.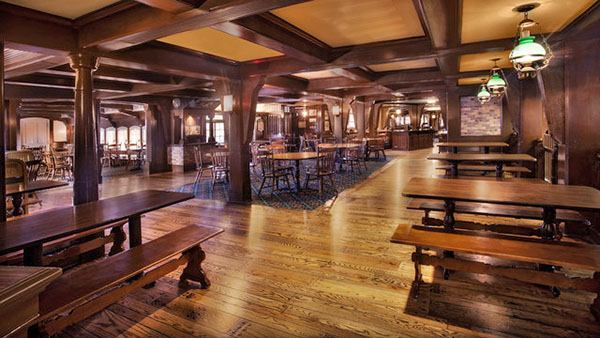 Main Street USA also has Crystal Palace where you can get vegetables, rice and tofu dishes. Speak to the chef about vegan options.
Tortoga Tavern in Adventureland has a Vegan Vegetable Burrito, be sure to ask for plain white rice.
Plaza Restaurant has a veggie burger and vegetable sandwich on vegan bread.
In Fantasyland, Be Our Guest has Quinoa Salad or French Onion Soup, (vegans ask for it without the cheese) for lunch.
Dinner options include Whole Grain Macaroni & Marinara Sauce and Ratatouille.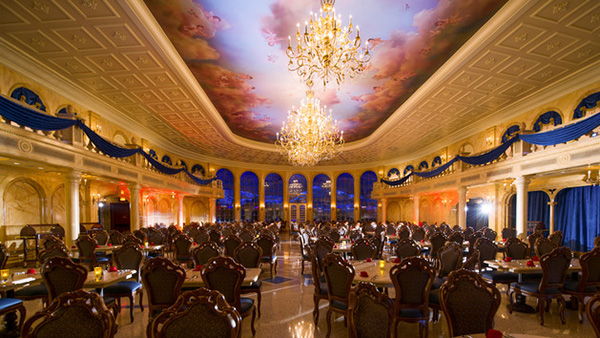 In Tomorrowland, Cosmic Ray's Starlight Cafe has the Malibu Garden Burger. There are several toppings available. Vegans need to ask for the gluten-free bun as the regular bun contains honey.
The Malibu Garden Burger can also be found in Peco Bill's in Frontierland.
Aloha Isle offers Pineapple and Orange Dole Whip and a Dole Whip Float.
Liberty Square is home to the Liberty Tree Tavern where you will find a Roast Veggie Sandwich with the option of Vegan Mayo.
Tony's Town Square offers vegan and vegetarian pasta dishes.
Hollywood Studios
Several vegetarian and vegan dining options here. Malibu Garden Burger at Rosies All American Cafe and also Sci-Fi Dine-In Theater Restaurant. Sci-Fi also offers vegan pasta and milkshakes.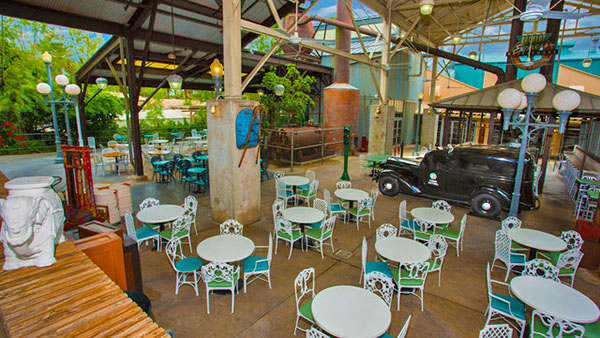 Backlot Express at Echo Lake has a grilled vegetable sandwich available on asiago bread, without the pesto and cheese for vegans.
50's Prime Time Cafe offers Sissy's Vegetarian spaghetti. If you have a sweet tooth, be sure to ask about the tofutti ice cream and vegan milk shakes.
Commissary Lane is home to ABC Commissary and offers Couscous, Quinoa and Arugla Salad.
PizzeRizzo has Grilled Vegetable Pizza with the option to have Follow Your Heart Vegan Cheese. There's also a side salad. Vegans can have it without croutons or cheese and request Italian instead of Caesar dressing.
BaseLine Tap House offers a soft Bavarian Pretzel that is served with beer cheese dip and spicy mustard dip. Vegans can get two spicy mustards dips instead.
EPCOT
Sunshine Seasons Restaurant in The Land has plenty of vegetarian and vegan dining options. There's even a Special Dietary Treats Station. Take your pick from a selection of grab and go snacks such as veggie wraps, suchi or the Oak Grilled Veggie Sandwich (vegans leave out the feta). You can even ask for the Timarand Beef with Jasmine Rice and they'll substitute beef for vegan Gardein Beef-Less Tips. (Make sure the cashier knows it's vegan beef as it's priced lower than the beef version).
Coral Reef Restaurant have a Vegetarian Chicken Breast and Marinated Grilled Vegetables.
Over at World Showcase, L'Artisan des Glaces in France has a sorbet in vegan friendly waffle cones.
Les Chefs de France offers Ratatouille (minus cheese for vegans).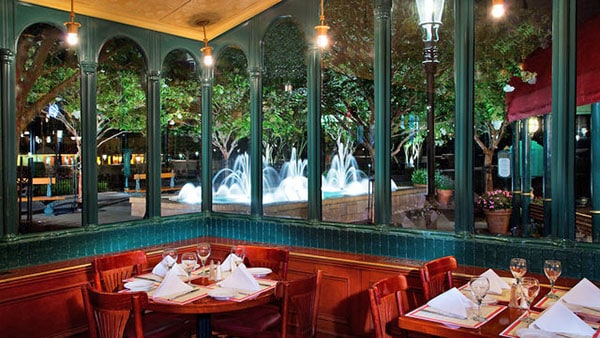 Tangerine Cafe in Morocco has a Vegetable platter - vegans can substitute the pita bread and lentil salad. They often have vegan bread.
Marrakesh Restaurant also in Morocco has vegetarian and vegan options, so be sure to ask the server.
Katsura Grill in Japan has a vegetable roll suitable for vegans
Mexico offers Guacamole con Totopos in La Cantina.
Teppan Edo in Japan has grilled veggies with white rice. Tokyo Dining has vegetable sushi and seaweed salad.
Vegan Fish & Chips are available at Rose and Crown in the United Kingdom using Gardein fishless fillets.
Animal Kingdom
Satu'li Canteen in Pandora: World of Avatar offers the Crispy Fried Tofu Bowl. Perfect for vegetarians, there's a choice of 4 vegan bases too. Vegans will want to leave off the boba balls.
Restaurantosaurus in Dinoland has the Malibu Garden Burger with a selection of vegan toppings. Vegans need to ask for a gluten-free bun as the regular bun contains honey.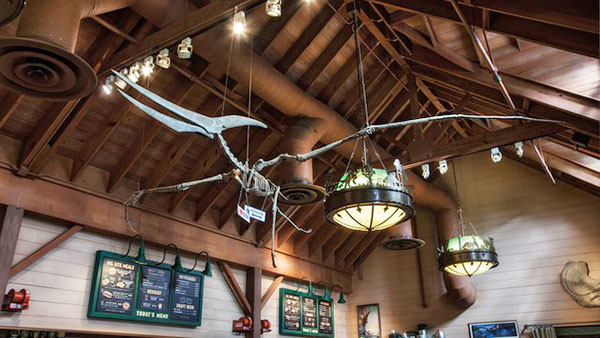 Pizzafari in Safari Village has a Veggie Pizza and an option of vegan cheese.
Tusker House Restaurant offers fun character dining and lots of vegetarian and vegan dining options. It's buffet style and the buffet is always loaded with dishes perfect for vegans and vegetarians.
Yak and Yeti is a Nepalese style restaurant offering pan-Asian cuisine. Vegetarians can get several dishes and vegans can get Miso Tofu, Sweet & Sour Tofu and rice or noodles with tofu.
---
Vegetarian and Vegan Dining in Disney Resorts
Animal Kingdom Lodge:
Sanaa in Kidani Village offers a full-blown Vegan Menu and has a huge choice.
Vegetarian and Vegan Dining Options: For appetizers, Indian Naan Bread with a selection of dips; Potato and Pea Samosas; Salad Sampler offering a choice of 3 salads from selections; Tomato & Spinach Soup and Chickpea Cakes.
Entrees: Vindaloo Vegetables, Spicy Chickpeas and Vegetables with Green Curry Sauce.
Dessert: Tofutti Ice Cream (which is also available in several other places around the Disney hotels and parks); The Mango Sorbet is also available and served with a selection of fresh fruits.
Website: Sanaa at Animal Kingdom Lodge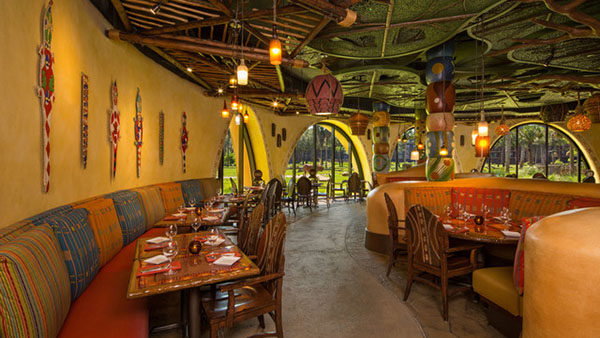 Jiko — The Cooking Place offers dinner only and will thrill the palettes of vegetarians, vegans and meat eaters. It really has something for everyone. There's a whole vegan and vegetarian menu available. It changes seasonally so we can't give examples, but you won't be disappointed!
Website: Jiko - The Cooking Place
The Boma Buffet at Animal Kingdom Lodge has several options. As with everything else, their service is exceptional. The chef will walk you around the buffet explaining the items you can eat.
Website: Boma Buffet at Animal Kingdom Lodge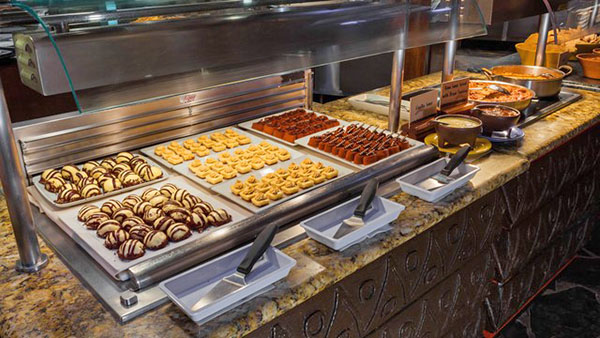 Grand Floridian:
Citrico's Restaurant at the Grand Floridian offers a good choice and the chef will be happy to talk to you about your requirements. The wait staff are extremely knowledgable too. They'll make sure you get vegan bread and soy milk for coffee.
The menu changes frequently and is Mediterranean based.
Website: Citrico's at Grand Floridian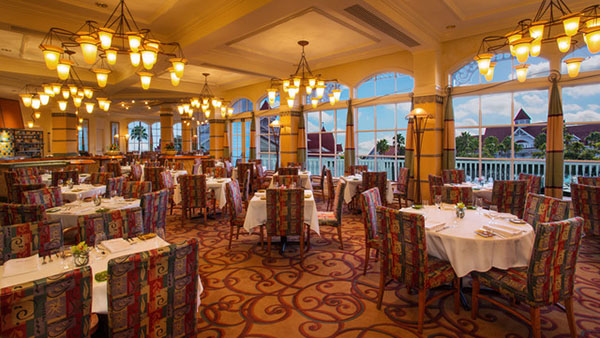 Narcoossee's also at Grand Floridian offers a full vegetarian and vegan menu. As a diner, you can also watch the Happily Ever After fireworks at Magic Kingdom from the beach area. A super fireworks view without the crowds!
Advanced reservations are strongly advised in all Disney full service restaurants and you can book ahead as far as 180 days.
Dining Hotline: 407-939-3463
Book online: Disney Dining
---
Vegetarian and Vegan Dining at Disney Springs
Disney Springs has a ton of options for vegan and vegetarian dining.
The Impossible Burger is available at both House of Blues and The Edison. The vegan patty is served with vegan American cheese, shredded romaine, secret sauce with dill pickle chips on a vegan bun. The Edison also offer a Greek Salad (without Feta for Vegans) and a Chopstick Chicken Salad, without chicken for vegetarians and vegans.
Erin McKenna Bakery NYC is a unique bakery with savory offerings and an all-vegan and gluten-free menu. Look for a full selection of award-winning donuts, cupcakes, cookies, bagels with vegan butter. Fan-favorite cupcakes from their flagship bakery in New York include vanilla cupcakes with zesty lemon frosting, red velvet cupcakes ith creamy vanilla frosting and brownie cupcakes with rich chocolate frosting.
See full menu at Erin McKennas Bakery NYC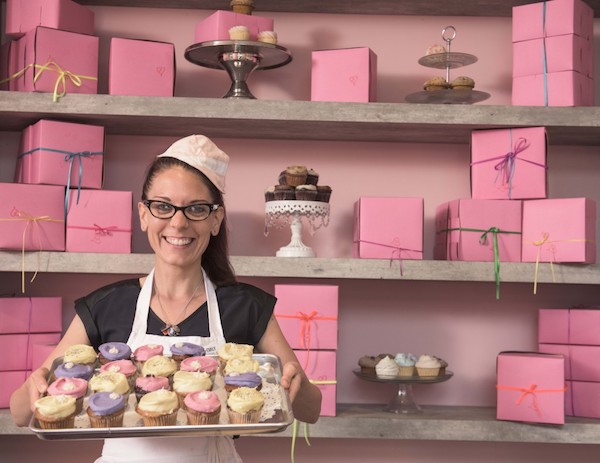 Staying with the sweet treats, the Red Velvet Cupcake at Sprinkles is vegan. Be sure to ask if there are any other vegan versions available and they often have specials.
Raglan Road has a 'from scratch' kitchen which makes it much easier for them to rustle up a treat for vegetarian and vegan dining. The 'Super-Cauli-Caponata-Tasty-N-Delicious' is spiced cauliflower eggplant caponata with lentil and pumpkin seed dressing. They also have a vegetable medley and The Big Q without cheese.
Bongo's Cuban Cafe have a variety of vegetarian and vegan menu items including the Black Bean Hummus (vegans order it without the aioli). There's also avocado salad, mixed veggies, vegetarian stew and veggie Cuban wrap.
The Boathouse offers Garden Salad, Sea Salt Baked Potato, Corn on the Cob and Grilled Asparagus (Vegans ask for no hollandaise sauce).
Frontera Cocina offers Zuccini & Poblano Tostadas (without cheese), Vegetable Enchiladas and Mushroom Tortas (without cheese). The guacamole and chips are also vegan.
Blaze Pizza offer build your own pizzas with Daiya Vegan Cheese. The regular crusts and gluten free crusts are vegan.
Morimoto Asia offer several vegetarian and vegan dining options. Sautéed Chinese Vegetables, Vegetable Steamed Rolls, White & Brown Rice and Steamed Vegetables. There's also Miso Soup and House Greens.
D-Luxe Burger offer a vegetarian burger. The bun is not vegan, but you can get it between a halved lettuce head instead.
The House-made Guacamole at Paradiso 37 is very tasty and totally vegan. There's also Roast Vegetables and House Salad (without cheese).
Paddlefish offer Vegetarian Pasta (vegans request no cheese or butter) and green salad, along with crispy Brussel sprouts, fries and Blistered Green Beans.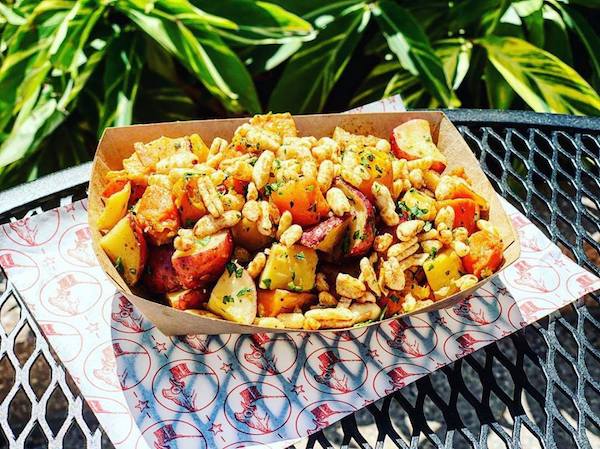 Polite Pig - while a BBQ joint might not sound like the ideal place for vegetarians or vegans, you actually do have a good choice! A recently introduced vegan dish is Smoked Root Vegetables tossed in an orange-thyme vinaigrette and topped with puffed grains. Other vegetarian options include Tomato & Watermelon Salad, Roast Beets, Crispy Brussel Sprouts, BBQ Cauliflower (without sour cream for vegans), Grilled Street Corn (without butter for vegans) and Sweet Potato Tots (without cheese for vegans).
---
Vegetarian and Vegan Dining at Universal Orlando
Universal Orlando offer a good selection in City Walk and throughout the theme parks. If you get a little peckish in the parks, you can snack on popcorn, soft pretzels and Dippin Dots - the Rainbow variety is Vegan. There's also fresh fruit available.
Universal Studios
Monster Cafe offers Wood Fired Cheese Pizza. Vegans can opt for French fries or roast potatoes and broccoli.
Lombard's Seafood Grill offers several options including Portobello Quinoa. Vegans can have this without the cheese and fried onions. The San Francisco Cobb Salad can be prepared vegetarian if you let the server know. The lemon and garlic shrimp pasta is served with a variety of vegetables and is perfect for vegans without the shrimp.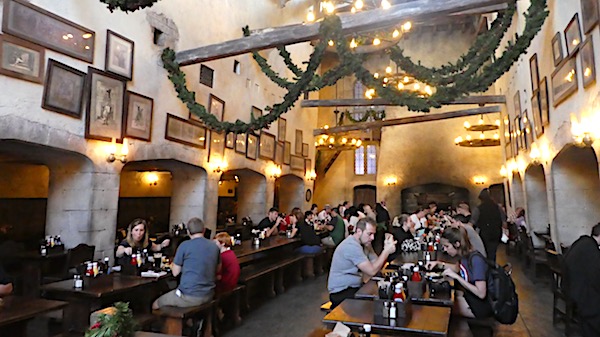 The Leaky Cauldron in Diagon Alley offers a vegetable platter (vegans ditch the breaed) that includes roast veggies, tomatoes and beets. If it isn't shown on the menu, just ask the server. There's also roast veggies and several sides which vegans can have prepared with non-dairy butter. To wash it all down, vegans can have Tongue Tying Lemon Squash, Pumpkin Juice, Peachtree Fizzing Tea,Otter's Fizzy Orange Juice and Gillywater.
Lisa's Teahouse of Horror over by The Simpsons offers salads and wraps for vegetarians. For vegans, hummus and veggies are available. Fruit plates and cups are available too.
If vegans have a craving for dessert, head over to Finnegans Bar & Grill for the fruit platter topped with raspberry sorbet. They also offer a vegan burger with mixed vegetables, if it's not shown, ask the server. The Veggie Black Bean Burger is great for vegetarians, but contains egg so isn't suitable for vegans.
Ben & Jerry's offer a vegan Peanut Butter and Cookies Ice Cream
Islands of Adventure
Confisco Grille located at Port of Entry offers several vegetarian and vegan options, including Pad Thai. Adventure in Fajitas are vegan if you leave out the cheese, meat and sour cream. Vegetarians and vegans will both enjoy the Portobello Veggie Wrap.
Mythos Restaurant has a few vegetarian and vegan options. The Meze Platter, Pad Thai and Risotto can all be made vegetarian and vegan. They will serve bread with oil and balsamic instead of butter for vegans.
The Three Broomsticks in Hogsmeade offers a selection of vegetarian dishes and servers are happy to accommodate vegans where possible. Vegetarians can get fresh garden salad, roast potatoes (no butter for vegans), baked potato (no butter/sour cream for vegans), baked breakfast beans, grilled tomatoes, sautéed mushroom, potato wedges and steamed vegetables. Roast vegetables are marinated in vegan margarine, but make sure the server knows. Although vegans can't slurp on Butterbeer, you can drink Tongue Tying Lemon Squash, Pumpkin Juice, Peachtree Fizzing Tea,Otter's Fizzy Orange Juice and Gillywater.
---
Vegetarian and Vegan Dining in Kissimmee & Celebration
Sweet Tomatoes: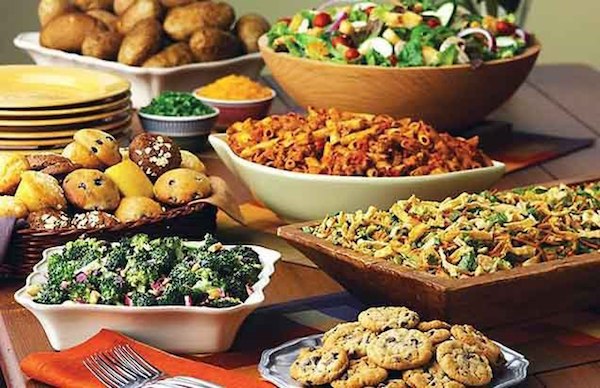 This buffet style restaurant prides itself on farm fresh, made from scratch wholesome food. It offers salads, soups, pastas, veggies and baked goods.
Vegetarian and Vegan Dining Options: Whole Wheat Creamy Chipotle Salad; Whole Wheat Spicy Asian Peanut Salad; Chipotle, Lime & Cilantro Quinoa; Italian White Bean; Lemon Linguine with Fresh Basil and Spicy Southwestern Pasta to name a few.
You can see a full breakdown of vegan and vegetarian dishes on their website:
Sweet Tomatoes Menu
If you join their 'Veg Club' they will send you coupons and deals for your visit.
Sweet Tomatoes Veggie Club
Address: 3236 Rolling Oaks Boulevard, Kissimmee, FL 34747
Phone: (407) 966-4664
Bahama Breeze: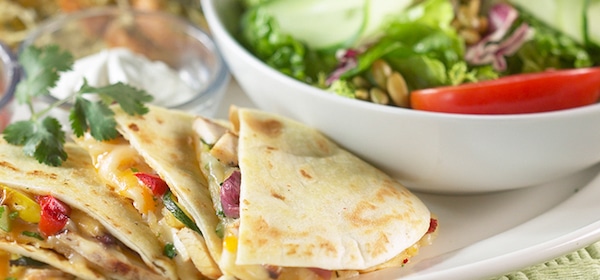 One of our favorite restaurants. Caribbean inspired food, great cocktails and a laid back atmosphere. There's a live singer several times a week on the outdoor patio. And Happy Hour too! What's not to love!
They offer vegetarian and vegan dining and encourage diners to talk with their server before ordering. The chefs are happy to omit meat, butter and cheese whenever they can from any dish on their menu.
Vegetarian and Vegan Dining Options: House Salad; Tropical Fruit on Mixed Greens; Stuffed Tomatoes; Baked Bimini Pretzel; Chips 'n Vine-ripened Tomato Salsa; Tostones; Grilled Portobello Mushroom Burger or Sun-Drenched Portobello & Vegetable Sandwich. Vegans can ask for everything sautéed in oil rather than butter.
Menu options change frequently, so speak to your server for up to date options.
Website: Bahama Breeze
Address: 8160 West Irlo Bronson Memorial Highway, Kissimmee, FL 34747
Phone: (407) 390-0353
Olive Garden:
Very open to catering for vegan and vegetarian options.
Speak to the server when you are seated and they will offer options.
Vegetarian and Vegan Dining Options: Olive Garden
Address: Olive Garden, 8136 W Irlo Bronson Hwy, Kissimmee, FL 34747
Phone: Tel: (407) 396-2560
Panera Bread:
A bakery style cafe. The store offers a selection of artisan bread. There's also cakes, soups, salads, sandwiches, pastas and flat-breads. They are happy to omit ingredients to cater to vegans wherever possible. Vegetarian and Vegan Dining Options: Greek Salad without cheese, Classic Cafe Salad, Vegetable Soup without Pesto and Black Bean Soup are just a few on offer for Vegans. Try a peanut butter and jelly sandwich on several varieties of vegan bread, or one of the several vegan bagels on offer.
Website: Panera Bread
Address: 8120 W Irlo Bronson Memorial Hwy, Kissimmee, FL 34747
Phone: (407) 778-4820
MidiCi The Neapolitan Pizza Company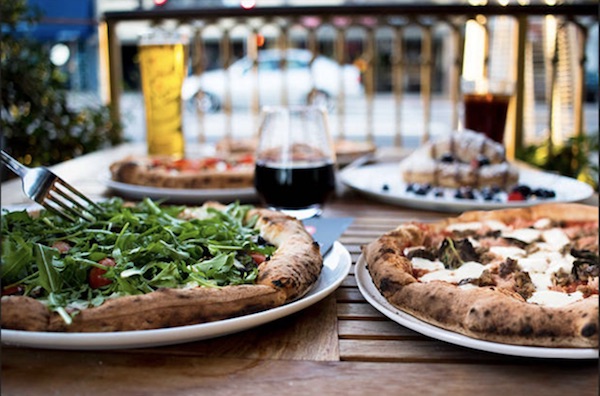 If you're heading for a a shopping spree at The Loop, Midici Pizza Co offers vegan cheese and vegan sausages for the vegans customers.
Website: MidiCi
Address: 720 Centerview Blvd. Kissimmee, FL 34741
Phone: (407) 201-3824
Mexican Restaurants with Vegetarian & Vegan Options
If you are staying in one of our vacation homes, there are two Mexican restaurants close by that offer vegetarian and vegan options.
On The Border have a Vegetarian Menu that includes a selection of appetizers, fajitas, enchiladas, salads and burritos. Vegans are a little more limited, but they can get guacamole quesadillas, a vegan burrito and avocado enchilada. However, they do warn that other meat items may have been cooked in the same oil, so do speak to your server to confirm
On The Border: 3250 Rolling Oaks Blvd. Kissimmee. Phone 407-452-5437
Chuy's Tex-Mex has similar vegetarian items as mentioned above. Vegans can eat chips & salsa, guacamole and nachos without cheese for appetizers. For entree, Veggie Enchiladas (without cheese) is available, topped with Tomatillo or Ranchero sauce, both of which are vegan. Other vegan choices include Mexi-Cobb salad without cheese, Bean & Cheese Burrito without the cheese. Mexican and green chilli rice are both vegan as are the refried beans.
Chuy's Tex-Mex, 7913 W Irlo Bronson Memorial Hwy, Kissimmee, FL 34747. Phone 407 787 3545
Outback Steakhouse
A steakhouse with vegetarian and vegan option? It's true! The Outback are happy to talk to customers about dietary requirements. For vegetarians there are salad, pasta and dessert options. For vegans there's not that much, but the House Salad is available without croutons and cheese, plain baked and sweet potatoes are available and fresh steamed vegetables (without butter).
Outback Locations:
7804 W Irlo Bronson Memorial Hwy, Kissimmee, FL 34747. Phone 407 396 0017
895 W E Osceola Pkwy # 300, Kissimmee, FL 34741. Phone 407 931 0033
Columbia Restaurant
Florida's oldest family owned restaurant chain has a rich history and is one of our favorite local restaurants. They have several vegetarian options, including vegetable paella. Vegans can speak to the server about having dishes prepared vegan, they are happy to accommodate whenever they can.
Website: Columbia Restaurant, Celebration
Address: 649 Front St, Celebration, FL 34747
Phone: 407 566 1505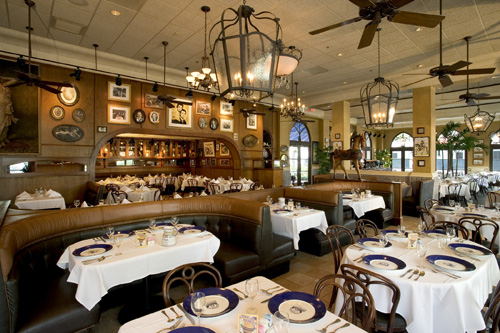 Imperium Food & Wine
This delightful wine bar/bistro has a great selection of vegetarian options on the menu. Vegetarian appetizers include baked brie, spinach & artichoke dip and humus. There are several salads, sandwiches, wraps and flatbreads suitable for vegetarians.Vegans can speak to the server about substitutions.
Website: Imperium Food & Wine Menu
Address: 606 Market St #140, Celebration, FL 34747
Phone: 407 566 9054
---
Vegetarian and Vegan Dining in Orlando Local Gems
If you're staying in the Disney/vacation area, these may be a bit of a trek. But, here's a pick of some firm vegetarian and vegan restaurants loved by Orlando Locals.
Dandelion CommuniTea Cafe
Located just far enough off the beaten path in Orlando to be quaint, this local haunt is a firm favorite with visitors who find it too. The bright and colorful neighborhood cafe offers a range of dishes made from scratch using local produce to support the community. Everything is organic to support the environment and everything is vegetarian to support a health conscious lifestyle. With the exception of dairy cheese, the whole menu is vegan and celiac friendly. Drivetime*: About 40 Minutes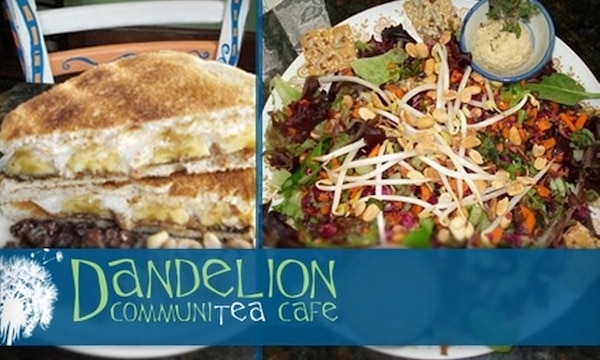 Website: Dandelion Communitea
Address: 618 N Thornton Ave, Orlando FL 32803
Phone: 407-362-1864
Hours: Sunday 11am-5pm, Monday – Saturday 11am to 10pm
Ethos Vegan Kitchen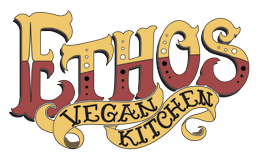 The picturesque village of Winter Park has more than it's share of vegan restaurants in Orlando. There's a Whole Foods Market store here too, so you could combine a visit for dining and groceries.

Winter Park is a well worth a visit and is a beautiful blend of culture and history with over 100 specialty stores and boutiques.
The Winter Park Scenic Boat Tour is perfect for all ages.
Ethos Vegan Kitchen won Orlando Magazine's Readers Pick 2015 Dining Award for "Best Vegetarian", Plus was runner-up in Orlando Sentinel's Foodie Awards.
The menu is 100% vegan and they estimate that 50% of the menu is organic too.
For appetizers, try the Garlic Knots made with hand tied house made dough or the Southern style Hoe Cakes.
They offer a great selection of soups, salads, pasta and sandwiches.
Entrees include BBQ chickun, Bay Cakes and Pecan Encrusted Eggplant.
They also have hand-tossed pizzas prepared with their house made dough.
There's a kids menu and be sure to leave room for dessert!
Drivetime*: About 50 minutes
Website: Ethos Vegan Kitchen
Address: 601-B S New York Ave, Winter Park, FL, 32789.
Phone: 407-228-3898
Loving Hut

One of the fastest growing vegan chains, Loving Hut opened it's doors in Orlando in 2009. It may be a chain, but each store is individual and the chefs can offer their creativity based on local ingredients and styles.
Loving Hut say they are the world's largest vegan restaurant chain. It was founded by spiritual teacher Supreme Master Ching Hai and there are over 200 stores worldwide.
The menu is Asian based and also has western dishes too. There's a selection of quinoa dishes, soups, salads, rice and noodles.
They also have Family Plates such as Lemongrass Delight, King Spicy Cha Cha and Ocean Delight.Drivetime*: About 40 minutes
Website: Loving Hut
Address: Loving Hut 2101 E Colonial Drive, Orlando, FL, 32803 USA
Phone: 407-894-5673
---
Other Resources for Vegetarian and Vegan Dining
Menu's are changed often and it can be challenging to keep up, but there are some great blogs that concentrate on vegan and vegetarian options that are usually pretty much up to date.
Vegan Disney World gives you a comprehensive list of all vegan items available. The also offer reviews from their personal experiences. VeganDisneyWorld
AllEars: For a list of Vegan snacks in the Disney parks, check out this article by AllEars.Net. They also have a great graph for vegan and vegetarian dining in the parks.
Flying with Fosters is a travel blog that scoured every single Disney Springs menu (in March 2018) to discover every vegan option available. See the full list.
---
So there you have it, some vegetarian and vegan options both locally, a little off the beaten path and in the Orlando theme parks.
Go eat and enjoy!
For a Google Map showing all the above locations see here: Vegetarian & Vegan Restaurants
*Drivetimes shown are for guests staying in one of our Orlando Vacation Home Rentals: Serendipity at Indian Creek - Serenity Lake House - Sleepy Hollow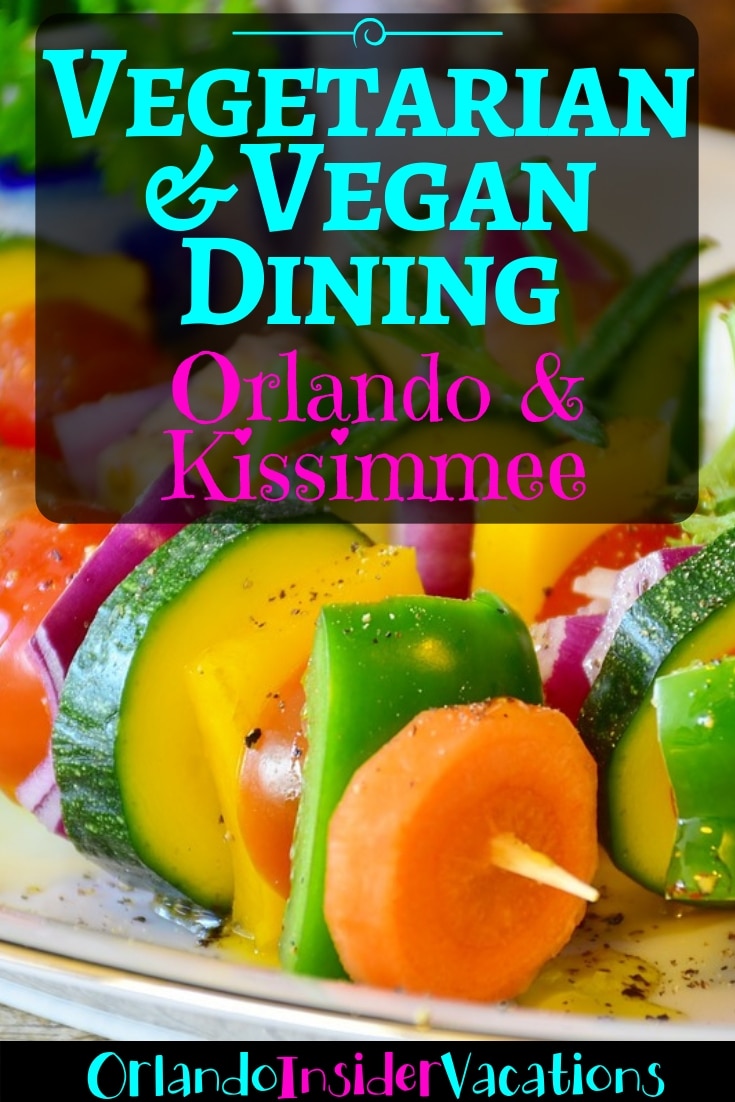 Wait... There's More...
We spent 2 weeks creating the best online guide to Orlando on the web. It includes everything from theme park guides and videos, free things to do, what to do with kids and a bucket list of attractions along with some of the best places to eat and drink.
It's packed with our personal recommendations, maps and videos.