Unwrap A Gaylord Palms Christmas This Season - 2018 Events
There's plenty for you to unwrap during Gaylord Palms Christmas events this Holiday Season from November 16th, 2018 - January 6th, 2019.
One of Gaylord Palms Christmas favorites is ICE!, an indoor wintry wonderland walk though. Perfect to cool down in the Florida heat. Plus dazzling decor and displays in the massive glass atrium, millions of sparkling Christmas lights, Santa visits, live stage shows with Cirque Dreams Unwrapped, snow tubing and Christmas sing-a-longs.
Alpine Village will be the hub of many of the Gaylord Christmas events, located in the hotels impressive atrium. Visitors can stroll through lush gardens that contain over 500,000 plants sprinkled with holiday garlands, displays and poinsettia.
Prior to the opening of ICE! 36 truckloads of blocks of ice are shipped in from the ice factory.
A troupe of talented artisans from Harbin, Northeast China, leave below freezing temperatures and icy Siberian winds to bask in the sunshine and heat of Florida. They hand carve two million pounds of ice to construct intricate creations that are a sight to behold.
Or rather, they carve ice in a freezing environment kept at a chilly 9 degrees. Oh well, it  probably feels warm to them.
Gaylord Palms Christmas Events
ICE! Featuring A CHRISTMAS STORY
Gaylord Palms has a new theme for 2018: ICE! featuring A Christmas Story.
Visit the Frostbite Factory to see the amazing carvings being created before your eyes by ice masters from Harbin, China.
Hurtle down 5 two-story ice slides or an 8 lane tubing hill, wander through the ice sculptures and celebrate other cultures and their holiday themes.
It wouldn't be Christmas without Santa Claus and his elves, so why not pay them a visit at the North Pole. He'll be more than happy to have his photo taken with you.
Find out how good your aim is at Santa's Snow Throw using real snowballs.
Along with the snow tubing and ice slides, there is also a traditional Nativity scene carved from crystal clear ice.
Breakfast with Santas's Official Scout Elves          
Join Mrs Claus for festive singing
Build-a-bear or a gingerbread house, attend a concert, join in on a Secret Santa Scavenger Hunt, treat yourself to a delicious Sugarplum Hot Chocolate, take a stroll through the atrium and admire the 9 decorated Christmas Trees, solve puzzles and clues in the family escape room or....the list is endless!
Put away the flip-flops, this event is a chilly 9 degrees. Gaylord Palms provide coats to keep you warm, but jeans or trousers rather than shorts are highly recommended. A pair of gloves wouldn't go amiss either!
Tickets start at $28.99 for adults for advance online purchases.
Seniors start at $26.99 and children 4-12 start at $14.99.
Children 3 and under are free.
Additional parking fee of $20 is charged.
There are various combo tickets for Gaylord Palms Christmas events and ICE! available: ICE! Tickets
Dreams of christmas Atrium Light Show
A spectacular new experience for visitors is the multi sensory Dreams of Christmas taking you on a journey of Holidays around the world accompanied by music. More than 2 million choreographed lights dance and sparkle around the incredible Christmas tree which towers above Emerald Bay Plaza.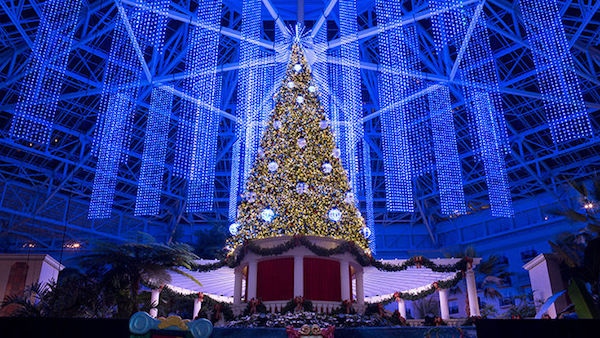 The elf on the shelf character breakfast
Head over to the atrium for a Christmas breakfast with Santa's Official Scout Elves. The delicious buffet will suit the whole family and includes classic breakfast favorites complete with a chef-attended cooking station.
Times and Dates:
8:00am - 10:30am on 11/16-11/21, 11/23-11/25, 11/30-12/2, 12/7-12/9 and 12/14-1/6.
Prices are $34 per adult and $23 per child (ages 4-12). Doesn't include tax or gratuity.
For Reservations call 407-586-1114 or book online.
Cirque Dreams UnWrapped Stage Show
Cirque Dreams brings to Gaylord Palms Christmas a 25 minute family show featuring colorful seasonal characters in dazzling costumes. Performing on the stage or in the air, their incredible feats will make you gasp in wonder.
The show takes place on the Emerald Bay Stage and seating is on a first come first served basis, free to everyone visiting Gaylord Palms Christmas events.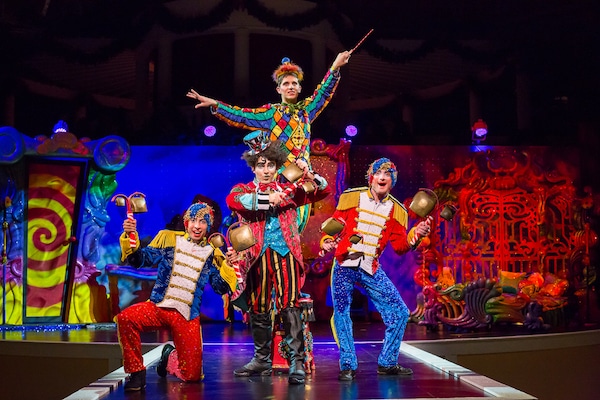 Guaranteed seating is available from $11.99 (ages 4-11) and $15.99 for 12 years old and upward.
Alpine Rush Snow Tubing
Head over to Alpine Village and race down an eight-lane, 18 foot tubing hill covered in 1.5 million pounds of REAL SNOW!
Where else can you experience that in Florida? You can even try your hand at snowball throwing. Use real snowballs to hit a series of targets.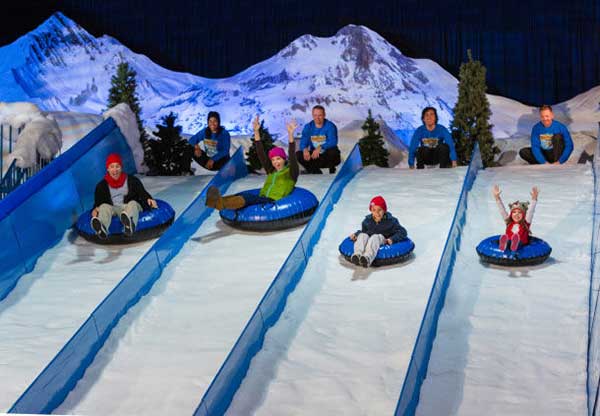 Double riding tubes are available for parents with small children. Fun for all the family.
Height restrictions apply: you must be 36" tall to ride with an adult on a double tube, 42" to ride on a small single tube and 60" to ride on a large single tube.
Times & Dates:
Vary by day and subject to change but end on January 5th, 2019. Event times and options will be shown on the purchase tickets calendar.
Tickets from $18.99 and up with combo tickets with ICE!
Photos with Santa
Santa Claus will be in attendance to hear your wish list for Christmas.
Mrs. Claus Christmas Traditions and Story Time Sing-a-long
Mrs. Claus will host a 30 minute Christmas carols sing-a-long and reading of holiday classics.
Feeling peckish? Enjoy some of her famous cookies and a glass of milk.
Cost is $9.99 per person.
Times and Dates:
Vary but can be seen on the purchase ticket calendar.
Gingerbread Decorating Corner
A favorite Christmas tradition for many. Decorate a delicious gingerbread cookie with your own unique design or create a whole gingerbread house.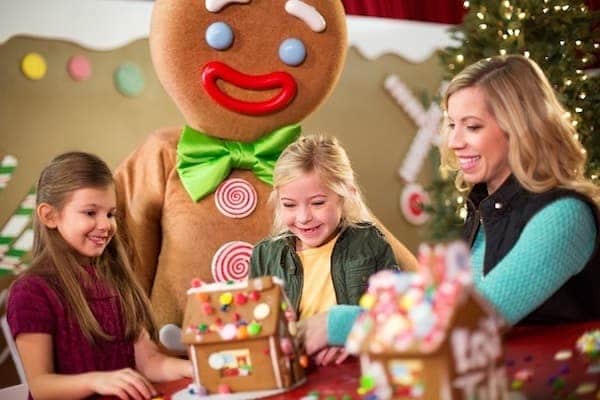 After completing your delicious decoration, meet up with a real gingerbread man for a hug and photo opportunity.
Price: Gingerbread House Kit $29.99
Times and Dates:
Daily 9am - 8pm.
Build-A-Bear Workshop®
The Alpine Village will be home to the Build-A-Bear Workshop where kids can create the furry friend of a lifetime.
The secret Santa Scavenger Hunt
Sign up for Santa's Secret Service and use your Santa's Secret Service Decoder Ring to unravel the clues inside the Scavenger Hunt booklet. Search for and discover Christmas clues hidden in the Gaylord Palms atrium. Once you've broken the code, you'll earn your Santa's Secret Service badge.
Scavenger Hunt costs $9.99
Sounds of The Seasons Concert Series
Six special fun and festive concerts will be presented by Celebration Golf Club. Artists this year include favorite local bands, performers and singers who will bring you the Sounds of the Season.
The times are 8pm except VoicePlay at 8. 15pm and the dates for each performance are:
Dec 5th - Sandi Patty
Dec 6th - DeeJay Young
Dec 12th - Voctave
Dec 18th - Holidays in Hollywood
Dec 19th - 4eva29
Dec 20th - VoicePlay at 8.15pm
Tickets vary from $25 to $40 and include entrance to ICE! after the show.
If you happen to be around Orlando for Thanksgiving, Gaylord Palms have at least two  restaurants featuring special menus for Thanksgiving Dinner.
There are several dining options at Gaylord Palms, so you can make a whole day of it. Park up, take in the sights and enjoy.

See All Orlando & Kissimmee Christmas Events
Walt Disney World Christmas:
---
Universal Holiday Events
---
SeaWorld & Busch Gardens Holiday Events
---
Christmas Events

---