Epcot Festival of the Holidays 2019 - Sprinkled With Fun, Food & Festivities
Epcot International Festival of the Holidays is a yuletide extravaganza. Delicious holiday treats, cultural traditions and spirited story telling from around the world.
All 11 nations of World Showcase take part in the Epcot Festival of the Holidays. Plus other countries are featured too.
The event runs daily from November 29th through December 30th 2019.
Enjoy live musical performances and take a festive global tour around Showcase Lagoon. 13 Holiday Kitchens are sprinkled throughout World Showcase. Sample seasonal flavors and treasured holiday recipes from across the globe. Go hungry, because you'll be able to sip and savor more than 50 bites and over 60 specialty beverages.
It's like a smaller Food & Wine Festival with a Holiday makeover!
Epcot Festival of the Holidays - Story Telling
Our favorite part of the Epcot Festival of the Holidays. All ages will love experiencing international cultures and traditional story telling by live actors in seasonal costume. Various nations showcase traditions specific to their culture. Plus, there's also entertaining story telling, live music performances and culinary treats.
The Story Tellers are the absolute Epcot Festival of the Holidays stars. Do make sure you stop and listen to the the tales and special seasonal shows.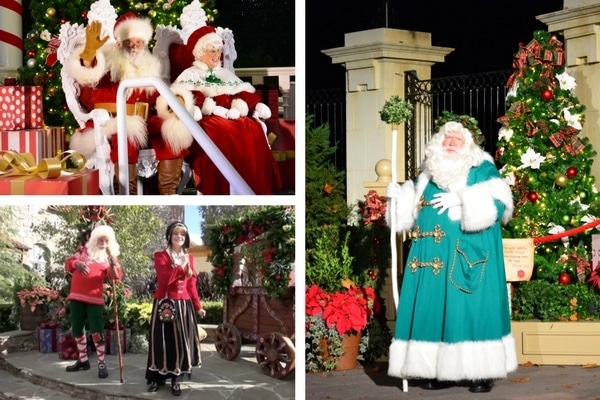 Santa and Mrs Claus greet guests daily at the USA pavilion.
Canadian Holiday Voyageurs explore holiday customs from across the vast regions of Canada on a musical tour of the Great White North.
Father Christmas takes us on a historical trip back to the 15th century in United Kingdom.
Sigrid and Julenissen tell tales of Christmas gnomes in Norway.
Christmas traditions from France are told by Père Noël through the letter of a delightful child.
Las Posadas Celebration takes place in Mexico with dancers, piñatas and the music of Mariachi Cobre.
The Chinese Lion Dancer brings good fortune and happiness in the Lunar New Year.
Chilli Da Mur - Join this accomplished German vocal group as they celebrate the season with folk music, pop and original songs.
La Befana in Italy is a kind-hearted witch who visits sleeping children on the eve of the Epiphany.
Daruma Storyteller - Hear the fascinating story of the Daruma doll and the Japanese customs of the New Year.
Festivity in Morocco - Join in as a lively band recreates the fun of street festivals.
Between France & Morocco: Hanukkah Storyteller Zachary shares legends, tells tales and  sings songs, highlighting Hanukkah celebrations.
You'll enjoy traditional tales and holiday antics from around the globe.

Epcot Festival of the Holidays - Holiday Kitchens
Get ready for the Festival of the Holidays to take your taste buds on a seasonal journey.
Disney chefs create treasured dishes to keep palates merry. From savories to sweets, children's drinks to adult libations, there's something on the holiday menu for everyone.
And how about a Holiday Cookie Stroll? Purchase five cookies from any of the cookie stroll locations, collecting a stamp for each one. When you've got 5 stamps in your passport, head to Holiday Sweets & Treats for a complimentary completer cookie.
All ages will love joining in. There's no time limit and you can collect the five stamps at leisure. Claim your complimentary cookie any time during the festival. There's even a super cute cookie jar you can purchase to keep your cookies fresh.
Candlelight Processional
This is one of the most popular events during the Epcot Festival of the Holidays. Epcot's grandest holiday tradition features the retelling of the Christmas story by a celebrity narrator.
The Candlelight Processional will be performed 96 times at Epcot this holiday season with a 50-piece orchestra, mass choir and 12 different celebrity narrators.
The Processional takes place at the America Gardens Theatre three times a night: 5:00, 6:45 and 8:15 p.m.
Epcot Festival of the Holidays 2019 Candlelight Processional Line Up
Ming-Na Wen - November 29 - December 1
Neil Patrick Harris - December 2-5
Whoopi Goldberg - December 6-7
Isabella Rossellini - December 8-10
Chita Rivera - December 11-12
Gary Sinise - December 13-15
Pat Sajak - December 16-18
Warwick Davis - December 19-21
Steven Curtis Chapman - December 22-24
Edward James Olmos - December 25-26
Marlee Matlin - December 27-28
Lisa Ling - December 29-30
Candlelight Dinner Package
When you book a Candlelight Dinner Package you'll enjoy dining at one of Disney's restaurants, followed by same day guaranteed seating at the Candlelight Processional.
2019 Lunch & Dinner Candlelight Processional Dining at Epcot:
Ale & Compass (Disney's Yacht Club Resort)
Biergarten Restaurant (Germany pavilion)
Chefs de France (France pavilion)
Coral Reef Restaurant (The Seas pavilion)
Garden Grill Restaurant (The Land pavilion)
La Hacienda de San Angel (Mexico pavilion)
San Angel Inn Restaurante (Mexico pavilion)
Nine Dragons Restaurant (China pavilion)
Restaurant Marrakesh (Morocco pavilion)
Spice Road Table (Morocco pavilion)
Rose & Crown Pub & Dining Room (United Kingdom pavilion)
Teppan Edo (Japan pavilion)
Tokyo Dining (Japan pavilion)
Trattoria Al Forno (Disney's BoardWalk Resort)
Tutto Italia Ristorante (Italy pavilion)
Via Napoli Ristorante e Pizzeria (Italy pavilion)
Breakfast is also available at Ale & Compass, Garden Grill and Trattoria al Forno.
2019 Candlelight Dinner Package Prices:
Breakfast: Adults - From $40 + tax,  Children, ages 3-9 From $23 + tax
Lunch:  Adults - From $52 + tax,  Children, ages 3-9 - From $16.99 + tax
Dinner: Adults - From $57 + tax,  Children, ages 3-9 - $19 + tax
For reservations call (407) 939-3463

Epcot Festival of the Holidays - Live Entertainment
Joyful! A Gospel Celebration of the Season brings you a blend of holiday melodies. They perform uplifting gospel, R&B and holiday songs daily at the Future World Fountain Stage throughout the Epcot Festival of the Holidays.
Kwanzaa will be incorporated into performances of JOYFUL! until December 25th. From December 26th the group will perform a full Kwanzaa show.
Chip & Dale's Christmas Tree Spree
All ages will enjoy this Epcot Festival of the Holidays scavenger hunt.
Chip & Dale's Christmas Tree Spree Scavenger Hunt will take you around World Showcase pavilions searching for Chip & Dale. When you spot them, put the corresponding sticker onto your map.
Take the completed map to Disney Traders for a festive surprise. Maps are available from select merchandise locations.
Epcot Festival of the Holidays Fireworks
During the Epcot Festival of the Holidays in the past, the grand firework finale each night is sprinkled with some Holiday magic.
But a brand new show made its debut on October 1st 2019. We are waiting with excitement to see what Epcot Forever brings for the Holidays. We'll update as soon as we see it!
Best Viewing Spots for Epcot Forever Fireworks:
Epcot fireworks takes place over Showcase Lagoon, there is viewing all around the lagoon. Even the kite segments are high in the sky and offer mainly unobstructed views. Trees, food kiosks and light poles can block views or spoil effects. Make sure you have a clear view overlooking the lagoon, with nothing in front of you and no trees above you.
People will start reserving spots up to an hour before, maybe 90 minutes during peak dates. If you want a particular spot, you'll need to stake your claim early.
Epcot Forever Viewing Tips
FastPass Viewing:
There is a FastPass viewing option, snag one of those if you want to be sure of a view. This area gently slopes, which means you don't have to be right at the front to get a great view. Even small people like me (5 foot and a smidge) can get an unobstructed view, even at the rear of the area.
Dessert Party Viewing:
Frozen Ever After Dessert Party offers delicious treats and reserved seating along World Showcase Lagoon for Epcot Forever Fireworks. The package also includes the popular attraction Frozen Ever After attraction.
Dates during Festival of The Holidays are:
November 29th, 30th
December 1, 4, 5, 6, 7, 8, 9, 11, 12, 13, 14, 15, 16, 18, 19, 20, 21, 22, 25, 26, 27, 28, 29, 30
Best for Views: The bridge between France/United Kingdom has always been a favorite viewing spot and the same goes for Epcot Forever. The raised area of the Italy Isola also offers great views when open and available. It's often used for private events.
Most Unusual: 2nd floor balcony outside Tokyo Dining Restaurant. From here you'll get an elevated view and also have the Torii Gate in the foreground.
Best for Dining: There are several restaurants offering views if you can snag a reservation at the right time. United Kingdom: Rose & Crown. Two in Mexico: La Hacienda de San Angel and Cantina de San Angel.
Most Unique: Fireworks Cruise - our absolute favorite! After a guided boat tour along the waterways, you'll be moored in front of the bridge between France and United Kingdom. You're at water level, giving a clear and unobstructed view as close as you can get. The cruise includes snacks and drinks and starts at $299 plus tax for up to 8 guests. Other options are also available. And if you don't plan on heading into Epcot, you won't need a park ticket.
We're sure you'll have a joyous time at Epcot International Festival of the Holidays. See you there!
If you're coming for Christmas at Walt Disney World, we'd love to welcome you to our Orlando accommodation.
Check out how we decorate our homes for Christmas.

See All Orlando & Kissimmee Christmas Events
Walt Disney World Christmas:
---
Universal Holiday Events
---
SeaWorld & Busch Gardens Holiday Events
---
Christmas Events
---