Epcot Forever Nighttime Spectacular Debuts October 1st 2019
Nighttime spectaculars are Disney's specialty. Nobody sparkles the night sky with the same magical flair. It looks like we're in for a better-than-ever experience when "Epcot Forever" debuts at World Showcase October 1st 2019.
Many will be sad to bid a fond farewell to Illuminations: Reflections of Earth. The shows' 20 year run will come to an end on September 30th. But what's coming our way looks spectacular. Even if it is a limited-time show.
Epcot Forever will run until a new permanent Epcot nighttime spectacular is launched in 2020. All part of the park's multi-year transformation.
Airborne Choreography Will take Epcot Forever to New Heights
Even by Disney standards, choreographed jet skis controlling special effect kites sound awesome and intriguing! Fireworks, lasers and lights can only add to the magic.
Brady MacDonald wrote an article for BlooLoop which gives us an insight into what's in store for the new show. The illuminated kites will be controlled by two-man teams aboard Jet Ski-like personal watercraft. The show will employ eight of the Jet Skis, with a driver and kite performer aboard each personal watercraft. The movement of the Jet Skis will also create the wind required to keep the kites aloft.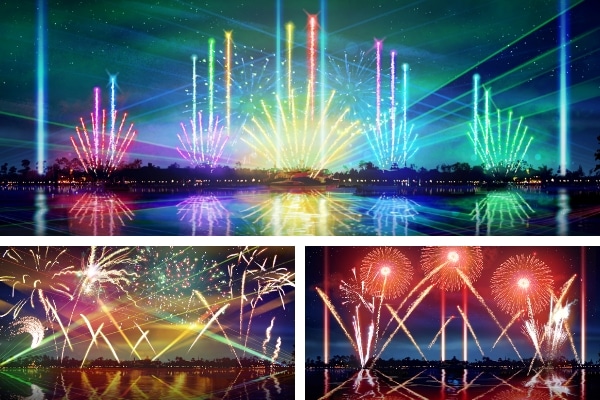 The new show will celebrate the past, present and future of Epcot on a trip down memory lane and a look towards the future. All built around the magical soundtrack regular visitors to Epcot will have come to know and love. A stirring collection of songs will paint a colorful picture of Epcot. 
Disney Parks Live Entertainment is collaborating on the show with noted conductor and composer Don Harper. He is producing all-new arrangements of classic Epcot tunes to weave into the soundtrack of "Epcot Forever."
"'Epcot Forever' is a celebration of what Epcot has been and what Epcot is going to become"
said Alan Bruun, show director for Disney Parks Live Entertainment.
"Music is the star of the show, and we use songs going back to the very beginnings of Epcot to music in the park today. From attractions, spectaculars and other shows – and put them into a fireworks spectacular on the lagoon every night. Guests are going to hear music they know and love but in a whole new way."
Who's excited to see the new Epcot nighttime spectaculars? We can't wait!