Disney Resort Hop Christmas Tours & Itineraries
Theme parked out? Fed up with crowds? Did you know you can still experience a sprinkling of Disney magic without the cost of a theme park ticket? Take a Disney Resort Hop Christmas Tour.
You can do these Disney Resort Tours anytime of the year, but it's especially magical during the Holidays.
Disney resort Christmas decorations come in 150 semi-trailer truck loads. Spectacular trees are themed to each resort. Stunning gingerbread displays look good enough to eat. Literally.
And best of all, a Disney Resort hop Christmas tour is FREE to ALL guests. Onsite or offsite.
Below we've outlined a few Disney Resort hop Christmas tour itineraries and ideas. You can switch them up, visit one or visit all. There are no rules, just lots of fun and holiday sparkle.
But first, lets take a look at some Disney Christmas fun facts:
There are 29 custom themed iconic trees in the parks and resorts.
Themed trees range from 15 to 70 feet tall.
The tallest tree is located outside Disney's Contemporary Resort and is 70 feet tall.
The Contemporary tree is adorned with 16,000 lights and over 200 custom ornaments.
Toppers and stars for trees can measure up to 7 feet tall and weigh over 200 pounds.
There are 596 smaller trees ranging from 2 to 14 feet throughout Walt Disney World.
Gingerbread creations also feature at Disney Resorts and parks:
Grand Floridian Resort & Spa: 2018 is the 20th anniversary of this iconic gingerbread house. Chefs use a classic Austrian inspired recipe for ornaments, cookies and a spectacular 14 foot tall gingerbread house. There is a Bake Shop in the gingerbread house offering holiday treats.
Contemporary Resort: Cinderella Castle gingerbread display inspired by the art of legendary Disney artist Mary Blair.
Beach Club Resort: Donald & Daisy Duck themed horses on a beautiful gingerbread carousel are decorated with chocolate, sugar and fondant.
Boardwalk Resort: A delightful gingerbread version of the resort's Boardwalk.
Epcot - The American Adventure: Patriotic flair meets pastry magic at Epcot, where gingerbread replicas of the U.S. Capitol, Lincoln Memorial and Washington Monument are on display.
Disney Springs: Amorette's Patisserie: This pastry shop at Disney Springs dresses up its' front window with a miniature gingerbread replica of itself – right down to the gingerbread trees.

Disney Resort Hop Christmas Tour -  Itinerary 1:
Monorail Loop - 4 Hours
This Disney Resort hop Christmas tour itinerary will take about 4 hours at a comfortable pace. Add a little longer if you want to stop for a bite to eat. Our 4 hour Disney resort hop included a coffee break.
Disney Christmas

 Resort Hopping Parking
Head to the Magic Kingdom ticket booths. Tell the Cast Member you are parking at the Ticket & Transportation Center to visit resorts on the monorail. There are no parking fees if you are not entering any parks.
Once you've parked up, head to the Ticket & Transportation Center. You'll see three monorail options. Epcot Monorail is on the right and Magic Kingdom Monorail is in the center. A smaller sign for Resort Hotels is on the left, which is the one you want to take.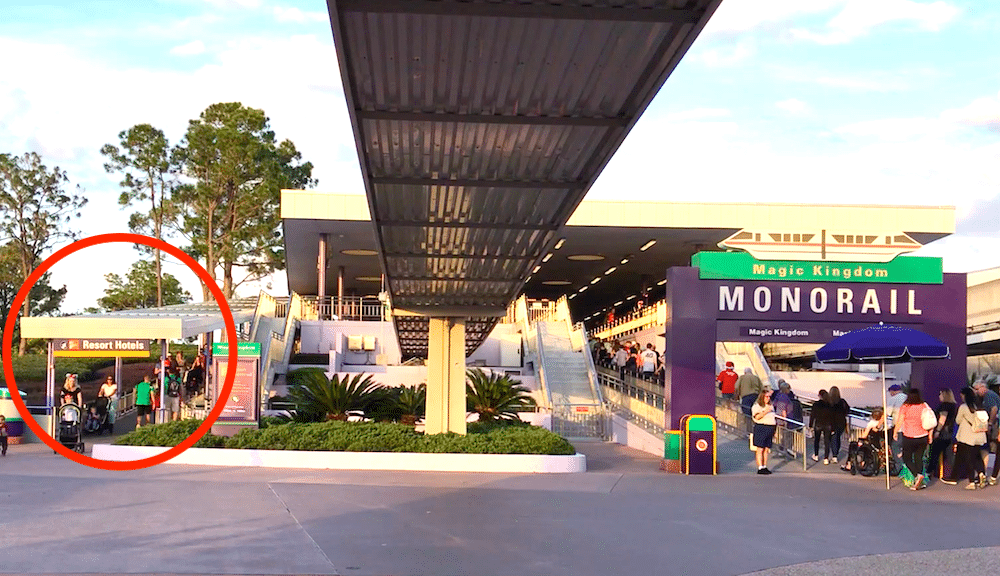 Stop 1: Polynesian Resort
Hop on the Resort Hotels Monorail and get off at the first stop, Disney's Polynesian Resort, which celebrates the spirit of the South Pacific.
The Polynesian Resort at Christmas isn't overflowing with Holiday features, but it's still worth a stop. And you can get DOLE WHIP!!
There are beautiful themed garlands, a large tree in the lobby and a couple of smaller trees.
If you're looking for a unique place for some liquid refreshment, call in at Trader Sam's Grog Grotto. If you've been on the Jungle Cruise at Disney's Magic Kingdom, you'll have come across Trader Sam.
Hop back on the monorail and get off the next stop, Grand Floridian.
Stop 2: Grand Floridian
The Grand Floridian features the most elegant Disney Resort Christmas decorations. Grand Floridian is oozing with traditional charm. A majestic five-story tree is the center piece. An orchestra plays most afternoons.
The main attraction is the lift-size Gingerbread House which has taken the Pastry Team 400 hours to bake and 160 hours to decorate.
The Gingerbread House is made up of over 10,000 individual pieces of gingerbread and ingredients include:
140 pints of egg whites
600 lbs of powdered sugar
700 lbs of chocolate
800 lbs of flour
35 lbs of spices
1050 lbs of honey
Located inside the Gingerbread House is The Bake Shop. The perfect place to pick up some sweet holiday treats.
Gingerbread House decorating demonstrations occur daily at 1pm from December 1st through 25th 2018. You can talk and interact with chefs and maybe learn a few trade secrets. You can also get a copy of Chef Erich's classic Austrian recipe.
Hop back on the monorail and get off at the next stop, which is Magic Kingdom. Don't panic, you won't be entering the park, so you won't need a ticket.
Detour By Boat:
For this next stage of the Disney Resort hop Christmas tour, you'll take a detour from the monorail to reach Wilderness Lodge and Fort Wilderness Camp Grounds. This part is by boat, right outside Magic Kingdom.
As you get off the resort monorail at the Magic Kingdom, head down the exit ramp. At the bottom of the ramp, most of the crowd will head left towards the entrance of Magic Kingdom. You're going to head straight on, towards the Wilderness Boat Ramp. There are two boat stops - the one on the right takes you to Fort Wilderness Camp Grounds. The one on the left takes you to Wilderness Lodge. Jump on either one - you're going to do a triangle that will bring you back to the same spot, so it doesn't matter which way round you go.
We took the left side boat to Wilderness Lodge. They run every 10 to 15 minutes and the trip takes about 10 minutes.
Stop 3: Wilderness Lodge by Boat
In stark contrast to the Victorian elegance of the Grand Floridian, Wilderness Lodge has oodles of rustic charm. The 60 foot tree in the lobby is breathtaking as it towers and twinkles above you. There are themed garlands and lights all around the balconies surrounding the impressive courtyard lobby.
One of our favorite features is the enormous stone fireplace, complete with roaring log fire. Grab a cup of cocoa and take a seat in a rocking chair in front of the fire. It might be 80 degrees outside, but you'll be forgiven for thinking you're in a snowy mountain lodge. You've found the coziest spot of the season.
There's a bridge over a babbling brook that makes a great photo spot. The tree shimmering in the background makes a beautiful backdrop.
Fort Wilderness is our next stop Disney Resort hop Christmas tour. From Wilderness Lodge, you can either stroll, boat or bus over to Fort Wilderness.
On our Disney Resort hop Christmas tour, we chose to walk. It's a really pleasant trail through peaceful natural woodland. We were rewarded with close up views of wild deer roaming the edge of the woods. It's so peaceful, you'll forget you're only minutes away from the hustle and bustle of the parks!
Stop 4: Fort Wilderness Resort & Campground
You'll know you've reached Fort Wilderness Campgrounds when you see the Tri-Circle-D-Ranch stables. Follow the trail past them, (call in to say hello to the horses). You'll walk through Fort Wilderness Pavillion, towards the lagoon. Take the lane heading right. The lagoon has a beach area if the kids want to play. There's also a kids playground.
You'll see the main Christmas tree ahead of you. Take some time to stroll around the Trading Post, or call in to Crocketts Tavern or Trails End Restaurant for some refreshments and a sit down. You can even take a Holiday Sleigh Ride around the resort.
Fort Wilderness is magical after dusk. RVs and campgrounds are decorated by guests and brightly lit golf buggies roam around. You can also join in Chip & Dale's Campfire Sing-a-long.
When you've finished exploring, head back to Seven Seas Llagoon to take the boat back to Magic Kingdom. When you land back at the Magic Kingdom, turn left to head back to the Resort Hotel Monorail for the Contemporary Resort. This is the final stop on our Disney Resort hop Christmas tour.
If the monorail looks particularly busy, there is a walking trail you can take instead. It will take you 10-15 minutes.

Stop 5: Contemporary Resort
The Contemporary Resort Christmas decorations include a Cinderella Castle gingerbread display on the 4th floor concourse.
As you exit the monorail, follow the walkway past the security guards and head towards the Fantasia gift store. You'll see the display on the other side of the store.
The 16 foot 7 inch tall gingerbread display has a Mary Blair "it's a small world" theme. Fairy Godmother, Cinderella and Prince Charming on the castle forecourt are all edible too. This display measures 18-foot and is crafted from thousands of gingerbread blocks. And there are 18 Hidden Mickeys to find too!
Cinderella Gingerbread Castle took almost 40 Contemporary Resort Bakers over 11 days to assemble. They used over 5000 gingerbread bricks. Cinderella Gingerbread Castle ingredients include
655 lbs. of Sugar 'Snow'
428 Eggs
83 lbs. Rolled Fondant
57 lbs. Royal Icing
43 lbs. Dark Chocolate
437 Jars of Honey
101 lbs. of Flour
27 3/4 Spices
156 lbs. Dark Moulding Chocolate
The Contemporary Resort also features the largest tree in all of Disney World. It's located at the resort entrance and stands 70 feet tall.
If you do Disney Resort hop Christmas tour at night, you'll be able to view Happily Ever After fireworks on the 4th floor observation deck. If you time it for Mickey's Very Merry Christmas Party, you'll be able to view Holiday Wishes: Celebrate the Season. The view from the deck is slightly obscured though.
Apart from the gingerbread display and Christmas tree, there's not much else Christmassy to see. It can also be time-consuming getting back on the monorail. It's the first stop after Magic Kingdom, there are often more wanting to get on than there are getting off. Our wait to take us back to the Ticket & Transportation Center was about 20 minutes. If you're pushed for time, you'll be forgiven for skipping this part of the Disney resort hop Christmas tour.
---

Disney Resort Hop Christmas Tour -  Itinerary 2: Boardwalk Loop - 2 Hours
Disney Resort hop Christmas tour Parking: Head to Disney's Boardwalk Resort and tell the guard at the gatehouse that you are visiting the Boardwalk. You'll need to show ID. Parking is free, although limited to 4 hours. But that's plenty of time for the Boardwalk Resort hopping tour.
The Boardwalk Resort area is a wonderful place to visit any time of the year. It's reminiscent of an elegant turn-of-the-century coastal boardwalk such as Coney Island. There are several hotels located around the Boardwalk's Crescent Lake: The Boardwalk, Beach Club, Yacht Club and the Swan and Dolphin resort. The latter two are not Disney owned.
The walkway around Crescent Lake is just under a mile.
Stop 1 - Disney's Boardwalk Resort
Start this Disney Resort hop Christmas tour at The Boardwalk. This charming resort celebrates the elegance of a bygone era.
As you enter the lobby head left. You'll see the Gingerbread Boardwalk, which features  some of the Boardwalk's iconic locations that surround Crescent Lake. There's Boardwalk Bakery, Flying Fish, Trattoria al Forno and ESPN. There are also a couple of Christmas trees and huge garlands surrounding the fireplace.
Head out towards the front balcony and you'll get a raised view of the Boardwalk Christmas tree on the lawn below.
Once you've explored, head out to the boardwalk surrounding Crescent Lake and take a right towards the next stop on this Disney Resort hop Christmas tour.
If you prefer, you can hop on one of the Friendship Boats to the opposite side of Crescent Lake, which are all free.
It's a 10 minute stroll to the next stop on this Disney Resort hop Christmas tour.

Stop 2 - Disney's Beach Club Resort
If you choose to walk, follow the Boardwalk around Crescent Lake, across Gateway Bridge (the International Gateway entrance to Epcot is on your right). Keep walking around Crescent Lake until you come to the first resort, which is Beach Club Resort.
As you enter the main lobby, you'll discover the scrumptious classic Gingerbread Carousel. Look closely and you'll see Donald Duck and Daisy Duck name tags on two of the horses, along with gifts for the family on the saddles. Merra and Harper are the other two horses.
The life-size edible Gingerbread Carousel is celebrating its 19th year. It is made up of 2019 pieces of gingerbread and features 19 Hidden Mickey's.
Ingredients used to make this massive candy structure include:
150 lbs of icing
100 pints of eggs
10 lbs of spices
10 quarts of simple syrup
1000 lbs of dark and modeling chocolate
36 lbs of honey
100 lbs of confectioner sugar
96 lbs of bread flour
When you're done, head back out and turn right to continue to the next stop of this Disney Resort hop Christmas tour.
There is an indoor corridor most of the way, or you can head back to the main Boardwalk walkway and follow the path.
Stop 3 - Disney's Yacht Club
Disney's Yacht Club is a graceful resort modeled on a New England style yacht club. At Christmas, the resort features an enchanting miniature train set meandering through snow-capped mountains and tiny villages.
Spend a little time and look closely at the tiniest features. There's incredible attention to detail and lots of moving parts. You'll see lots of Disney characters and movie references too. There are lots of Hidden Mickey's to find.
The elegant tree in Disney's Yacht Club Resort is beautifully decorated with model boats, sailing yachts and lots of nautical features.
As you come out of Disney's Yacht Club, turn right and follow the path for the final stop on this Disney Resort hop Christmas tour.
Stop 4 - Swan & Dolphin
Both these hotels are located by the Boardwalk, but neither are owned by Disney. Consequently you won't have any Disney Christmas theming. However, they are nice to wander through. In the Swan resort, you'll see the largest chocolate Santa  sculpture in the world!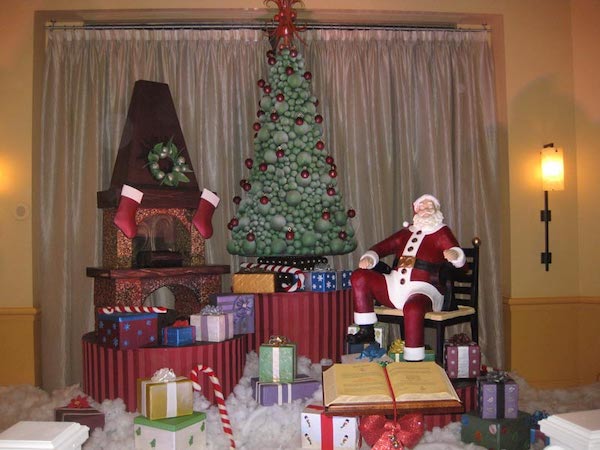 The masterpiece was created by two-time pastry chef Laurent Branlard. It took 300 hours to create, and if you ate it all, you'd be consuming 2,956,818 calories!
The Chocolate Santa uses:
880 lbs of Dark Chocolate
132 lbs of Milk Chocolate
154 lbs of White Chocolate
120 lbs Cocoa Butter
---
Disney Resort Hop Christmas Tour -  Itinerary 3: Animal Kingdom Lodge - 1-2 Hours
Animal Kingdom Lodge is a stand alone Disney Resort Hop Tour. You can either drive directly to the lodge, or take Disney transport from other resorts, Disney Springs or Ticket and Transportation Center.
Modeled on an African wildlife reserve, Animal Kingdom Lodge is a great resort to tour at any time of the year. It's also a perfect rainy day activity.
The Christmas tree at Animal Kingdom Lodge is HUGE! The thatch-roofed lobby, with a massive mud fireplace and flowing stream, is adorned with animal themed garlands and decor.
The 46-acres of grounds replicate an African savanna. There are over 200 free-roaming mammals and tropical birds of almost three dozen species.
You might see giraffe, zebra, Thomson's gazelle, ostrich, flamingo, African spoonbill, sacred ibis, white-bearded wildebeest, impala, waterbuck, zebra, bongo, vulturine guinea fowl and more.
Sunset Savanna, Uzima Savanna, Arusha Savanna and Pembe Savanna each offer a spectacular view of wildlife. Right outside the main lobby, there's an elevated rock outcropping which puts you within 15 feet of roaming animals.
If you're looking for a bite to eat, there are three African-inspired restaurants. There's also a culinary tour which gives you in-depth insights into two restaurants - Jiko: The Cooking Place and Boma. You'll tour the restaurants, learn culinary traditions and get to sample some of the cuisine. Tours take place daily at 4.15pm and are free to everyone, off-site guests included.
So that's about it for now. There is one other Disney Christmas Resort hopping tour you can do from Disney Springs. You can take the Sassagoula River Cruise to get to Port Orleans French Quarter and Riverside. You can also visit Old Key West resort and Saratoga Springs Resort by boat from Disney Springs. Each resort has decorations themed to the resort style.
Have a Very Merry Magical Disney Holiday Tour!
If you're coming for Christmas at Walt Disney World, we'd love to welcome you to our Orlando accommodation.
Check out how we decorate our homes for Christmas.

See All Orlando & Kissimmee Christmas Events
Walt Disney World Christmas:
---
Universal Holiday Events
---
SeaWorld & Busch Gardens Holiday Events
---
Christmas Events
---