Dark Arts at Hogwarts Castle
An all-new light projection experience will make its highly-anticipated debut at Universal Orlando Resort on September 14th 2019. Dark Arts at Hogwarts Castle will run on select nights until November 15th 2019.
The show, beamed onto Hogwarts Castle, will use state-of-the-art projection mapping, special effects and lighting. The spectacle will bring a whole new dimension of magic to life on the majestic Hogwarts castle.
And, for the first time at Universal Orlando, you'll be able to encounter Death Eaters. These devoted followers of He Who Can't Be Named are known for their allegiance and practice of the Dark Arts.
Ominous green light and fog will permeate the village, signaling the arrival of the Death Eaters. They'll eerily roam throughout Hogsmeade, lurking amongst guests – practicing the Dark Arts with complete disregard of wizarding laws.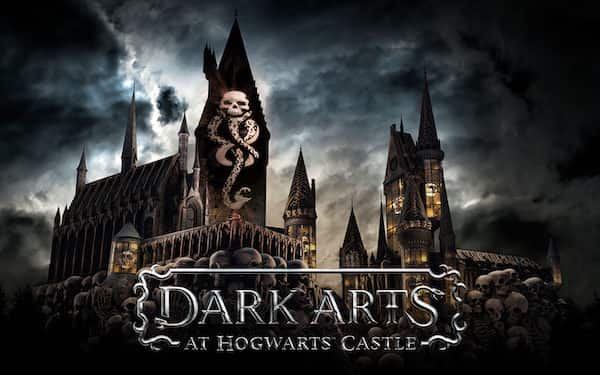 Projections will illuminate a darker side of the wizarding world as sinister creatures and villains cloak the castle through a mesmerizing display. You'll experience creatures such as Dementors, Aragog, Mountain Trolls, Thestrals and more.
At the start of the show, you'll be asked to summon your inner strength and bravely face the Dark Arts and the visage of the powerful dark wizard Lord Voldemort. The only way to defeat the vision will be when the Patronus spell is cast. This spell is one of the most famous, difficult and powerful defense of the Dark Arts charms in the wizarding world.
"Dark Arts at Hogwarts Castle" will run select nights from September 14 through November 15 in The Wizarding World of Harry Potter – Hogsmeade at Universal's Islands of Adventure.