Free and Cheap Things To Do In Orlando & Kissimmee
Vacations can be pricey, but having fun in the Sunshine State doesn't have to break the bank. Sounds too good to be true? Check out this list of fun, fascinating, free and cheap things to do in Orlando/Kissimmee.
Wait... There's More...
We spent 2 weeks creating the best online guide to Orlando on the web. It includes everything from theme park guides and videos, free things to do, what to do with kids and a bucket list of attractions along with some of the best places to eat and drink.
It's packed with our personal recommendations, maps and videos.
Central Florida is brimming with so many things to do outside the theme parks. Take time out to explore and save money!
Free & Cheap Things to Do in Orlando, Kissimmee & Central Florida
Pioneer Village at Shingle Creek, Kissimmee
Calling all history buffs. Take a trip back in time and explore Pioneer Village at Shingle Creek. The village is made up of several replicas and authentic structures that have been relocated from locations around Osceola County.
Structures include a blacksmiths, Florida Cracker house, citrus-packing house, schoolhouse and a Seminole village. Replicas include a train depot, a schoolhouse, general store and church.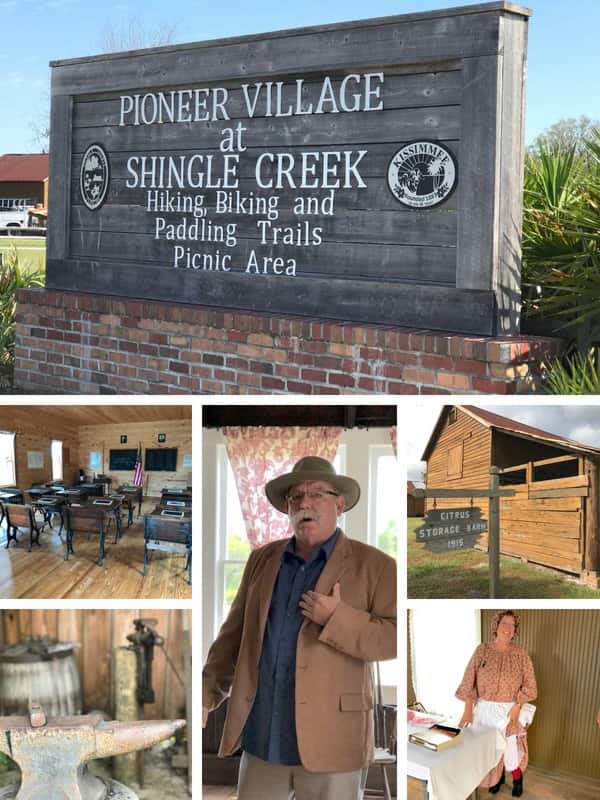 Each building has detailed info on what it is and the history surrounding it.
Admission to the Pioneer Village is only $7 for adults and $3 for children. The village is open seven days a week from 10:00 a.m. to 4:00 p.m. You are welcome to take a self-guided tour at any time during these hours, or you can call 407-396-8644, ext. 1, for guided tour availability.
Considering there's so much to see, the entrance fee is so low, this is easily one of the great cheap things to do in Orlando/Kissimmee.
Pioneer Village is closed on major holidays. ((Easter, Thanksgiving, Christmas Eve, Christmas Day and New Years Day).
Where: Pioneer Village, 2491 Babb Rd, Kissimmee, FL 34746.
Web: Osceola History Pioneer Village

---
Old Town Kissimmee
Take a stroll back in time at this retro complex of shops, restaurants and entertainment. Designed to look like an old-fashioned small town, there's over 80 speciality shops and restaurants, a handful of bars, live music and a ton of fun.
Set in 18 acres, the tree lined street running through Old Town Kissimmee offers good old fashioned classic fun.
The most popular event is the weekly Saturday Nite Classic Car Cruise, an absolute must for classic car fans.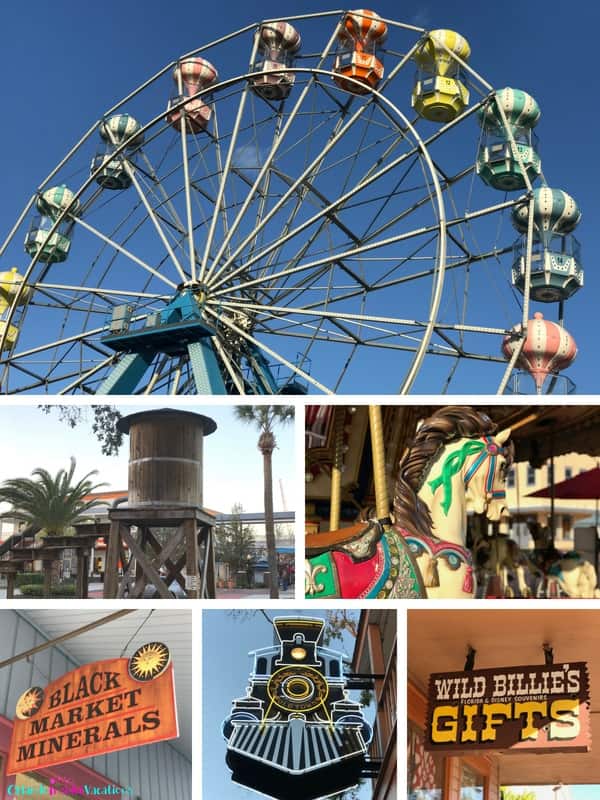 Old Town Kissimmee offer lots of free events:
Sundays: Free Family Movie Night at dusk
Tuesdays: Karaoke from 7pm
Wednesdays: Car Show 6pm
Thursdays: Bike Night 5pm
Fridays: Muscle Car Show & Cruise 4pm
Saturday: Saturday Nite Classic Car Show & Cruise - cars start arriving from 1pm and you can stroll among the vehicles and meet owners. The cruise is usually around 8 - 8.30pm, but do check the schedule before you go. Live music starts from 7pm.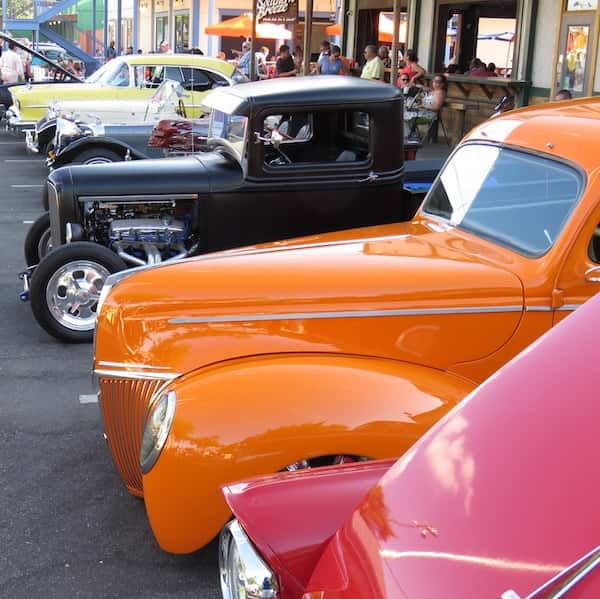 Plus, there's regular live music on the central stage. On select nights throughout October, The Haunt at Old Town brings Halloween thrills and treats with haunted mazes, scare zones and a zombie apocalypse.
All times are subject to change so do check the schedule before you go. Old Town offers plenty of free and cheap things to do in Kissimmee.
Where: 5770 W Irlo Bronson Memorial Hwy, Kissimmee, FL 34746
Web: Old Town Kissimmee
---
Harry P Leu Gardens
Walk the trails shaded by ancient oak trees of Harry P Leu Gardens. These tropical and semi-tropical botanical gardens represent the natural beauty of Central Florida, with everything from camellias to bromeliads on display throughout its 50 acres.
These enchanting gardens offer free admission on the first Monday of the month. Every other day, admission is only $10 for adults and $3 for children ages 5 to 12.
The gardens are usually open daily from 9:00 a.m. to 5:00 p.m., every day of the year except for Christmas.
Where: 1920 N Forest Ave, Orlando, FL 32803
Web: Harry P Leu Gardens

---
Winter Park
The charming town of Winter Park, located just north of Orlando, is perfect for a day trip.
Check out the largest private collection of Tiffany glass at the Charles Hosmer Morse Museum of American Art (for only $6).
The small but interesting collections at the Cornell Fine Arts Museum (free!)
The Albin Polasek Museum and Sculpture Gardens (only $5).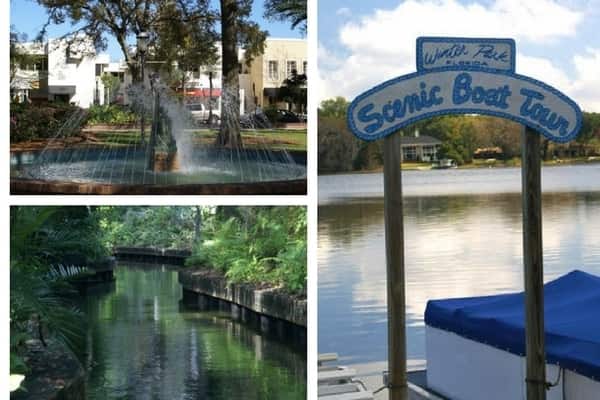 The celebrated Winter Park Farmers Market in and around the historic train depot is always worth waking up early for. Browse goodies every Saturday morning from 7:00 a.m. to 1:00 p.m.
And you can always find a boutique or cafe to spend an hour or two.
Morse Museum: Open from 9:30 a.m. to 4: 00 p.m. Tuesday through Saturday (until 8:00 on Fridays in November through April, when admission is free from 4:00 to 8:00 p.m.). 1:00 p.m. to 4:00 p.m. on Sundays. Closed on Mondays.
Cornell Fine Arts Museum: Open Tuesdays from 10:00 to 7:00 p.m, Wednesday through Friday, 10:00 a.m. to 4:00 p.m., and Saturday and Sunday, from noon to 5:00 p.m. Closed Mondays.
Polasek Museum: Open Tuesday through Saturday, 10:00 a.m. to 4:00 p.m., Sundays from 1:00 p.m. to 4:00 p.m. Closed Mondays.
The Winter Park Scenic Boat Tour is a great way to see Winter Park from a different angle. As your captain navigates the winding waterways, you can relax and explore the waterfront mansions and native wildlife.
At $14 for adults and $7 for children, it's one of the reasonably cheap things to do in Orlando. A great way to spend a few serene hours away from the bustle of the theme parks.
---
Wekiwa Springs State Park
While we love our theme parks, it's always a nice change of pace to visit one of Florida's many state parks. Experience "the real Florida".
After our award-winning beaches, Florida's most famous natural attractions are probably the crystal-clear springs. And there are many stunning examples in Central Florida.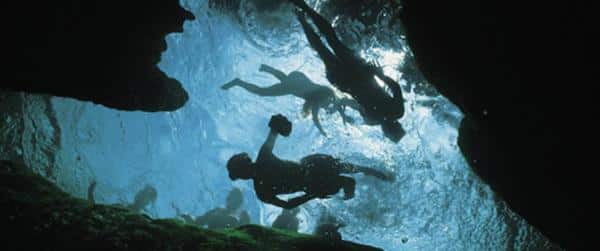 Wekiwa Springs in Apopka is one of the closest to the Orlando/Kissimmee area. It has beautiful natural surroundings and water that stays 72 degrees year-round.
These springs are basically Mother Nature's water parks.
Besides swimming, visitors can enjoy hiking, biking and fishing.
Wekiwa State Park is very popular during summer months and closes when it reaches capacity. Avoid weekends if you can.
The park is open every day of the year from 8:00 a.m. to sundown and admission is only $6 per carload. At that price, is there any wonder this is one of our favorite cheap things to do in Orlando!
Where: 1800 Wekiwa Cir, Apopka, FL 32712
Web: Wekiwa Springs State Park
---
Lakeridge Winery, Clermont
You probably had no idea there were wineries in Florida! This 75-acre vineyard located in the rolling hills of Central Florida is the state's largest.
Free wine tasting? No wonder this is one made our list of top 10 cheap things to do in Orlando.
Lakeridge Winery specializes in wines made from Florida's native Muscadine grapes, as well as varieties of Vinifera.
Lakeridge offers free tours and tastings seven days a week, Monday through Saturday from 10:00 a.m. to 5:00 p.m. Sundays from 11:00 to 5:00 p.m (with the last tours beginning at 4:00 p.m.).
There are also regular weekend events, concerts, festivals and specials. Check the events calendar regularly.
Where: 19239 US-27, Clermont, FL 34715
Web: Lakeridge Winery

---
Orlando Brewing
If you prefer an ice-cold beer to a glass of wine, we've got you covered. Florida has experienced a beer boom n recent years. Craft breweries have popped up all over the state.
Orlando Brewing is Florida's first organic brewery. Committed to using only the highest quality ingredients, and brewing in accordance with the all-important German Purity Law of 1516.
They offer free brewery tours Monday through Saturday at 6:00 p.m (excluding the 30th of the month or special events).
Where: 1301 Atlanta Ave, Orlando, FL 32806
Web: Orlando Brewing
---
Lake Eola Park, Downtown Orlando
This iconic 43-acre park is a recreational oasis in the middle of downtown Orlando.
Feed its famous swans. Have a picnic on the lawns. Visit the Sunday morning farmers market. Take the kids to the playground. Check out a free concert at the Walt Disney Amphitheater. Catch a free movie.
Hop on a Swan Boat Rental for $15 for 30 minutes. They often have Groupon offers, so check first.
And if you want to see more of Downtown Orlando, Eola Park is surrounded by restaurants and shops. Check out Thornton Park, South Eola District and the Central Business District.
Where: 512 E Washington St, Orlando, FL 32801
Web: Lake Eola
---
Tibet-Butler Preserve
Not far from the hustle and bustle of the Magic Kingdom lies this peaceful oasis. Almost four miles of trails through real-life fairy tale forests.
Perfect if you want to walk off a few calories from those special Mickey treats! Explore and educate kids on local flora and fauna. Tibet-Butler Preserve is a pleasant, peaceful and inexpensive way to spend the day.
The nature center is large and impressive, with interactive displays, live animals, a butterfly garden, sandbox, and a picnic area.
On the trails, keep an eye out for Bald Eagles, ospreys, tortoises, alligators, and otters.
Tibet Butler Preserve is open every day of the week, from 8:00 am - 6:00 pm. Call ahead or check out the website before visiting, as trails may be closed due to flooding.
For trails, tips and details, check Florida Hikes.
Where: 8777 Winter Garden Vineland Rd, Orlando, FL 32836
Web: Tibet-Butler Preserve | Florida Hikes

---
Orlando Fire Museum
This adorable little museum in Loch Haven Park is housed in a two-story brick firehouse, built in 1926.
Inside, you can explore the history of the Orlando Fire Department, which goes all the way back to 1885.
On display, you'll find hundred-year-old trucks, equipment of a bygone era, and other memorabilia.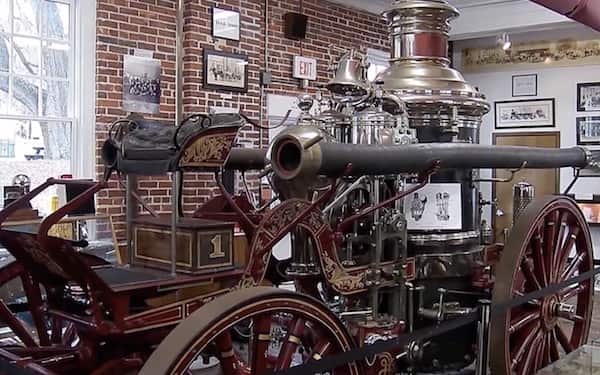 This is a hidden gem that many locals don't even know about. It's one of our favorite cheap things to do in Orlando. The museum is open Friday and Saturday 10:00 a.m. to 4:00 p.m.
This is totally free to enter, although donations are hugely appreciated to keep the museum operating.
Where: 814 East Rollins Street, Loch Haven Park, behind the Orlando Science Center
Web: Orlando Fire Museum
Now you have plenty of affordable attractions in Orlando and Kissimmee. If you have favorite free or cheap things to do, wed love to hear from you.