Central Florida BBQ Festivals - Take Your Taste Buds to Porkalicious
If you like a good BBQ blow-out, then you'll love all the Central Florida BBQ festivals, contests and cook-outs. Due to year round sunshine, professional pit masters and amateurs alike cook up a storm in Florida all year-long.
Central Florida BBQ festivals give you the chance to pig out on Pitmaster specials. What better way to enjoy this classic American cuisine? Treat your taste buds to mouth-watering, award-winning ribs, championship brisket and piggylicious pulled pork.
Central Florida BBQ festivals don't just stop at BBQ staples though. Fancy a little heat? Try deep-fried jalapeño's. How about that sweet tooth craving? Deep fried Oreos and deep-fried strawberries will give you the perfect sugar rush. You'll find smothered nachos, loaded tater tots and smokin' sliders. And traditional sides like Southern-Style Collard Greens, sweet beans, green bean casserole and Mac n Cheese.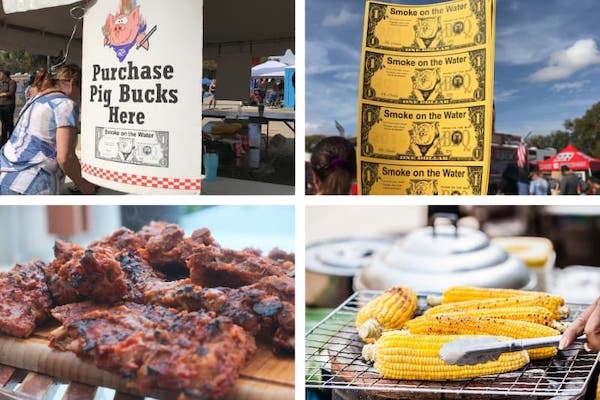 Sanctioned BBQ Contests
Many of the Central Florida BBQ festivals are contests that are sanctioned by Florida BBQ Association. Does being a sanctioned event make a difference to you and I? Well it does, and it doesn't, kind of!
Health regulations mean we, the public, aren't able to sample food created for the competition. The food is prepared, presented and judged. Then family and friends of competing teams get to gorge on the goodies.
But, the winners (Grand Champions) of top-level sanctioning associations, like Florida BBQ Association, qualify for an invitation to larger and more prestigious world championships. They'll be invited to compete world championships such as The American Royal, Houston Rodeo Show and the Jack Daniels BBQ World Championship.
That means a sanctioned BBQ contest will attract top-level Pitmasters. And lots of these guys have vending spots where you can purchase award-winning food.
A sanctioned contest generally gives you a lot more choice from top-level BBQ. But don't let that put you off a good old regular BBQ or backyard get together though!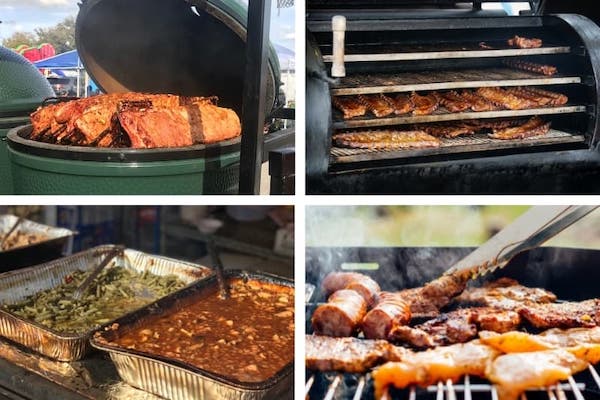 Family Friendly BBQ Festivals
Virtually all Central Florida BBQ festivals are family friendly events and perfect for all ages. Adults will appreciate the quality of food and live entertainment. There's usually live outdoor concerts and beer tents.
For kiddos, there's often a bounce house and games. You'll also often find craft and art vendors.
And did we mention mouth-watering competition level food?
Central Florida BBQ Festival 2019 Calendar
Sizzlin' Smokin' BBQ Cook-off
When: February 8th 2019 6pm-9pm
Where: Martin Luther King Jr Park, 199 E Lake Silver Dr NE, Winter Haven, FL 33881
Admission: Free
The Sizzlin' Smokin' BBQ Cook-off will have BBQ Sample tickets available for purchase. A $10 Sample Plate gets you 5 meat samples and 2 sides. Vote on your favorite BBQ in the People's Choice Award. You'll also have a chance to win a Pro 20 Pellet Traeger Grill with a $10 raffle ticket. Micah Shane will be performing.
---
Winter Garden Blues & BBQ Festival
When: February 9th 2019 - 4pm - 10pm
Where: Winter Garden Downtown Pavillion & Farmers Market
Admission: Free
Take in the beat of Southern Blues while you munch on award-winning BBQ.
Music Line Up:
4 pm - Sean Chambers
6 pm - Lauren Mitchell Band
8 pm - Selwyn Birchwood Band
---
Apopka BBQ Showdown
FBA Sanctioned, Backyard Contest
When: February 9th 2019 11am-6pm
Where: Northwest Recreation Complex, 3710 Jason Dwelley Parkway
Apopka, FL 32712 United States
Admission: Free
Join in the family fun in one of the largest BBQ showdowns in Florida. There will be live entertainment on the amphitheater stage from 11am-5pm, live demonstrations, BBQ food vendors & merchants. People's choice tasting from 11:15am-2pm, BBQ awards on stage at 5pm.
---
Grills Gone Wild - Davenport
FBA Sanctioned, Backyard Contest
When: February 15th 2019 5pm-9pm | Saturday February 16 2019 10am-5pm
Where: Market Street, Davenport, Florida
Admission: Free
Grills Gone Wild in Davenport not only has awesome food and live music, but there's a classic car show too.
Live Music Schedule:
Friday 5pm - 9pm - Nathan Baldwin Band
Saturday 10am - 12pm Josh Blevins Band
Saturday 12pm-5pm Steel Horse
Bay Street Classic Car Show is held Saturday from 10am to 5pm.
---
Beer, Bourbon & BBQ Festival
When: February 16th 2019 - 2pm – 6pm General Admission | Noon - 6pm VIP Bacon & Whole Hog Session
Where: Curtis Hixon Waterfront Park, Tampa, Florida
Admission: Starts at $40, up to $75 for VIP package for advance purchase.
Event organizers tell us: "Get ready to enjoy all those pleasures that true Southerners live by - Beer, Bourbon, Barbeque, Boots, Bacon, Biscuits, Bluegrass and Smoked Beasts! It's a great day of beer sippin', bourbon tastin', music listenin', cigar smokin', and barbeque eatin'. Your admission buys you a sampling glass so you can enjoy an ALL-YOU-CARE –TO-TASTE sampling of beer and bourbon".
BBQ Selection: Pulled pork from whole hogs, ribs, brisket, chickens, sausages and any fixin' you could imagine.
Seminars: With Master Distillers, Brewmasters, and Pit Masters From the Deep South.
Live Rock & Blues Music
Contests: Tampa's Best Beer Belly; Drink Like A Lady; Bacon Eating Competition
All You Care To Taste Beer and Bourbon Tastings: 40 Bourbons and 60 Beers on Tap.
Games: Giant Jenga, Cornhole and More
Check out the video from last years event:
---
Ribs on The Ridge
FBA Sanctioned, Backyard Contest
When: February 22nd 5pm-9pm | February 23rd 10am-5pm 2019
Where: Lake Eva Park, 555 Ledwith Ave Haines City, FL 33844
Admission: Free
One of the larger Central Florida BBQ contests, Ribs on the Ridge offers endless food varieties, arts and craft vendors. Entertainment includes national recording country artist Craig Cambell and local superstar Kenzie Wheeler.
---
Blues & Brews Backyard BBQ
Cook-off, Car Show & Family Festival
When: Saturday February 23rd 2019 11am to 3pm (Teams set up Friday)
Where: Eastern Florida State College - Melbourne Campus 3865 N Wickham Rd, Melbourne, Florida 32935
Admission: $10 at the gate or $8 in advance
As well as delicious BBQ, there will also be food trucks attending this fun family event. Live music performed by Penny Creek Band. Youngsters will love the Kid Zone, car enthusiasts will enjoy the 3rd Annual Red, White & Wheels Car Show.
All proceeds benefit Eastern Florida State College Foundation student scholarships.
---
Planes, Trains & BBQ
FBA Sanctioned, People's Choice
When: March 2nd 2019
Where: Wooten Park, 100 E Ruby St, Tavares, FL 32278
Admission: Free
Take the whole family along to this kid-friendly event. Not only is there delicious food to tuck into, but there is lots of entertainment and a classic car show to boot.
Free Concert
Air Show
Train Rides
Award winning BBQ
Food & Merchandise Vendors
Kids Zone
Classic Car Show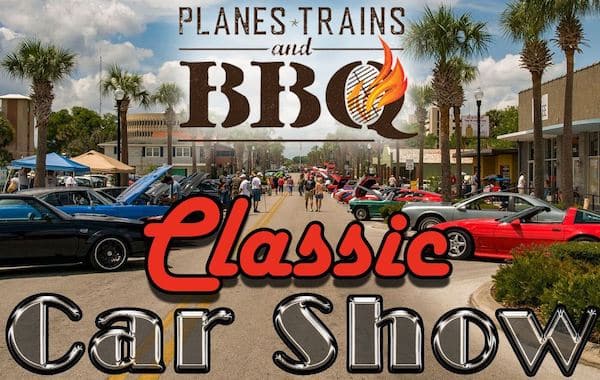 ---
Swamp Boys Q School
Not a contest or festival, but if you want to learn how the pro's get it right, this is for you. This two-day BBQ techniques class could take you from beginner to winner. You'll learn a variety of skills including meat selection, marinades, cooking temps, sauces and flavor profiles.
You'll learn from the best too: Pitmaster Rug Bagby has been involved in over 390 BBQ contests.
When: March 2nd and 3rd 2019
Where: 2400 Havendale Blvd, Winter Haven, Florida
Info: Swamp Boys Q School
---
Pig on The Pond
When: Friday March 8 2019 5 pm - 10 pm | Saturday March 9 2019 10 am - 10 pm | Sunday March 10 2019 11 am - 6 pm
Where: Clermont Waterfront Park, 100 3rd Street Clermont, FL 34711 United States
Admission: Free
This annual festival has lots of entertainment for all the family:
Chilli Cook Off
Fireworks
Chase's Racing Pigs
Swamp Brothers
Carnival Rides
---
Skinny's BBQ Throwdown
FBA Sanctioned, People's Choice
When: May 3rd-4th 2019
Where: Merritt Island, Florida
---
Big Belly BBQ Battle
Sanctioned FBA Event
When: August 30th - 31st 2019
Where: Davenport, Florida
---
Lakeridge BBQ & Blues Festival
When: October 11, 2019 10:00 am - 8:00 pm | October 12, 2019 10:00 am - 8:00 pm |
October 13, 2019 11:00 am - 5:00 pm
Where: Lakeridge Winery, 19239 US 27 North Clermont, Florida 34717
Admission: Adults $10, children under 12 free
Get ready for the battle! Five of the USA's top BBQ Rib Competitors have been invited to compete in an epic battle. The team that takes top spot will be the Lakeridge Winery "Rib Champion". Enjoy live music from some of the area's top Blues Bands. In the Wine and Cheese Bar you'll hear some great solo acts.
---
Orange Blossom Revue
Sanctioned FBA Event, Backyard Contest
When: December 6th - 7th 2019
Where: Lake Wales, Florida
---
Central Florida BBQ Festivals Calendar 2020
The Old Florida Outdoor Festival
When: February 7 2020 - February 8 2020
Where: Apopka, FL 32712 United States
Grills Gone Wild – Davenport
When: February 14 2020 - February 15 2020
Where: Market Street, Davenport, Florida
Ribs on the Ridge – Haines City
February 21 2020 - February 22 2020
Where: Lake Eva Park – Haines City, 555 Ledwith Avenue, Haines City, Florida
Big Belly BBQ Battle – Davenport
When: September 4 2020 - September 5 2020
Where: Davenport PD, Market Street, Davenport, FL 33837 United States
Orange Blossom Revue – Lake Wales
When: December 4 2020 - December 5 2020
Where: Lake Wales Park, 33 N LakeShore Blvd, Lake Wales, FL 33853 United States