Busch Gardens Food and Wine Festival 2019
Busch Gardens Food and Wine Festival in Tampa is held every spring. It will be returning March 16th - April 28th 2019.
Each Saturday & Sunday during the festival, Tampa is blessed with an amazing feast of food, wine and craft beers.
Add live music by world-famous artists and what have you got? An awesome mix not to be missed.
Taste Bud Heaven at Busch Gardens Food and Wine Festival
Can you negotiate your way past 11 Food Cabins without succumbing to a nibble at each? Why bother trying? It's far more fun to forget the diet and indulge.
With over 100 fine wines, craft beers and cocktails to wash it all down.

FOOD CABINS
Northern California: 
Grilled Lamb Chops with 15-Year Aged Balsamic Drizzle
Duck Fat Truffle Fries with Parmesan Aioli
Charcuterie & Cheese Cone

Pacific Northwest:


Cedar Planked Wild Alaskan Salmon
Bison Slider with Bacon Onion Marmalade
Dungeness Crab Croquettes with Lemon Aioli

Nola Eats:


Grilled Oysters topped with Creamed Spinach, Andouille Sausage & Garlic Crumb
Chicken Gumbo
Bananas Foster Cheesecake

Southern Cuisine:


Fried Chicken & Biscuit Slider
Bacon & Cheddar Hushpuppies
Fried Green Tomato Stack

The Boardwalk: 


Maryland-Style Crab Cake with Mustard Sauce
Taylor Ham Mac & Cheese
Griddled Cheesecake with Raspberry Sauce

New England Tavern: 


Lobster Roll
Clam Chowder
Blueberry Rhubarb Crisp

The Heartland: 


Potato & Cheese Pierogis
Italian Hot Beef Sandwich
St. Louis Ribs

SoCal:


Baja Fish Tacos
Blistered Shishito Peppers with Lemon Aioli
Cheeseburger Slider with Pico de Gallo & Guacamole

Aloha Eats:


Kona Crusted Filet Mignon with Maui Onion Butter
Kahlua Pulled Pork  with Hawaiian Sweet Roll & Pineapple Agrodolce
Pineapple Upside Down Cake

Tex Mex Cantina: 


Short Rib & Cheddar Quesadilla
Grilled Elote - Mexican Street Corn with Cotija & Lime Crema
Chorizo Queso Fundido with Jack Cheese, Sweet Onions & Shishito Peppers

Tampa Tavern:


Cuban Egg Roll
Fried Snapper Sandwich
Key Lime Pie
With so many lip-smakin' treats, you might want to consider a Festival Sampler offering five, eight or twelve items.
You can mix and match with food, wine and beer.
EXPERT TASTINGS:
There are five expert tasting packages on offer, priced at $29.99 per person. You can select two tasting sessions for $39.99 or try all four for $59.99.
The price includes 5 different tasting packages:
Tequila Tasting
Bourbon Tasting
Vodka Tasting
Ice Wine Tasting
Sparkling Wine Tasting

Busch Gardens Food and Wine Festival Headline Acts
Headline acts will be performing every Saturday and Sunday through the event. All concerts are included in entry ticket/pass. There are two types of VIP reserved seating packages available, that include 5 food/beverage samples too.
2019 Concert Line up
Saturday, March 16 at 7:00 p.m. - Daughtry
Sunday, March 17 at 6:00 p.m. - The Band Perry
Saturday, March 23 at 7:00 p.m. - 3 Doors Down
Sunday, March 24 at 4:00 p.m. - Blue Rodeo, Kathleen Edwards & Fred Eaglesmith ft. Tif Ginn
Saturday, March 30 at 7:00 p.m. - Justin Moore
Sunday, March 31 at 6:00 p.m. - El Gran Combo
Saturday, April 6 at 7:00 p.m. - To be announced
Sunday, April 7 at 6:00 p.m. - Josh Turner
Saturday, April 13 at 7:00 p.m. - Mighty Mighty Bosstones
Sunday, April 14 at 6:00 p.m. - Boys ll Men
Friday, April 19 starting at 5:30 p.m. - Edwin McCain & Vertical Horizon
Saturday, April 20 starting at 5:30 p.m. - Hunter Hayes & Levi Hummon
Sunday, April 21 at 6:00 p.m. - Mat Kearney
Saturday, April 27 at 7:00 p.m. - Walk Off The Earth
Sunday, April 28 at 6:00 p.m. - Foreigner
Note: There are blockout dates for Fun Card holders and Bronze Annual Pass Members during the festival: March 30, April 6 and April 13-27. Upgrades or Annual Pass upgrades are available for these guests.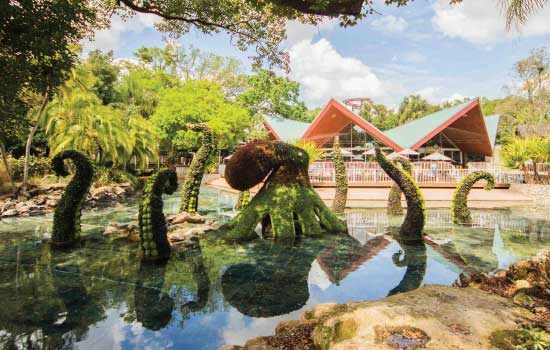 Horticultural Masterpieces at Busch Gardens Flower and Garden Festival
In between eating and drinking, look out for the life-sized topiaries:
Bird Gardens:
Butterfly Giants
Darwin the Orangutan
Spirit of Spring
Elmo, Big Bird and Oscar the Grouch
Garden Gate Cafe:
Octopus Garden
Commerson's Dolphin
Sea Turtles
Park Entrance:
Mugambi the Lion
Gate Plaza:
Topiarazzi
Gwazi Plaza:
Kanburi Pit Viper
Wooloomooloo and Coogee Kangaroo and Joey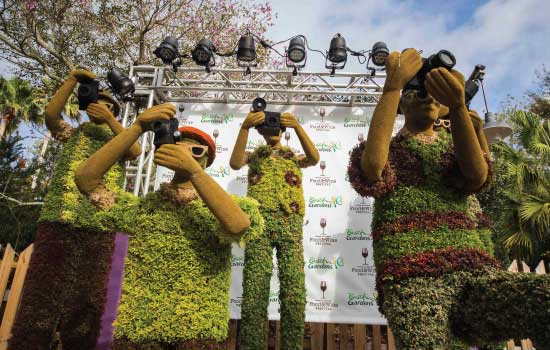 And if all that wasn't enough, all the Busch Gardens white-knuckle rides will be in full flow and a horde of exotic animals will be more than happy to see you.
We hope you have an awesome visit to the Busch Gardens Food and Wine Festival.
Busch Gardens Food and Wine Festival Event Details:
When: March 16th - April 28th 2019
Where: Busch Gardens,10165 McKinley Dr, Tampa, FL 33612
Web: Food & Wine Festival at Busch Gardens