Best Time to Visit Orlando and Kissimmee
For us, November and December really is the best time to visit Orlando and Kissimmee. It's the time of year that brings pumpkin spice and everything nice.
Wait... There's More...
We spent 2 weeks creating the best online guide to Orlando on the web. It includes everything from theme park guides and videos, free things to do, what to do with kids and a bucket list of attractions along with some of the best places to eat and drink.
It's packed with our personal recommendations, maps and videos.
From sparkling parties, festive food, lower crowds and glorious weather, there are so many reasons to visit Orlando now. And we'll tell you why!
November & December is The Best Time to Visit Orlando Because...
The Weather is Perfect
It Blows Hot & Cold
November and December is the best time to visit Orlando for good weather. It still feels like summer, but without the sizzling temperatures. It's the perfect combination of hot and cold. And by cold, I mean Florida cold!
Warm Sunny Days: If you've put that swimsuit to the back of the closet until next year, go dig it out! October to December is the absolute perfect season to hit the awesome Orlando water parks. Disney has Typhoon Lagoon (also Blizzard Beach, closed until Jan 6). Universal has Volcano Bay. SeaWorld has Aquatica.
Cooler Nights: It can get a little cooler in the evenings. Which makes it a perfect excuse to put on that cheesy holiday sweater. Or head to Universal and wrap up in a Hogwarts robe while you cast a spell with your interactive wand. There's hot butterbeer to keep you warm.
Entertainment is in Festive Overdrive
The Orlando Theme Parks Are Mind Blowing
If you've never visited Orlando in November or December before, you're in for jaw dropping entertainment! It's the best time to visit Orlando for festive happenings. There's something on in all the parks and lots of local events too.
The highlights for us are Disney and Universal.
Disney: Nov 8 2019 - Jan 5th 2020
Magical at any time of the year, but the holidays get an extra dose of sparkling pixie dust. Most holiday events started November 8th. The verriest merriest party on the planet is on select nights at Magic Kingdom. Queen Elsa lights up the castle in shimmering splendor every night. Hollywood Studios is in full Flurries of Fun. Epcot brings out yet another fabulous festival from November 18th.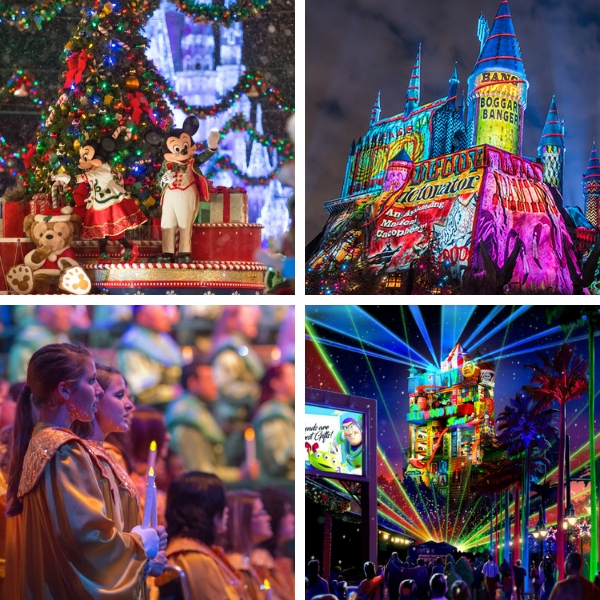 Universal: Nov 16th 2019 - Jan 5th 2010
The Wizarding World of Harry Potter is spellbinding during the holidays. When dusk falls, magical holiday projections transform Hogwarts Castle into a dazzling spectacle. Universal Holiday Parade is packed with holiday cheer. Grinchmas takes over Seuss Landing in Islands of Adventure.
Disney Christmas Events | Universal Holidays | SeaWorld Christmas Celebration | Snowing in Celebration | Holiday Home Tours | Ice! at Gaylord Palms | What's On Guide | Thanksgiving Dining |

Less Crowds to Deal With
It Makes More Room for Fun
November and December is the best time to visit Orlando for crowds. Apart from the insanely busy Christmas/New Year week, it's much more manageable in the theme parks. That means shorter wait lines for attractions. Perhaps you'll be able to snag a rare dining reservation. The roads are quieter and the stores aren't as crowded. Apart from Black Friday that is!
And Less Crowds Mean More Room for Selfies and Photo Ops!
Both Disney and Universal have awesome instagram worthy locations. Special walls and backdrops are everywhere.
Brush Up On Your #Hashtags: #purplewall #disneywalls #instadisney
Check out all the Universal Walls.
Photo Credit: memorymakergirl
Make sure you #ShareYourEars - Disney will donate $5 to Make-A-Wish for every Disney Ears photo posted publicly with #ShareYourEars. They'll donate up to $2 million.
You Can Make Mega Savings
More Money for Spending
November and December is the best time to visit Orlando for savings. There's never really a slow time in Orlando, the parks attracts thousands every month. But November to January are definitely slower.
Airfare
If you're flying in, lots of airlines have flight deals. Check SkyScanner or AirFare Watchdog.
Universal Ticket Discounts
A great offer is currently running that gives you two days FREE when you purchase a 2 day ticket. 4 whole days for the price of two! Blockout dates Dec. 26–31, 2018.
Disney Ticket Discounts
If you're a Florida resident, you're in luck at Disney. There's currently 30% off 3 day tickets and 40% off 4 day tickets. And you get the Park Hopper option thrown in for nothing.
Military Discounts
Orlando theme parks always have Military discounts.
Disney currently have a 4-Day Military Promotional Ticket for $226 plus tax or a 5-Day Military Promotional Ticket for just $246 plus tax. Park Hopper is included too. These tickets must be purchased by December 18th 2018 and used before December 31st 2018.
Accommodation
It's a no brainer for savings when you compare a vacation home with a hotel. But to make it even sweeter, we currently have a Holiday Special that gives you $200 off if you stay before December 18th.
Use that $200 to splash out on an upscale dinner. Treat the kids to Disney stuff. Put it towards the Universal and Disney tickets. You're welcome 🙂

It's A Festive Food Fest
November and December is absolutely the best time to visit Orlando for festive food. The theme parks are crammed with instagram worthy seasonal treats.
Santa themed cookies, cuter than cute popcorn buckets and festive cupcakes that look way too pretty to eat.
Check out these tasty morsels that are currently available in Disney's Hollywood Studios.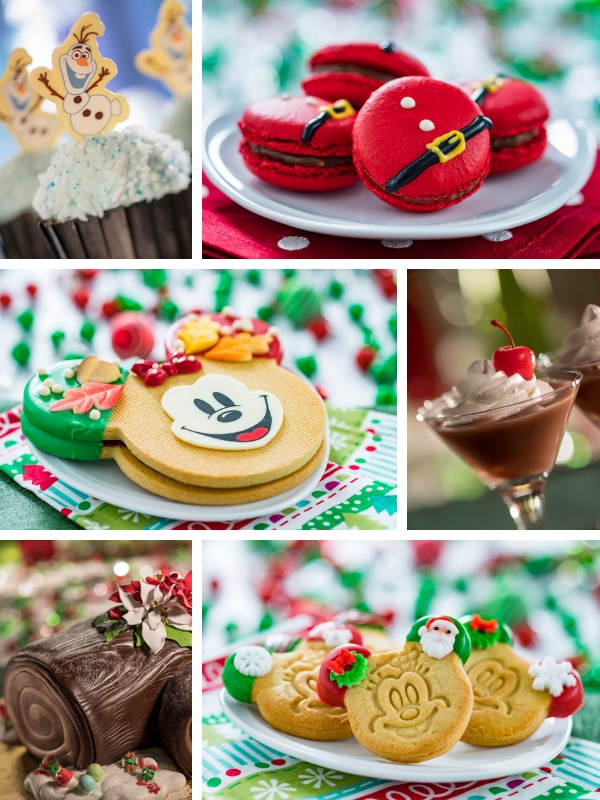 And let's not forget food festivals too! Epcot Food & Wine Festival is on August 29the to November 23rd 2019. Epcot Festival of The Holidays begins November 29th 2019. There are lots of places pulling out all the stops for Thanksgiving in Orlando too.
So have we got you convinced November and December is the best time to visit Orlando and Kissimmee? Come and join us for some festive fun!

See All Orlando & Kissimmee Christmas Events
Walt Disney World Christmas

:
---
Universal Holiday Events
---
SeaWorld & Busch Gardens Holiday Events
---
Local Christmas Events

---