Animal Kingdom Lodge Culinary Tours - Free Disney Gems
One of our favorite hidden Disney gems is the Animal Kingdom Lodge Culinary Tours. The tours are open to everyone, even off-site guests, and are totally free.
It's not often you'll hear Disney and free in the same sentence!
During the Animal Kingdom Lodge Culinary Tours, representatives from various countries will take you on an informative journey through Jiko and Boma restaurants. The Culinary Tour Guides will share insights, traditions and cultures of the country they represent.
There's even a little bit of food sampling too. You'll have bread and dips in Jiko. Plus, you'll sample soup and a sweet treat in Boma.
Before or after your Culinary Tour, make sure you have a little time to explore Animal Kingdom Lodge. If you haven't visited before, it's well worth a visit.
Culinary Tour of Jiko - The Cooking Place
In Jiko (Swahili for The Cooking Place), you'll learn all about the cultural representations of the decor used in the restaurant. Plus, you'll get insights into native traditions and cultures.
Anytime we've visited the restaurants at Animal Kingdom Lodge, we've been pre-occupied with food and not taken much notice of the decor. Apart from noticing how gorgeous it is! For instance, we learned:
Column Rings: The rings around the pillars represent the rings around the necks of Masaai women. The number of rings represent status and good deeds they've performed.
Changing Colors: The ceiling is painted blue to represent the sky. The back wall is painted orange to represent the sunset. It changes colors as the sun sets.
Canoe Birds: The white birds are Canoe Birds which give good luck when they fly overhead.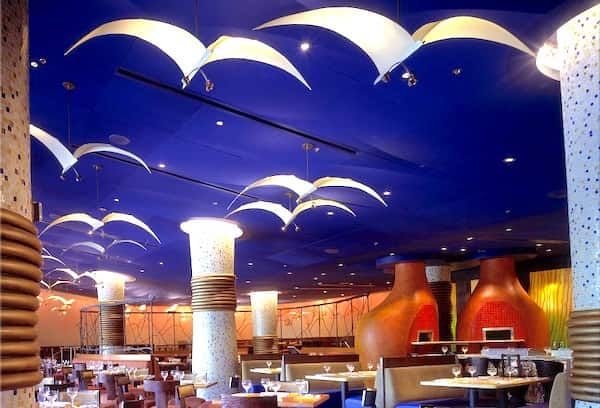 You'll be presented with a sampling of the Taste of Africa appetizer. This includes a selection of African breads along with dipping samples served at the open kitchen.
Watch chefs baking breads using wood fired clay ovens representing traditional cooking hearths.
Jiko is also home to an impressive array of South African wines - the largest collection outside South Africa.
Culinary Tour of Boma - Flavors of Africa
The word Boma means enclosure in Swahili, or a place of safety, which is represented by the wooden walls. It's keeping tribes safe from roaming wild animals.
Your Culinary Tour Guide will point out many unique features of Boma, including the table carved into the shape of Africa, African coins adorning the walls and the fabric topped table represents royalty.
The tour of Boma includes insights into the buffet preparation. Chefs are busy at work behind the lines, getting ready for the service that opens shortly after the tour ends.
Our Culinary Tour Guide took us along the extensive buffet, explaining the African influences of various dishes, giving us insights into cooking techniques.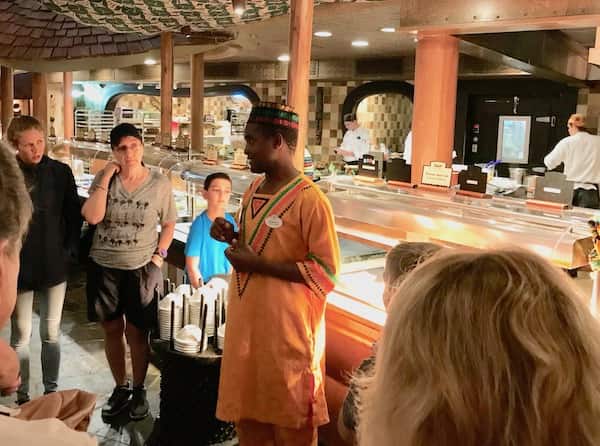 You'll then sample soup and dessert. The soup on our culinary tour was Butternut Squash, which is soooooo divine! So good in fact, we asked for the recipe. The Boma staff happily took our email address at the end of the tour and emailed the recipe to us a few days later.
As a sweet treat, we were then offered a well-known and much-loved Zebra Dome for dessert. This is an African Amarula Cream Liqueur mousse, coated with a creamy white chocolate ganache and drizzled with dark chocolate zebra stripes.
The end of the tour often coincides with the opening of Boma. A trio of talented African drummers beat the welcome. First diners are led into the restaurant conga style by cast members.
It's fun to watch and a great ending to the Culinary Tours at Animal Kingdom Lodge.
Are the Tours for Kids?
It's all down to individual children really. The Culinary Tours are educational and the guides make them fun, but some kids may get a little bored.
There were several kids on our most recent tour. A couple of them, aged around 8, were interested the whole way through and asked questions. Other kids on the tour totally lost interest after 10 minutes and got a little bored.
Most kids will like trying the different foods, although that's a small part of the tour. But they'll love the drum and dance routine announcing the opening of Boma at the end of the tour.
Know Before You Go: Times & Info
Tour Times: Tours start around 4pm each afternoon and last around half hour to 45 minutes. Be aware that times do vary. We've seen some tours at 3.45pm and others at 4.15pm. Make sure you get there early enough.
Check In: Head to the Jiko or Boma podium to join in at least 15 minutes prior to the scheduled tour time. When we did our tour the check in was at Jiko. Others have started at Boma. Check details when you arrive at the lobby.
Contact: If you want to check times in advance, call Animal Kingdom Lodge on (407) 938-3000.
Parking: Parking is free for all visiting guests. There is only a fee for overnight guests. When you arrive at the guardhouse, just tell them you are there to explore the resort or take the culinary food tours. They will welcome you with a cheery "Jambo!"
Exploring Animal Kingdom Lodge
Animal Kingdom Lodge is an amazing resort to tour and well worth a visit. If you haven't been before, you'll want to give yourself a little time to explore.
Adults will appreciate the decor and African insights, kids will love the animal viewing and cool theming.
The impressive lobby is jaw-droppingly huge. If you visit during the Holiday season, the Christmas tree is spectacular! The lobby's arching windows offer an unparalled view of an animal-filled savanna. "Swaying" floor lamps, ornate fixtures and vibrant colors add to the splendor and authenticity.
Sink into one of the sofas and take in the sights. Pull up a chair around the traditional mud fireplace. Explore the Africa artifacts and impressive art collection.
Animal Viewing
Animal Kingdom Lodge has 3 separate savannas: Sunset, Arusha, and Uzima. Over 200 exotic birds and animals roam the savannas surrounding the Africa-themed hotel.
Head towards the rear of the lobby, towards the panoramic wall of windows overlooking the central Arusha Savanna. Stroll outside to the elevated rock outcropping and enjoy views of roaming animals. There are often Cast Members by the overlook - chat and ask any questions, they are incredibly knowledgable.
You can also head for raised balconies with rocking chairs. Take a seat, relax and watch the animals below.
You might spot giraffes, zebras, emus, ostriches, Thomson's gazelles, waterbuck, wildebeest and more.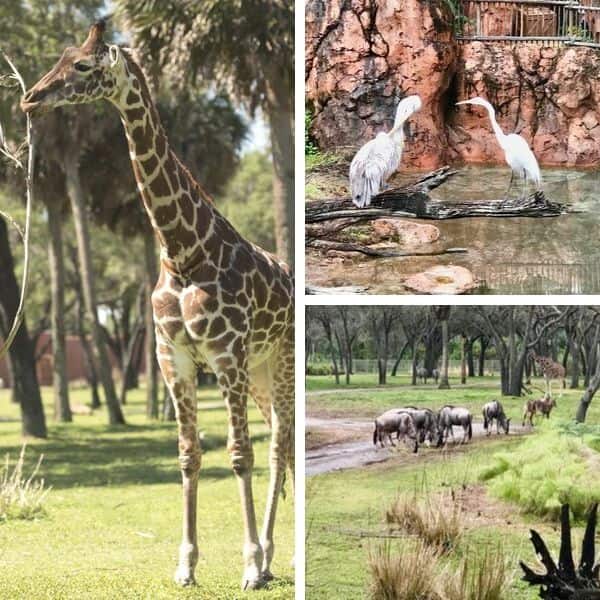 African Art
The centerpiece of the art collection is the Igbo Ijele (pronounced e-bo e-gelay) mask. The Ijele, created by the Igbo people of Africa, is a massive creation that towers over 16 feet high and eight feet wide. In Africa, the mask signifies an important event or celebration and makes rare appearances. No other Ijele, which is the largest mask in tropical Africa, is known to exist outside of Igbo land.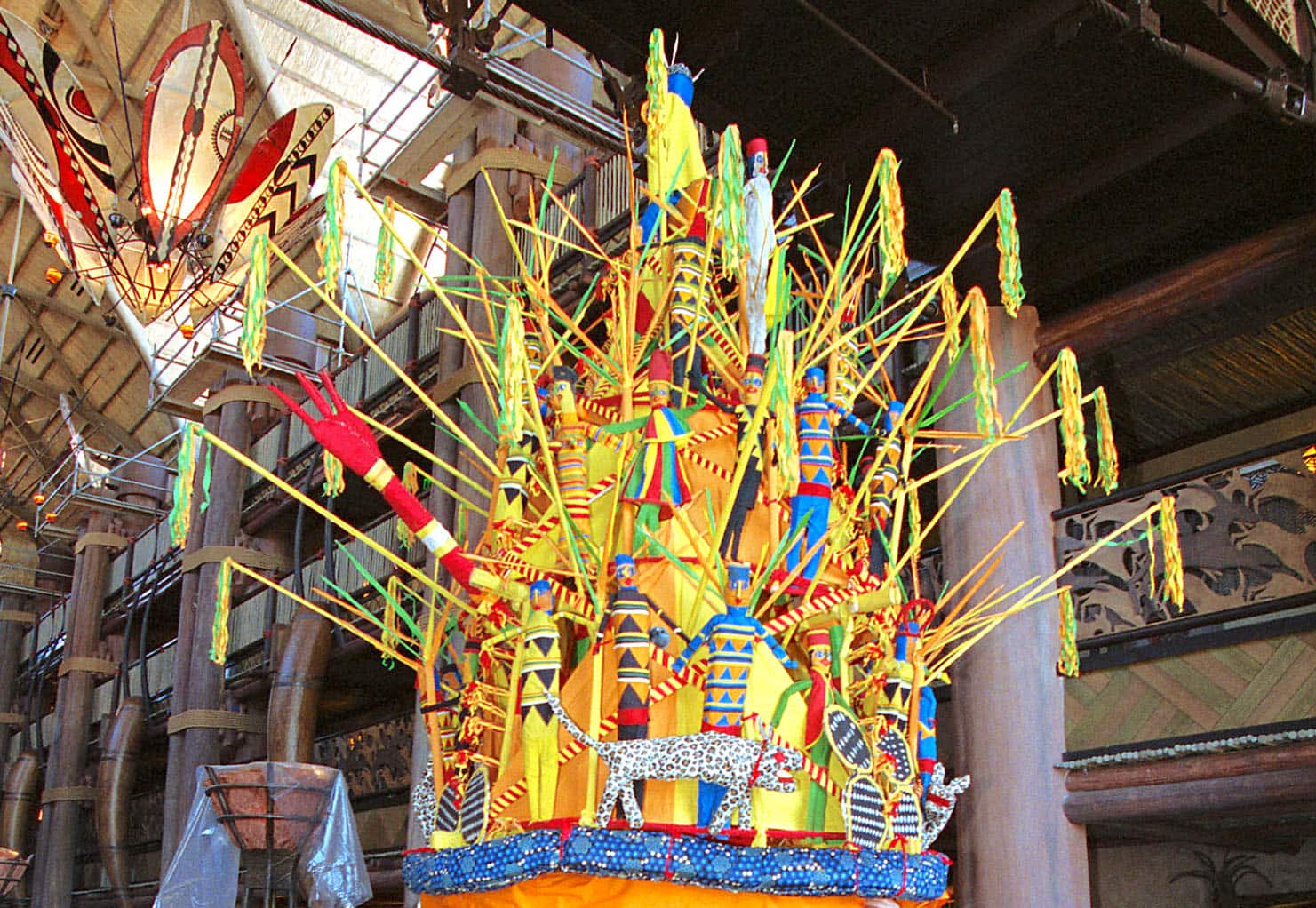 Dining at Jiko or Boma
Like many others who take this culinary tour, your taste buds might just be tickled enough to stay for dinner after the tour ends.
So what's on offer? Well, you're in luck. Animal Kingdom Lodge just happens to be one of the top locations for fine dining at Disney. Foodies in the group will be super impressed.
Jiko-The Cooking Place
The signature restaurant at Disney's Animal Kingdom Lodge features cuisines from around the globe. You'll find traditional African, Indian and Mediterranean cuisine.
The menu features exotic offerings such as Mrouzia-style Moroccan Lamb Shank, West African Koki Corn and Cape Malay Seafood Curry.
Appetizers are equally imaginative. North African-spiced Scallops and Grilled Wild Boar Tenderloin.
And save room for dessert. They are divine.
Jiko-The Cooking Place - Full Menu
Boma - Flavors of Africa
This all you care to eat buffet features a bounty of exotic flavors from over 50 African countries. There's traditional American cuisines too.
The extensive buffet features a selection of seafood, roasted meats, vegetarian specialties, fresh salads and house-baked pastries. All prepared in the onstage kitchen featuring a rotisserie and wood burning grill.
There are half-a-dozen side-by-side cooking stations where curries, chutneys and other Indian and Asian influences add fabulous flavors to grilled fish, meats and vegetables.
The desert station offers a huge array of delicious bites.
Boma - Flavors of Africa - Full Menu
We hope all this has whet your appetite to try the Animal Kingdom Lodge Culinary Tours for yourself. We'd love to hear how you enjoyed it.
Where: Animal Kingdom Lodge, 2901 W Osceola Pkwy, Orlando, FL 32830
Web: Disney's Animal Kingdom Lodge