4th of July in Orlando area - Celebrate with a Bang in 2019
Are you ready to Celebrate 4th of July in Orlando & Kissimmee?

Central Florida takes a lot of beating when it comes to firework displays. July 4th 2019 offers a bevy of booming delights. There's plenty going on in the theme parks and all around Orlando and Central Florida.
Check out our complete guide to major 4th of July events in Orlando, Kissimmee and Centra Florida. There's lots more happening in the month of July too. Check out other July events guide.
Get on your red, white and blues and come celebrate with us.
4th of July Theme Park Celebrations
Disney World

 July 4th Celebrations
When it comes to fireworks, nobody beats Disney. July 4th is no exception.
Two Disney parks celebrate with special fireworks - Magic Kingdom and Epcot. If you go to Magic Kingdom on July 3rd and Epcot on July 4th, you'll be able to see both!
Be prepared for crowds and crankyness though. It's going to be hot and busy, take some extra patience with you. And don't forget to pack a poncho. It's rainy season.
Independence

 Day at Magic Kingdom
4th of July in Orlando wouldn't be the same without Celebrate America! A Fourth of July Concert in the Sky. Disney's Magic Kingdom is home to this moving combination of traditional American songs and fireworks exploding behind Cinderella Castle.
July 4th Fireworks: Fireworks light up the Magic Kingdom sky on two nights: July 3rd and 4th.
The show starts at 9.15pm, followed by the American National Anthem.
Tomorrowland Dance Party: DJs will host dance parties in Frontierland and Tomorrowland on July 3 and July 4.
The Muppets Present: Great Moments in American History: Miss Piggy, Kermit, Fozzie Bear and friends reenact famous moments in American history.
The live show is performed daily in Liberty Square.
July 4th Fireworks at Epcot
Epcot celebrates 4th of July in Orlando all day long.
Independence Day Characters: Mickey, Donald and Goofy are dressed in all their patriotic costume finery ready for meet and greets at the American Adventure.
Voices of Liberty: perform traditional Americana songs on the America Gardens Theatre stage at 5:30, 6:45 and 8 p.m.
IllumiNations: Reflections of Earth - the Epcot finale fireworks is followed by a patriotic finale that will paint the sky red, white and blue. Immerse yourself in 4 minutes of exploding fireworks and a heartwarming, traditional American narrative.
July 4th at Hollywood Studios
There are no special fireworks at Hollywood Studios but there will be the usual Star Wars: A Galactic Spectacular. This show transports guests to a galaxy far, far away and into iconic scenes from the Star Wars saga with state-of-the-art projection effects, dynamic lighting and lasers. Fireworks begin at 10 pm on July 4th 2019.

---
July 4th At Universal Studios
Universal Orlando are holding a 3 day event for July 4th in Orlando in Universal Studios. Festivities include character dance parties, a live concert, DJ party zone and, of course, fireworks. Breathtaking pyrotechnics complete with confetti cannons will light up the sky over the Music Plaza
And if you manage to snag a great spot in the Music Plaza area, you won't even need to leave for food! You'll be able to get food delivered from Classic Monster Cafe. Food included brisket sandwiches, ribs, mac n' cheese and peach cobbler.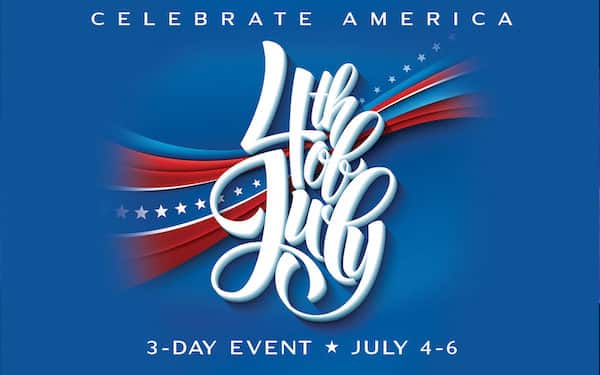 Music Plaza Events:
Live Music featuring Raydio: 5 p.m., 6:15 p.m., 8:15 p.m.
DJ M-Squared: 5:45 p.m., 7:15 p.m., 9 p.m.
Character Dance Party: 6:15 p.m. – 10 p.m.
Pyrotechnic Display: 9 p.m.
Central Park Events:
Where: Universal Studios
When: July 4th, 5th, 6th 2019
---
SeaWorld 4th of July - IGNITE
SeaWorld help celebrate 4th of July in Orlando with the Ignite show. Spectacular fireworks ignite the skies with a fireworks and laser extravaganza.
Reserved seating is available for $54 per person which includes seating for:
Touch the Sky - 5:30pm
Sea Lions Tonight - 6:30pm
Shamu Celebration: Light Up the Night - 8:45pm
Ignite Fireworks Spectacular - 9:30pm
4th of July Firework Celebration - 9:45pm
Where: SeaWorld Orlando, 7007 Sea World Dr, Orlando, FL 32821
When: July 4th, 2019.
Details: SeaWorld July 4th 2019
---
Celebrate July 4th with a BANG at Busch
Busch Gardens will be celebrating the night of red, white and blue with Busch Gardens Summer Nights. There will be an extended fireworks extravaganza accompanied by patriotic melodies on July 4th 2019.
Dance parties, night rides and shows are all part of the Summer Nights events running at Busch Gardens every night until August 5th 2018. Awaiting confirmation of closing date 2019.
Where: Busch Gardens, 10165 N McKinley Drive, Tampa, FL 33612
When: July 4th, 2019.
Web: Busch Gardens July 4th 2019

---
Red White & Boom - LEGOLAND Florida
Not quite 4th of July in Orlando, but LEGOLand Florida is close enough! Explosion of Bricks is the fireworks extravaganza at LEGOLAND Florida, enhanced in briktacular fashion with special viewing glasses. The kids will watch in awe as the fireworks disintegrate into millions of exploding bricks high in the sky.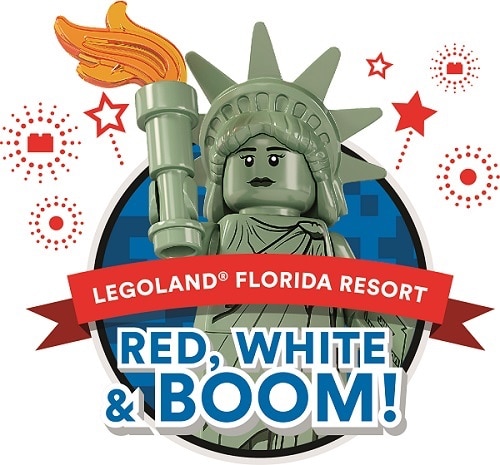 4th of July celebrations include:
DJ Dance Party - Dance away to a live DJ
Assemble The Bricks - Help create a giant American flag
Salute The Troops - Recognition to Troops kicks off Brick Builders and Battle for Brickbeard's Bounty live shows.
Pizzas, fresh sandwiches and ice cream are served up along with special Americana merchandise at The Big Shop.
Where: LEGOLAND, 1 Legoland Way, Winter Haven FL 33884
When: July 4th, 5th and 6th, 2019.
Web: LEGOLand July 4th Celebrations
---
4th of July Events Beyond the Theme Parks
---
Monumental 4th of July - Kissimmee
With up to 45,000 people joining in the celebrations, this is one of Central Florida's largest 4th of July events.
Live music from top bands on various outdoor stages. Uncle Sam Stilt Walkers, Street performers, mime artists, clowns for the kids to laugh at and a host of entertainment creates a great family atmosphere. And IT'S FREE!
The finale is an amazing firework display at 9.30pm.
Where: Kissimmee Lakefront Park, 201 Lakeview Drive, Kissimmee, FL 34741
When: July 4, 2019 from 5pm - 10pm.

---
Celebration Florida July 4th Events
The Star Spangled Spectacular Independence Day at Celebration Florida is a whole day and night of events. The day starts with a patriotic parade that start in front of Celebration Town Hall. Check the full parade route.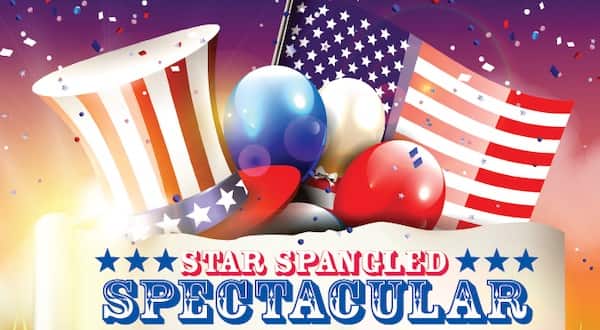 Star Spangled Spectacular Independence Day Parade starts 9pm
Live Music: 5pm Sonny Ferguson
Live Music: 7.30pm 7 Bridges (Ultimate Eagles tribute)
Fireworks: 9.15pm
Where: Celebration Florida
Web: Celebration Star Spangled Events

---
St Cloud 4th of July Lakefront Celebrations
To celebrate Independence Day, the town of St. Cloud has a spectacular firework display over East Lake Toho. Bring a blanket or folding chair and relax on the man-made beach at the lakeside as the night sky explodes overhead.
15,000 spectators can't be wrong. Food, fun and fireworks makes for a family friendly fiesta.
Or take a seat at Crabby Bill's restaurant, one of our favorite local restaurants, and eat and drink like royalty as you admire your pyrotechnic display above.
Where: 1104 Lakeshore Blvd, St Cloud, FL 34769
When: 4th of July 2019 From from 3pm - 10pm
Admission: Free
Website: St Cloud July 4th Fireworks
---
Fireworks at the Fountain - 4th of July in Orlando
4th of July in Orlando is celebrated in style at Lake Eola Park. Fireworks at the Fountain hits the right note, with Mayor Buddy Dyer in attendance to help celebrations go with a bang.
Entertainment gets under way at 4pm with games and activities for youngsters. Great eats and drinks available and live music. Great fun. And it's all free.
A fabulous fireworks display begins at 9.10pm and the show winds up at 10pm.
Pack your picnic baskets, folding chairs or blankets for this old-fashioned 4th of July family day celebration.
Where: Lake Eola Park
When: 4th of July, 2019 - 4pm till 10pm
Price: Free
Details: Fireworks at the Fountain
Surrounding streets around Lake Eola will be closed for most of the day, so plan accordingly on your drive in and exit post-event.
---
ICON Park Lights Up I-DRIVE

in Orlando
ICON Park is celebrating Independence Day with a party and electrifying pyrotechnics. There will be a laser light show, live entertainment, eats and drinks, face painting, balloon animals, stilt walkers and contests.
The Independence Day Party is free to all who purchase a ticket to The Wheel at ICON Park. Cost starts at $27.99 per person
Where: ICON Orlando, 8401 International Drive, Orlando FL 32819
When: July 4 and 5th, 2019
Web: ICON Park Orlando


---
Baldwin Park Independence Day Bash - July 3rd
If you want to hang out and celebrate with locals, head over to the Baldwin Park Independence Day Bash. Baldwin Park Village Center hosts this annual, free event starting at 6pm.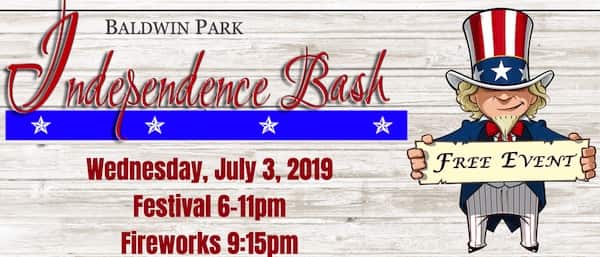 Lots of vendors, food trucks, arts and crafts, interactive activities, face painting and a beer garden.
The stage at the lake is the venue for DJ music and the Battle of the Bands performed by 3 local bands.
At 9.15pm, the night sky explodes with a choreographed firework display over the lake.
At 9.30 pm the winners of the Battle of the Bands take to the stage to entertain the crowd till 11pm.
Where: 3710 Maguire Blvd, Orlando, FL 32803
When: July 3rd, 2019 6.00-11.00pm
Price: Free
Details: Baldwin Park Independence Day Bash
---
Red Hot & Boom - Altamonte Spring
The City of Altamonte Springs and XL 106.7 partner to deliver the Red Hot and Boom festival. An event packed with live music and family fun.
The hottest act of the night is the show-stopping fireworks, lighting up the sky with a splash of color starting at 9:30 p.m. Fireworks are perfectly choreographed and synchronized to today's hits and old-time favorites for the dazzling 25-minute show over Cranes Roost Lake.
Hashtag your pics with #RHB, #RedHotandBoom or #RockYourSummer
Where: Cranes Roost Park, 250 Cranes Roost Blvd., Altamonte Springs, FL 32701
When: July 3rd, 2019 4.00-11.00pm - Fireworks 9.30pm
Price: Free
Details: Red Hot & Boom
Free Event Parking
---
Thunder on the Ridge
Thunder on the Ridge is the largest Independence Day event in Polk County. Haines City is awash with arts, crafts, delicious food vendors and local live music. And of course, booming red, white and blue fireworks.
With plenty of kids entertainment and a beer garden for the adults, it's a family event that lasts all day.
Where: Lake Eva Park, 555 Ledwith Ave., Haines City, FL 33844
When: July 4, 2019.
Web: Thunder on The Ridge Haines City
---
Mount Dora 4th of July, Two Day Celebration
Another one of our favorite Florida towns is Mount Dora. This picturesque hamlet has a two-day Independence Day.
July 3, 2019 - Freedom on the Waterfront 5pm- 9pm
With plenty of activities to keep the youngsters entertained, the Independence Day events  kicksoff at dusk.
Free parking at Mount Dora Plaza, $5 round trip to the fireworks in a spectacular 1950's streamline train and coaches.
July 4th, 2019 - Independence Day parade starts at 10am. from downtown Mount Dora.
Where: Elizabeth Evans Park and Downtown Mount Dora, FL 32756
When: July 3rd and 4th, 2019
Web: Mount Dora July 4th | Independence Day Parade

---
Smoke on The Water & Fire in The Sky
This event is a three day spectacle hosted by three separate cities on July 3rd, 4th and 5th, at Florida's Space Coast. Admission and parking are free to all three events.
July 2nd: Fireworks Over The Harbor - Port Canaveral
Make you way to The Cove at Port Canaveral for good food and drink, kids' activities, live entertainment and a street party. A fabulous fireworks display (expected around 9:30/10pm) will bring the evening to a close, local bars and restaurants will keep the party rocking.
Where: Cove at Port Canaveral
When: July 2nd, 2019 from 8pm

July 3rd: Smoke on the Water - Cocoa Beach
Grab your beach chairs and head for Cocoa Beach for a stunning visual display of fireworks over the Atlantic Ocean. Fireworks are expected around 8.45-9pm
Where: Cocoa Beach, Florida
When: July 5th, 2019 - Fireworks expected 8:45/9 p.m
Details: Smoke on The Water Fireworks 2018
July 4th: Smoke on the Water - Cocoa
Enjoy family attractions, food and entertainment at Riverfront Park in Cocoa Village. The event closes with fireworks soaring over the Indian River Lagoon around around 8.45-9pm.
Where: Riverfront Park, Cocoa Village
When: July 4th, 2019 - Fireworks expected 8:45/9 p.m
Full details: Space Coast July 4th 2019
---
Red, White and Boom, Clermont
Come to the lovely Lake Minneola for Clermont's 4th of July celebration at Waterfront Park. There are plenty of traditional Americana-type activities for all ages culminating in a spectacular fireworks display over the lake.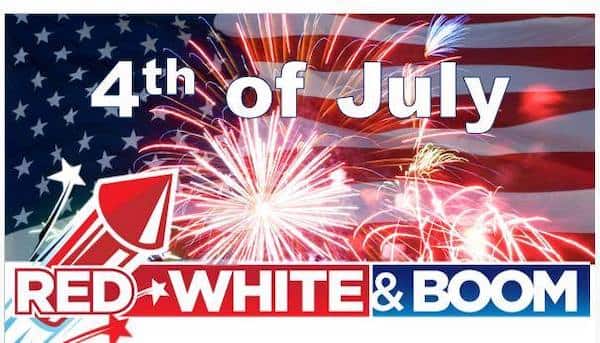 When: 4th July, 2019 from 6pm - 10pm. Fireworks at 9.15pm
Where: Waterfront Park, Lake Minneola, 330 Third Street, Clermont, FL 34711
Web: Red, White & Bloom