Tips for Mickey's Not So Scary Halloween Party 2019
Make Sure You Don't Miss a thing during Mickey's Not So Scary Halloween Party 2019
Mickey's Not So Scary Halloween Party, or MNSSHP as it's often abbreviated to, is perfect for the whole family and kiddos of all ages. And there's new fireworks and parade characters for the 2019 party.
If you have children who love the magic of Halloween, then Mickey's Not So Scary Halloween Party and SeaWorld's Spooktacular are the two Orlando Halloween events for you.
MNSSHP is a ticketed event that runs on select nights from August 16th to November 1st 2019. There's a special parade, fireworks spectacular, unique characters, stage shows and lots of fun all night long.
Get Tickets Early For Mickey's Not So Scary Halloween Party
Mickey's Not So Scary Halloween Party (MNSSHP) is a limited ticket event. Make sure you purchase tickets in advance, it's slightly cheaper than on the day:  MNSSHP Tickets.
Mickey's Not So Scary Halloween Party Dates 2019:
August 16, 20, 23, 27, 30
September 2, 6, 8, 10, 13, 15, 17, 20, 22, 24, 27, 29
October 1, 3, 4, 6, 8, 10, 11, 14, 15, 17, 18, 20, 21, 24, 25, 27, 29, 31
November 1
September dates will be quieter and mid-week will be quieter than weekends. The last weekend will be the busiest.

Mickey's Not So Scary Halloween Party 2019 Ticket Prices:
Advance purchase tickets for 2019 range from $79 to $135 for adults and $74 to $130 for children:
Ticket prices shown are plus tax. Children tickets are aged 3 - 9. Children under 3 free.
Have a Plan To Meet Popular Characters  
It's not often Jack Skellington and Sally make a public appearance. The Seven Dwarfs too, but be prepared for long lines.
If meeting Jack & Sally or The Seven Dwarfs is on your agenda, aim to start getting in line well before the party kicks off.
Lines should be open around 4.30pm for Jack & Sally at Liberty Square. The Seven Dwarfs line should open around 6pm onwards at Storybook Circus. Do check the guide you'll pick up when you enter for updated times.
If you don't want to wait in line too long, try to meet them towards the end of the party. Keep in mind popular characters tend to be busy most of the night, but it should be less towards the end of the night.
As both character meets are so popular, it will take some precision planning to see both. Take a look at Kenny The Pirate's Character Locator for lots of tips on meeting characters.
If you're staying in one of our vacation homes, you'll already have a Kenny The Pirate subscription.
There's plenty of other characters to meet throughout the night, including: Minnie, Donald, and Daisy in their Halloween costumes, Queen of Hearts, Tweedles, Alice and the Mad Hatter, Cruella De Ville and Jack Sparrow to name just a few.
Don't Miss Boo-To-You Halloween Parade
Mickey's Boo-to-You Halloween Parade (9.15pm and 11.15pm) is led by the Headless Horseman, followed by frightful floats featuring Disney characters and stars from the Haunted Mansion dressed in Halloween costumes.
The Incredibles and designer extraordinaire Edna Mode will be joining the parade this year. Also, Buzz Lightyear and alien explorers on a planetary playset float.
Wreck-It-Ralph, Vanellope von Schweetz and the girls from Sugar Rush make sure there's plenty of candy to go around during the parade
This bone-rattling parade is good fun for all and one of the absolute best of all Disney parades. Folks will start lining up for the best spots over an hour before the parade, so stake your claim early.
There are 2 parades each party night. The second one will be quieter as many with youngsters leave the park after the fireworks. Keep an eye on the weather though. It would be a disaster to miss the first parade and have the second one called off due to storms! Make sure you check those clouds above. The parade is so good though, we like to watch it twice!

And Absolutely DO NOT Miss Brand 

New

 Fireworks
There's a brand new fireworks extravaganza for the 2019 Mickey's Not So Scary Halloween Party.
Disney's Not-So-Spooky Spectacular is hosted by Jack Skellington. He's telling us a not-so-scary story about how anything can happen on Halloween night.
Jack's ghost dog, Zero, brings everyone along on a trick-or-treating adventure where four friends – Mickey Mouse, Minnie Mouse, Goofy and Donald Duck – find themselves drawn into a haunted house. Encounters with dancing skeletons, waltzing ghosts and wickedly troublemaking Disney villains make for a hair-raising adventure. It all comes to life with state-of-the-art projection effects, lasers, lighting and dazzling fireworks.
The new Halloween fireworks will feature state-of-the-art projection effects, lasers, lighting and dazzling fireworks filling the sky above Magic Kingdom.
Many leave after the fireworks, which makes the last 2 hours of the evening a little more manageable for those who stay behind.
Disney's Not So Spooky Spectacular Dessert Party
This dessert party offers a spooktacular treats buffet and reserved fireworks viewing at Tomorrowland Terrace Restaurant.
Ghoulish goodies will include spooky themed cupcakes, chocolate dipped strawberries, ice cream, seasonal fruits and savory bites. Beverages include sparkling cider, signature lemonades, coffee, tea and sodas.
Cost for guests aged 10 and over is $84 plus tax and $50 plus tax for ages 3 to 9. Book online or call 407-939-1872. Advance reservations highly recommended.
Explore Special Party Additions
Enchantments of the season scared up for the party include:
New this year is a treat trail into the Monster World at Monsters, Inc. Laugh Floor. Interact with a comic entourage of monsters who are learning about the curious human-world holiday called Halloween.
Among many popular park attractions available to roaming ghosts and goblins, Space Mountain turns out the lights. You'll be in complete darkness as you hurtle through the blackness of deep space to the sounds of a new hard-rockin' soundtrack.
On Pirates of the Caribbean you will encounter a crew of live pirates engaged in a whole new swashbuckling quest for treasure.
Special lighting and music at Mad Tea Party will enhance the nighttime experience. It will bring out the maddest hatter in everyone.
The new DescenDANCE Party takes the stage at Cosmic Ray's Starlight Café in Tomorrowland. Groove to a beat inspired by the "Descendants" Disney Channel movies.
Storybook Circus Disney Junior Jam in Fantasyland is the place for youngsters to party. Favorite Disney Junior characters like Doc McStuffins, Timon and Vampirina will be there. New this year, Nancy Clancy from the hit Disney Junior series "Fancy Nancy" joins in the fun.
Consider a PhotoPass for Magic Shots
PhotoPass photographers offer special Halloween-themed Magic Shots and Animated Magic Shots during Mickey's Not-So-Scary Halloween Party.
You can even have an animated pumpkin patch welcome with this exclusive MNSSHP special.
Don't Miss Hocus Pocus Villain Spelltacular
Winifred, Sarah and Mary, the naughty Sanderson Sisters from Hocus Pocus, return to the mortal world for a Halloween Party.
With the help of other Disney villains including Dr. Facilier, Maleficent and Oogie Boogie, the three sisters create the biggest baddest Halloween Party ever.
The Hocus Pocus Party Potion casts a spell on all the partygoers so let your hair down and have a party blast. The show will also feature dancers, projections and other special effects.
Don't try to stand right in front of the stage - all it takes is one child raised on shoulders as the show starts and your whole view will be blocked. Stand a little further back so you can see the whole stage.
The later shows will be quieter and as many little ones leave after the fireworks, there will be less chance of children on shoulders.
Showtimes: 8.30pm | 10.45pm |12.00am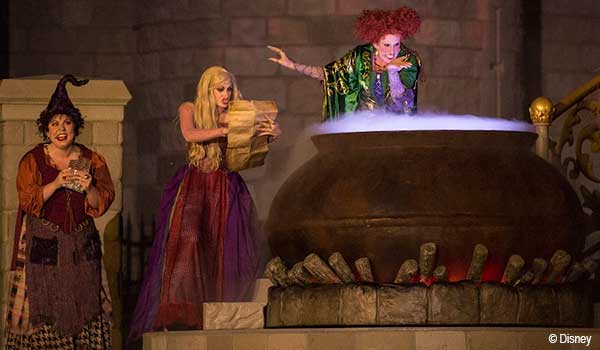 Arrive Early. Stay Late. Or Do Both!
Plan a Rest Day: It's a full night premium event, so make sure the kids are rested and full of energy. If you manage to stay the course, you could be there for up to 8 hours. Have an easy day and give younger kids a nap before they go. They'll need all their energy if they want to join in the Dance Parties!
Arrive Early: Mickey's Not So Scary Halloween Party officially kicks off at 7.00pm, but ticket holders can arrive from 4pm onwards. Make the most of the extra hours.
Those without wristbands for the event will be asked to leave at 7.00pm. Make sure you pick up a park map on the way in for updated event times and treat stations.
Make sure you enter through the specially marked entrance at the front of the park, not the regular line. You will be given a wristband to show you are a valid visitor. Prior to 7pm, Cast Members will be asking all guests without wristbands to leave the park by 7pm.
Take strollers: So the kids can have a nap while you're waiting for parades and fireworks.
Stay Late: Many will leave after the fireworks. The second parade will be a lot quieter and the whole event in general will be a lot easier to manage for the last 2 hours. You might get more candy too!
Plan Ahead for Food
The party is from 7.00pm until midnight, so don't waste precious time by having dinner during that time. Ticket holders can enter as early as 4.00pm, eat before the party starts. Or eat before you go to the park and top up on quick service snacks during the night.
Use mobile ordering to cut down on wait times.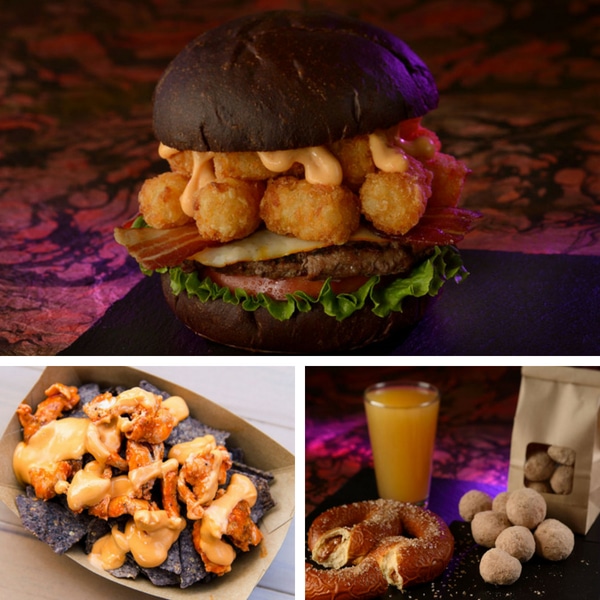 If you do want to sit down for dinner,  Be Our Guest Restaurant, Cinderella's Royal Table or Crystal Palace are all open during MNSSHP, but you'll need to book in advance.
Cruella's Halloween Hide-A-Way
Cruella's Halloween Hide-A-Way is a brand new addition to the 2019 Mickey's Not So Scary Halloween Party.
This sinister soiree offers sweet and savory dishes served buffet style in Tony's Town Square Restaurant. While you're dining, Cruella herself with stop by your table for a frightful chat.
Plus, you'll have a reserved viewing in Town Square for the 11pm Mickey's Boo-to-You Halloween Parade.
Cruella's Halloween Hide-A-Way starts at 9:30pm and runs until 12:30am. It's available during all Mickey's Not-So-Scary Halloween Party dates. Cost is $99 per person, plus tax.
Top Up on Trick or Treating
Trick or Treat your way through the park with the candy bags handed out at the entrance. There are Treat Trails and Candy Stations throughout the park, so top up often.
The bags handed out are fairly small, but you can purchase larger souvenir bags that hold more treats. You can also bring your own to hold even more goodies!
Candy is available all night, so don't rush to fill up at the start, just collect it throughout the park. And don't wait in line for candy, just move on to the next Candy Station - there are plenty around.
You can get candy anytime, so don't make it a focus and miss out on other events.
Trick or Treat Stations:
Tomorrowland

Monsters Inc Laughfloor
Cosmic Rays Starlight Cafe
Walt Disney's Carousel of Progress

Adventureland

Pirates of the Caribbean queue
Jungle Cruise

Frontierland

Tom Sawyer Island Dock
Splash Mountain
Country Bear Jambouree

Liberty Square
Fantasyland

Mickey's Philharmonic
Ariel's Grotto
Pinocchio Village Haus
Disney World Railroad Station

Main Street USA

Market Street (open until 8pm)
Trick or Treating Allergy Options
Disney have it covered with healthy options too if you don't want a sugar overload for the kids. Sugar free and allergy versions of the candy bags are available at these locations:
Main Street USA - Town Square Theater
Liberty Square Ticket Office

Leave Room for Spooky Sweet Treats!
There are some amazing treats available at various locations, many of which are exclusive to Mickey's Not So Scary Halloween Party.
Dress for The Occasion
Kids and adults are welcome to dress up in Halloween costumes. It will make a whole lot of fun for the whole family.
Remember to keep it light though, it will still be hot and humid, especially in August in September. If you are attending the party in October, you might get the odd random cool night, so check the temperatures on the day and be prepared to dress in layers. And take a poncho in case of rain showers. You don't want to get those costumes wet! There will be a lot of walking and standing during Mickey's Not So Scary Halloween Party, so make sure footwear is comfortable.
There are costume guidelines for guests over 14:
Layered costumes or costume props that surround the entire body are strongly discouraged and may be subject to additional security screening.
Costumes may not reach or drag on the ground. (e.g.,full-length Princess dresses)
Capes may be worn if the length does not go below the waist.
Themed T-shirts, blouses, sweatshirts, and hats are acceptable.
Acceptable accessories include: transparent wings, plastic light sabers, toy swords, and tutus. Headwear may be worn as long as it does not cover the face.
Masks of any kind may not be worn.
Do check Disney's full costume Guideline.
Don't forget it's hot and humid even in September and October. Make sure costumes are lightweight and cool. Take poncho's too and keep costumes dry in any showers. It's still the rainy season in Florida.
The trick is to treat your family to a spooktacular night to remember.
If you're visiting Mickey's Not So Scary Halloween party and are looking for accommodation, we'd love to welcome you to one of our 3 vacation homes.